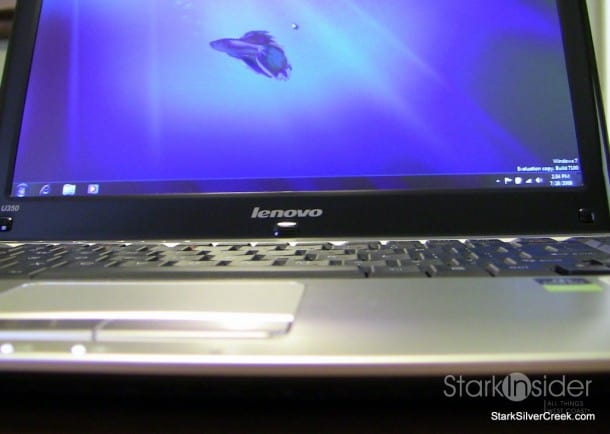 We just received a Lenovo IdeaPad U350 from Lenovo. This is a 13.3″ laptop with almost netbook-like proportions (but not quite). Thin and light, it tips the scales at about 3.5lbs.
As far as I know this is one of the first Lenovo products to ship with the Pentium SU2700, part of the new line of Intel CULV processors with energy efficient design, and with performance a notch above the Atom so commonly used in netbooks today.
First impressions:
Brushed aluminum design is slick, and feels well built
Battery (4-cell) integrates completely into underside
Keyboard looks to be up to usual Lenovo standard (excellent)
No dedicated volume up/down, only mute
The U350 is wider than my old 14″ ThinkPad T42p, probably because of widescreen format, but it is still narrower and thinner
Includes HDMI out, Bluetooth, Active Protection System (protects hard drive), multi-touch touchpad, ambient light sensor
Compared to S12: trackpad is larger, with texture; buttons are easier to click and contoured slightly at front
Ships with Windows Vista Premium, eligible for Windows 7 upgrade
Weight-wise, it feels similar to S12 (with 6-cell battery), but easier to handle since battery doesn't jut out back
The AC adapter is of typical notebook size (bigger than S12 by about 40% or so), and for some reason the designer gave the Lenovo logo a blue glow
So far appears to run louder (still relatively quiet though) then the S12, with some warmth on left side of keyboard (keep in mind this is while installing Windows 7 so it may not represent actual usage)
The screen hinge folds back approx 15-20 degrees more than the S12, which is handy when the laptop is on lower level surfaces
Full review to come. Any questions, let us know in the comments.