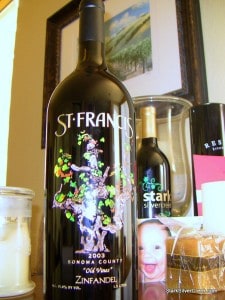 St. Francis in Sonoma produces some of my favorite wines (Cabs and Chards). At 330,000 cases per year, they are a large operation, yet they've still been able to maintain the craftsman quality often found only in the boutiques.
For me, Zins are hit and miss. Most of the time I find them too fruity, and often lacking the tannins and structure needed to rise above slightly boozy grape juice.
This Old Vines Zin, though, was good. It has all the characteristics typical of the Northern California varietal: black berries prominent on the nose, with some subdued jams. Mid-palette brings a pleasant mix of vanilla and spice that add some excitement. Also on finish: mild tannins. Clean. Good!
The large format, if you can find it, is your best deal. Less than 100 cases were made, but they are heavily discounted. Again, thank the economy for that. People are just not partying like its 1999 anymore, so large format sales are suffering. This particular magnum is beautifully laser etched. Perhaps one of the nicest I've ever seen. It immediately captured Loni's attention and I knew we were going to be heading home with some. It makes for a nice artistic focal point to our cellar.
While there are many other wines I'd drink before this one, I thought it was good and worth a look, especially if you can get it at a discount (try large format).
As usual pair it with fat stuff. BBQ, meats. Messy finger foods. Mr. Zin likes it and fits right in.