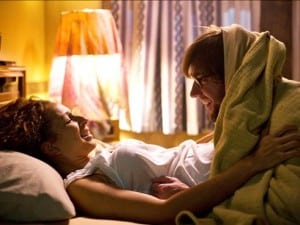 It's hard to watch Maya Rudolph (Verona De Tessant) in a movie and not laugh. Her face reminds me of so many Saturday Night Live skits; usually unfunny ones, with her somehow managing to creatively eake out laughs.
Ditto with John Krasinski (Burt Farlander). How can you not immediately think of 'The Office' when you see him on screen, even with full-on Grizzly Adams facial hair?
The two make for a perfectly uneven, wandering couple in their early 30's looking for a home to raise their soon-to-be child.
After Burt's parents, played laugh-out-loud quirky in cameos by Catherine O'Hara and Jeff Daniels, abruptly announce they are moving to Belgium a month before the arrival of their new grandchild, the couple find themselves roaming the country for a new home to start their family.
What follows is a Lost in America-like trek from city to city, visiting old schoolmates, relatives and friends, all while revealing the extreme ups and downs of parenthood. It's not always pretty. But it sure is entertaining fun.
Sure there are cliches here and there, but it's the type of movie that you can forgive because the spirit is spot on. So are the two lead characters who stumble their way to possible happiness, strengthen bonds based on their idiosyncrasies and ultimately discover their place in the world.
Another strong Indie film. Cinema Camera Club is on a roll. Last month, it was 'The Last Lullaby', a crime drama crafted in traditional noir style, and now 'Away We Go' a Juna of sorts for adults.