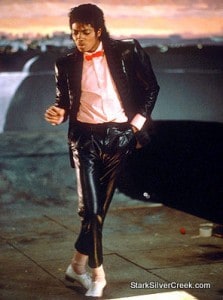 There are many parallels between Elvis and Michael Jackson. And, for my generation, growing up a teen in the 80s, Michael Jackson was our Elvis. But the one I will always remember is the "early" one, much like many prefer to remember the non-cape wearing, postage stamp friendly, early Elvis.
I debated whether to even write this post. There are, and will be, more stories on this topic right now than anything else. Why one more?
Like a lot of people, the Thriller album was as influential as it gets for a youngster growing up, even if that fan was a pale, freckled, awkward-80s-dancer from Canada. Sometimes embarrassing to say, but my trusty old Sony Walkman would either be queued up with Thriller, or Duran Duran's Rio. I would listen to both over and over, and over again — even when the battery ran low, and the tape began to crawl.
When I would take our little cairn terrier for a walk on a blistering winter Ottawa evening, it was the music that would keep me warm, my adrenaline racing as I fought the -20C cold.
I also remember the Thriller video (but Billie Jean remains my favorite song). Who can ever forget it? I also remember standing in front of our 13″ TV in the family room trying to mimic Michael Jackson's moves, with embarrassing results no doubt. But it made you feel good. It was fun. Sort of like the 80s in a nutshell really.
I'm not sure Michael Jackson was the best singer. But no doubt, he was the best dancer. And by far, the biggest and best entertainer. You just had to watch.
So many questions remain. I wonder, if he had lived, what would have happened at his much publicized 50-date comeback tour? Would it even come close to the 80s King of Pop, or would it more closely resemble the later, parodied, broken down, unfortunate freak show version?
We'll never know. And regardless, I prefer to remember the magic that was the early Michael Jackson. Indelible images, songs and performances that will live forever.
Michael Jackson's version of Mean Joe Green (but for Pepsi!)