(UPDATE 6/18/09: safe to say this was a wild rumor, and the source was incorrect, at least about the Inn and Golf Course opening. Currently workers are striking, marching streets of Loreto Bay.)
(UPDATE @ 2:34pm pacific: additional sources suggest this may not be happening as reported by The Tribuna de Los Cabos, and could possibly be politically motivated. Others are speculating the Inn will re-open, but it will take longer than originally reported. Stay tuned.)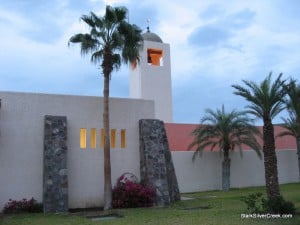 An article today in the Tribuna de Los Cabos indicates that the Inn at Loreto Bay will re-open, just days after shutting down last week due to TSD Loreto Partners ceasing operation. The governor Narciso Agundez Montano made the request to the director general, Miguel Gomez Mont, at FONATUR.
Some other highlights from the article:
The golf course will also re-open today
TSD Loreto Partners has declared bankruptcy
AeroMexico will resume flights in July
The move is purported to help accelerate the sale of the Inn, golf course and Loreto Bay development
The new Loreto (LTO) airport terminal may also be opening at the same time
"Most important of all this it is that the hotel will re-initiate operations this Monday and that the problem is solved and the preoccupation that had generated the closing of the golf course, since if this one practically does not receive the necessary maintenance it loses and a month less than. The golf course is attractive an important one in Loreto and its loss would be a hard blow that hardly would recover this tourist destiny", maintained the head of the state Executive. (note: transalated from Spanish)
This makes a lot of sense if the story turns out to be true. The Mexican government should step-up wherever possible to restore the tarnished image of Mexico as a tourist destination. Recent events such as the Swine Flu and the on-going drug wars have not helped the country whose economy relies so heavily on tourism and direct foreign investment.
Further, recently failed projects such as the port development in Puerto Escondido can quickly de-generate into eye sores, and reminders of the challenges of successfully building in the Loreto and Nopolo regions.
Early reports from the ground in Loreto, Baja California Sur, however, still suggest no activity is taking place and that the Inn is still closed.
[Source: Tribuna de Los Cabos]