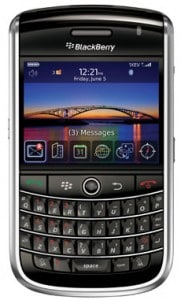 To say the SmartPhone market is white-hot would be an understatement. Profit margins may be a different matter, however, as the number of models increase, and prices decrease. For tech lovers, this is the golden age of mobility.
RIM, with its new BlackBerry Tour, is the latest to make some waves. And not just with a new model, but also a new strategy, at least in terms of availability.
Typically RIM has locked in exclusive deals with a single carrier for new model releases. Not so this time with the Tour, which will be available at launch on both the Sprint and Verizon networks. This is good for consumers interested in the device who already are customers of those networks. In the past you had to switch if a phone you liked was only available from a competing carrier.
As for the phone itself, it's a little but of ho, and little bit of hum. Priced at $200, it fits between the entry Pearl, and the higher-end Curve. Everything else is also familiar: keyboard, candy bar form factor, video, photos, email, web browser.
Predictably, RIM is using all sorts of game changing marketing speak to promote the phone. In the end, though, I'd suggest it's more of a nice evolution of existing models. 
One interesting trend of note: it appears consumers are rejecting "soft" keyboards — virtual versions of the physical counterpart that respond to physical impressions on the screen itself. Ironically RIM invented the category with its wildly successful BlackBerry models that sported small, but highly usable, chicklet keyboards, then, with the BlackBerry Storm introduced a soft keyboard that has received mixed reviews.
Rumor has it that RIM is working on a newer Storm model featuring a physical, slide-out keyboard. Will Apple also succumb soon to an iPhone with a real keyboard?