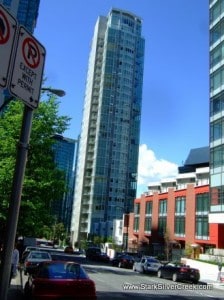 We walked for about ten minutes west of the Pan Pacific to the intersection of West Pender and Melville.
The area near Coal Harbour seems quiet and very nice — just steps from many coffee shops and shopping along Robson Street.
There were two units for sale and I picked up the spec sheet for one. Unit 1002 is for sale for $897,800. Check it out at www.elenalau.com We should have gone to the open house.
The ground floor of Flatiron has many for lease signs and all the shops were empty.