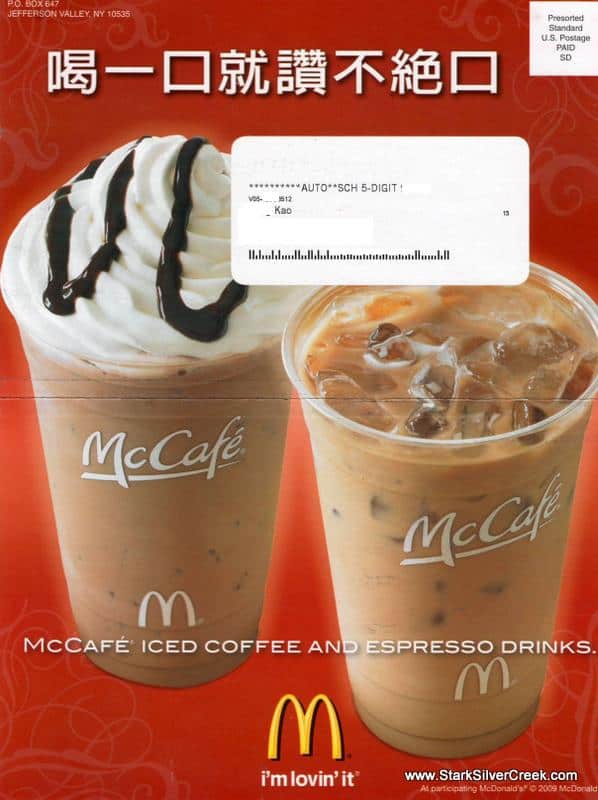 At least two things, and possible several others, are disturbingly amusing about this flyer we received from the always innovative McDonald's yesterday. 
First, it didn't take long to figure out if this was targeted at me or Loni. Let's see, last name Kao. That's Chinese. Trigger Chinese San Jose flyer.
Second, and more broadly, is McDonald's attempt to go after Starbucks with fancy coffee drinks including Mocha Latte and Cappuccino. What is the world coming to? 
Interestingly, Starbucks recently launched cheaper, standard drip coffee to attract casual passerbys. So Starbucks is going lower end, and McDonald's higher end. Regardless of marketing strategy, I don't see either customer base crossing over, except in case of emergency. But would a Starbucks addict, for example, stranded in the desert with nary a $6 latte in sight, succumb at the twelfth hour to a very sundae-looking McCafe Latte?
You can add this to the long list of new products, pricing and packaging McDonald's trots out every year. Sometimes I confuse them with Google when it comes to innovation. Pizza. Spaghetti. Burritos. McFlurry's. It's a non-stop parade of exciting stuff. For me, though, it will always be a simple Quarter Pounder with Cheese, albeit, about once a year, when stranded.
Still, this is good fodder for strategic analysis and market positioning. Yes, I'm lovin' it!