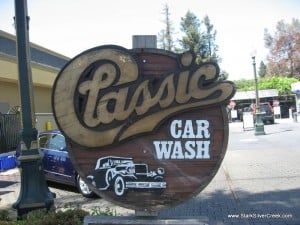 When is a car wash, not just a car wash?
When you actually look forward to going, and even enjoy "hanging out" at the place.
That would be Classic Car Wash.
I was surprised to learn there are only 4 locations in the San Francisco Bay Area. It seems everyone has heard of them, shaking their head knowingly when recalling many a great cleaning.
Why the big deal?
A lot of people don't realize, even those living here, that washing a car in your driveway is illegal. Yes sir. No old school father/sun washing allowed. Unless it's just detailing. That would be okay.
As a result of the law, car washes are in abundance. Just cruise down Stevens Creek, for example, on any given weekend, and you'll see plenty of them, for some reason entirely on the East side of the street.  These are not machine based, typically — although there is some automation in the washing area. Instead they employ scores of workers that operate at high velocity, from intake, with clipboard in hand, through to vacuuming, washing and drying.
But what I really enjoy is the sense of tranquility I get when just hanging around the joint after paying for the wash. Maybe it's the California sun, the smell of liquid soap or just the laziness of the whole affair that somehow sets my mind at ease, the world operating a notch slower for 20 minutes.
Oh, my wash of choice? That would be the "Deal Special". Yes, not just a deal. Or just a special. But both, combined. It's $14.99 and includes the much loved wheel dressing. Although, I would skip the air freshener which tends to make the interior smell like the detergent section at Target.
Locals, make sure you go with coupon in hand, available here from the Classic Car Wash web site.