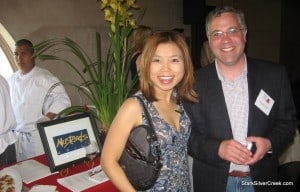 When we met Adam Strum, co-founder of Wine Enthusiast magazine, he leaned over to plant a few European style kisses on Loni. His wife, Sybil, looked on in slight suprise. "Oh, it's that kind of event?" Adam smiled, "Yes, it's that kind of event".
And indeed it was that kind of event — a grand, European influenced evening, set in the grand Old Memorial Opera House in San Francisco. Soaring ceilings, ornate finishings and historic hallways offered an elegant backdrop, as the food and wine took center stage. With over 75 wineries and 35 restaurants in attendance, 'Toast of the Town' is a good way to take in plenty of wine tasting and food pairings all under one roof.
The event is now only in its 3rd year. When a woman told us she'd been coming for 4 years, we knew either the wine was flowing or that she knew something we didn't.
As is always the case, San Francisco's fashion sense is degrees of separation removed from San Jose, its nerdy, tech neighbor an hour south. Fine suits, elegant evening gowns, San Fransisco funk, were all out in force, adding a sense of flair.
The streets were an adventure too. Every time Loni and I head to the city we invariably experience its colorful personality in unexpected ways. For some reason, on the way over to the Opera House a strange looking, bearded guy in a Prius took our photo unannounced, before speeding away. Then later, an apparently drunken Bostonian shouted from a taxi in all her slurred glory at Loni, "You're a mail order bride…!" Ah, hmm, what does that say about me?
There were many highlights. On the blooper side, Loni was able to break a wine glass in record time. It happens when you juggle a purse, plate of food, wine glass, microphone, camera  and notepad. I just wish I caught it on video.
We enjoyed several discussions including a memorable one with the GM of Mustards Grill of Napa who is preparing for the May re-opening after a fire gutted the kitchen earlier this year.
I ended up tasting over 30 wines, seeking out the cream of the crop whenever possible. Louis M. Martini 2004 Monte Rosso Vineyards Cab… rich, bold, and looong finish, super. $85/bottle. Also memorable, the Merryvale Starmont 'Profile'… excellent, juicy, bold, oh yeah.
Loni's top gourmet food picks

Cafe Gibraltar: Crab Manti – House-made Dumplings with Tasmanian Red Sweet Crab, Green Onions and Tomato Confit with a Garlic-Yogurt Sauce and Sizzling Sumac Butter (Vegetarian version also available)
Loni says: "The dumpling was tender, warm, and the filling was flavorful. You could taste the sweetness and depth of the crab meat, not overpowered by other ingredients or spices. The creamy garlic-yogurt sauce added the ultimate comfort food finish to this dish. I wanted a plate of these dumplings."

Ana Mandara: Vietnamese Calamari Salad with Shaved Cabbage, Onion, Carrot, Rau Ram, Cilantro, Crispy Shallots, Peanuts and Nuoc Man on a Shrimp Chip

Loni says: "Calamari in large quantities is hard to get right. The calamari in this dish was cooked perfectly and paired well with the rest of the ingredients. The shrimp chip was the perfect vehicle to serve it on, light and crispy. Very refreshing!"

Campton Place: Ahi Tuna, Olive Oil, Apple and Wild Rocket Foam
Loni says: "This was one of the most unique dishes of the night which is saying a lot considering how many raw tuna dishes there were (tartar, seared, blacked, chopped). The foam added the most unusual taste sensation to this dish. Unfamiliar and delightful."