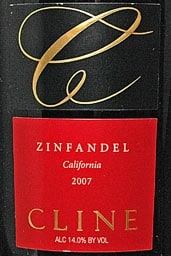 After Cabernet Sauvignon and Merlot, our feisty new world grape, Zinfandel, is the third most planted red grape in California. It has a polarizing personality. Some people love it's bold, fruit forward, zingy character, while others find it all a bit much. Me? I'm a fan. Especially since it carries some California swagger on to the world stage, demonstrating that vintners here can innovate and produce world class wines of their own making.
We'll get to this Cline Zin in a sec.
First a quick recap of under $20 wine adventures at places like Trader Joe's and Costco.
Your odds at finding success under $9 are slim at best, maybe 1 in 10. I've discovered a few though such as the perennial favorite Chateau Ste. Michelle Riesling (86 pts. $5.99, review) and Kaiken Malbec from Costco (88 pts. $8.99, review).
Up the budget a little, say from $9-20, and the quality increases dramatically. One notable favorite we've reviewed here is the much loved Merryvale Starmont Cabernet also from Costco (89 pts. $17.99, review).
Cline Zinfandel, Sonoma 2007
Rating
83
Clint says:
"Good, but not exceptional example of Zin. It definitely tastes young with some harshness that fades slightly after a day. I like the bold pepper, vanilla and berries. Pair with BBQ lamb, NY steak."
The Wine
Zinfandel, 14%
$7.99, Trader Joe's
Tasting Note
The Winery
Cline Cellars, Sonoma, California
Category
Okay, so what about this Zinfandel from Cline Cellars? Well I had yet another interesting tasting adventure in 2 different countries. In Canada, this wine was utterly disappointing. Almost flabby, way laid back for a Zin. Where's the pop? 
When a group recently tasted the same wine here in Northern California the results were much, much better. Ahh, yes, this is more like it. Bold, fruit with nice structure thanks to some prevalent tannins on finish.
It got me to thinking about the ever challenging game of wine transportation. I expect some wines take long, bumpy, temperature changing rides to get to destinations such as Canada, and worse to other parts of the world. Perhaps, this was the reason why the same exact wine revealed a split personality; the first bottle was bad.
Still, I think this Cline is merely okay, above average, yes, but not a shining example. For the price though it is a decent TJ's pick. But I don't factor price into scores. A good wine is good. A bad wine is bad. Regardless of what a price tag indicates. 
I received a tweet from a wine contact up in Livermore:
morewines @clintonstark if it's not Clines ancient vines, give that one a try, Have to decant or aerate it. It's a tight Zin but nice when opened up.
10:16 PM Feb 9th from web
This one, unfortunately, was not the premium "ancient vines". I look forward to presenting that one to our tasting team soon, and see how it compares. Meantime, we have this little Cline Zin that is at least worth a look next time you're at Trader Joe's.