Welcome to the premiere episode of WineTales, a new podcast series produced by StarkSilverCreek!
Come along with us as we discover the stories, the people and places of wine country, from a relaxed, insider perspective.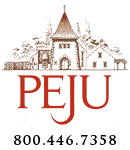 Peju Province is a special winery located off highway 29 in Rutherford, in the heart of Napa Valley. From its beautiful and artistic grounds to the colorful and rich tasting rooms, Peju is always a fun place to visit.
More importantly they have been producing some great wines including Cabernet Sauvignon, Cabernet Franc, Sauvignon Blanc and Chardonnay. In addition they are known for their proprietary blends.
Sara Fowler (bio), the winemaker at Peju Province Winery, was nice enough to spend some time with Loni Kao Stark of StarkSilverCreek and takes us on an exciting wine journey.
Experience first hand what it's like working on the inside of a landmark Napa winery.
Our thanks again to Sara, Katie Lewis and the Peju team for helping us kick-off WineTales.
We hope you enjoy it… and as Sara would say: "Go drink some wine!" (perhaps even while listening to this interview).

WineTales #1: Peju Province Winery winemaker Sara Fowler of Napa Valley
growing up with wine

what it takes to be a winemaker

Sara's philosophy on blends and varietals

all about organic farming and sustainability

some of her favorite wines and the inside take on what's hot at Peju for 2009