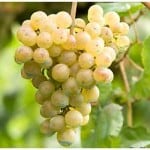 There's an interesting article on the Napa Valley Blog contemplating the future of the Albariño grape, of Spanish fame, in Napa. Artesa Vineyards and Winery, along with three others (Hendry, Havens, Mahoney), currently produce wines with this grape which results in "a refreshing wine with lemony characteristics and good acidity."
Economics, however, may ultimately prove too much of a hurdle. A winemaker would need to sacrifice lucrative Pinot or Chardonnay acreage to make room for the riskier, and still unproven grape. 
One good reason to invest in this grape of course is differentiation. With virtually ever winery in the Valley producing generally good to excellent wines it becomes increasingly difficult to stand out from the crowd. With Spain's increasing presence on the world wine stage, it only makes sense to look there for innovation. Further, the Albariño grape plays well with seafood, which is a potential fit for an increasingly health conscience American palate.
While at Artesa this past weekend, Loni and I enjoyed access to over 25 wines. Tasting notes and reports are on the way shortly, as we pull all our information, thoughts, and taste bud memories together. 
Meantime, if you're interested in giving the Albariño grape a spin, I suggest you take a look at the Artesa 2007 Limited Release Albarino, Carneros ($22).
[Source: Napa Valley Wine Blog,  Napa Valley Wineries Making Albariño: Is This a Trend?]