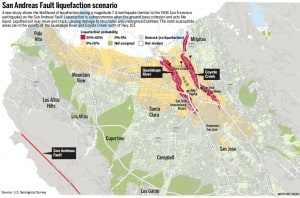 Some day. Some day. But when? 
Ove the past 10 years I've lived in the San Francisco Bay Area there have been many minor earthquakes and tremors. Amusing enough when you realize nothing serious is happening.
In the back of our minds though we all wonder, when?
And also… then what?
Local stores sell earthquake survival kits and news outlets encourage us to be ready. We will of course never know what exactly to expect until that dreaded day arrives. Not since 1989 has the Bay Area had to deal with such a catastrophe — almost 20 years. 
Today, the San Jose Mercury News published a story about "seismic risk" with updated maps from the U.S. Geological Survey of the San Andres Fault risk here in San Jose. Liquefaction, as the name implies, is pretty bad. The ground turns almost liquid-like, causing homes to sink or topple. Also it would be curtains for eBay, Cisco, the San Jose Merc and the airport to name just a few close to the high probabliity areas.
The interchange at highway 87 and 101, the article reports, is a particular risk… not something Loni wants to hear. She drives it every day to Adobe!
If we do liquify, I will just look for the out stretched hand from the sand holding a BlackBerry, and know that Loni is safe.
(We purchased in Loreto Bay for a vacation getaway, but maybe it will become our escape hatch?)
[Source: San Jose Mercury News, 'News New seismic map reveals quake risks throughout San Jose']