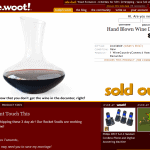 The word 'Woot' has become something of a phenomena in recent years. I can't explain why. It's another of those engineering, geek-driven words that has made its way from hardcore programmers, to bargain seekers to somewhat mainstream awareness. 
The online store and Web site, Woot (www.woot.com), however, I do understand. It's premise is simple: "One Day, One Deal". The price is almost always good. The products tend to be overstock, discontinued or refurbished. Recently I purchased an MP3 player for the gym for $15 (refurbished) that sells for $50 at the local Best Buy.
Most of the products are consumer electronics: MP3 players, GPS systems, hard drives, previous generation laptops and some oddities tossed in for good measure, such as the always handy night vision binoculars.
A few years back they expanded into wine deals through Woot Wine (wine.woot.com). Typically offering 2 or 3 bottles for a package price. It's worth checking in every now and then if only for the sometimes whitty, sometimes trite product descriptions. 
The better deals move fast, so be ready to buy before the dreaded "sold out!" banner appears.