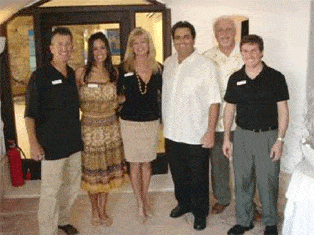 (UPDATE: this project is now cancelled)
We received an email yesterday from Mark Codiroli of JW Marriott Loreto, the new luxury development going in at the old Whales Inn location adjacent to Loreto Bay. It's hard to believe, but we've know Mark now for almost 3 years! He did a great job introducing us to the Loreto and Baja region, and ultimately sold us a home in the Loreto Bay development.
There are a couple of quick updates in the email:
the Discovery Center (a trendy new name for sales office, albeit swanky!) opened November 18
a new video with "stunning scenery" is posted on their web site here
a sales event weekend is scheduled for January (just in time for some whale watching), details TBD
We're pleased to see the JW project continue, despite the economic headwind. It will further increase the visibility of the Loreto Baja region which surely is a good thing for all of us, not to mention aiding in much needed critical mass for air transport capacity.
You can read the complete email in the forums: 'JW Marriott Discovery Center Update from Mark Codiroli'