Next time you head down to Baja, why not take in some outdoor adventure? And what better way to explore all the beauty, aquatic life, and vistas then from the water itself, on a kayak.
We recently exchanged emails with Terry and Nancy Prichard, the founders of Sea Kayak Adventures, after taking a look at some stunning photos from a recent kayak outing forwarded by Bill (thanks!). Now in their 16th year of operation, they offer kayaking tours across Baja and also British Columbia in Canada.
After taking a look at the photos and their web site, I had a flashback to childhood years, canoeing Algonquin Park in Ontario, Canada. My father would take me along with a group of friends on multi-day canoeing trips through the scenic rivers and waterways of Algonquin Park. I remember the vivid colors. Fresh air. Crackling fire at night as we swapped stories of the day. Long portages. And gliding effortlessly along glass-like water. What memories.
My kayaking experience in Baja is admittedly limited. Last time in Loreto, Loni and I kayaked one morning on the Sea of Cortez (In Loreto Bay: Kayaking on the Sea of Cortez). I learned that next time, it would be better for my sanity to not take a tandem kayak… if we each had our own kayak, we could each paddle as we desired without undue "influence" and "feedback".
I like the idea of the 3-5 "quick adventures" offered by Terry and Nancy. These are getaways from Loreto that enable you to enjoy some kayaking without biting too much into the remainder of your travel itinerary.
The more adventurous can partake in longer excursions such as the 12-day La Paz to Loreto expedition.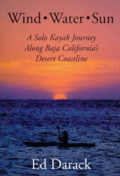 Bob Kopolow, of Big Bear Lake, wrote in with a great book suggestion about a solo account of kayak trip from Northern Baja to Loreto. Thanks Bob!
Wind, Water, Sun : A Solo Kayak Journey Along Baja California's Desert Coastline (Hardcover)