Quantum of Solace (2008)
104 min.
StarkSilverCreek Rating:
5 out of 10
imdb User Rating: 7.2
 
It seemed doomed from the outset: a big budget and a bad title. At $225M Quantum of Solace proves once again that more is less.
Jamming too much of everything and ignoring basic script principals of emotion, pacing and good story telling, the movie is an exercise in mind-numbing, repetitive blandness.
Bond or otherwise, this movie is an absolute mess.
I wanted to love it. I'm a big James Bond fan, and 2006's stellar return to form 'Casino Royale' raised the bar. It is truly the first modern Bond movie that can be considered in the same class as Dr. No, From Russia With Love, Goldfinger and Thunderball.
Unlike those classics, Quantum of Solace benefits from neither the rugged charm characterized so well by Sean Connery nor the tongue-in-cheek fun (in small doses) of the Roger Moore Bond of the 1970s. This one is caught in no man's land;  an anonymous string of action scenes, at times impressive, but mostly disjointed with ultra-rapid fire editing and queasy camera work. It's as if someone is tossing a special effects salad. Just mix: a bunch of guns, steel girders, Daniel Craig, some baddies, glass and ropes. Presto. Instant mass confusion with thumping soundtrack. Scene!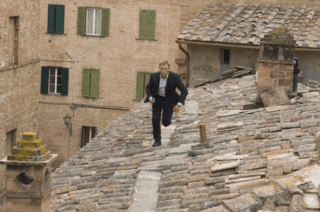 It's hard to pinpoint the exact problem with this movie. If it were a professional sports team, the coach and GM would be fired, and the entire organization re-tooled; no one would be pleased especially after winning the championship with Casino Royale last go round.
The direction (Marc Forster) is horrible. The Bond girl (Olga Kurylenko), an actress with 3 years experience is slightly more effective than cardboard, despite a Tomb Raider like transformation near the movie's climax. There are no gadgets of course which is part of the re-imaged Bond, but one can't help wonder if a certain amount of gimmickry is in order.
The villain, who dresses in frumpy white shirts and pants, looking like the disoriented singer from the 1980s band Simple Minds, uses his buggy eyes to apparently freak everyone out.
The audience needs some fun, some reason to cheer, some reason to smile… and some reason to feel connected with the action on screen.
I think Roger Ebert said it best in his review, "James Bond is not an action hero!". Right. He's always been more than that; a debonair, modern, rugged spy who prefers high stakes baccarat to fisticuffs, although resorting to the latter when needed to save the world and girl.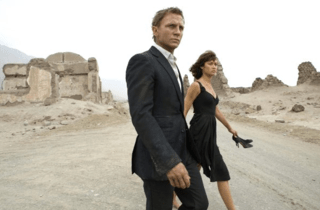 Even the opening Aston Martin car chase and subsequent title sequence were devoid of the usual tingling excitement that is a hallmark of the series: the parachute jump in the Spy Who Loved Me (1977), the swirling colors and searing Shirley Bassey on Goldfinger (1964), or the Ferrari and Aston Martin cat and mouse of the somewhat decent Goldeneye (1995).
The villain, who dresses in frumpy white shirts and pants, looking like the disoriented singer from the 1980s band Simple Minds, uses his buggy eyes to apparently freak everyone out.
Daniel Craig is angry. Yes, we know. It's the only gear he operates in the entire film. And again the movie is worse for it. A character needs to ebb and flow, showing emotional arcs the audience can latch on to. It's why Casino Royale was so effective. James Bond was vulnerable, angry, emotional, but still with an occasional cheeky smirk or wink.
Fortunately, there are two redeeming elements that give hope. The first is of course Daniel Craig. He is a great new Bond, and also a legitimate actor.
Judi Dench, in her sixth appearance as his boss 'M' is solid. Her casting in Goldeneye in 1995 was a clever choice and added an interesting dynamic to the series.
The scenery at times, when the camera slows for more than a second, is nice to look at, although you quickly lose track of the where, what, why and how.
Finally, don't be surprised if you have an urge to buy a Sony or Ford product after exiting the theater. It's a non-stop barrage of mini-commercials throughout, with the Sony Ericsson cell phone making repeated appearances followed by just about every Ford vehicle and brand (Volvo, Aston Martin, Ford, Volvo, Range Rover) known.
There is a brief send-up to Goldfinger involving oil, which I found misplaced and simply reminded me of a far better film.
Let's hope this unfortunate regression is a minor relapse. Daniel Craig: stand as you were. Everyone else: hit the showers and re-group.
Oh, one more suggestion for next time: less money, more creativity.