Clint and I wanted to go to Augie's for their sashimi but unfortunately their sushi chef was not around when we arrived for lunch so we decided to try out another restaurant along the Malecon. Hence, we ended up at Mediterraneo for lunch on a sunny Friday in Loreto.
The restaurant, like Augie's, is located in a prime location on the Malecon with beautiful, unobstructed views of the Sea of Cortez. The place was nicely furnished with blue as the dominant color of the decor.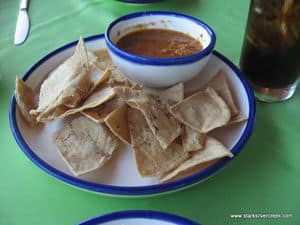 We were both in the mood for a light lunch. Clinton ordered the Clams Gratin which are local chocolate clams with melted mozzarella and a puree of fresh tomatoes blended with fine herbs (100 pesos). I selected the Ensalada Mediterraneo which was romaine lettuce with grilled shrimp and scallops dressed with a citrus vinagrette (165 pesos).
Clint was not crazy about his dish as he found the tomato sauce and mozzarella overpowered the delicate flavors of the clam. He noted it was more like biting into a piece of pizza rather than a delicate piece of seafood. My salad was very average and considering it was named after the restaurant and quite pricey by Loreto standards, I was disappointed.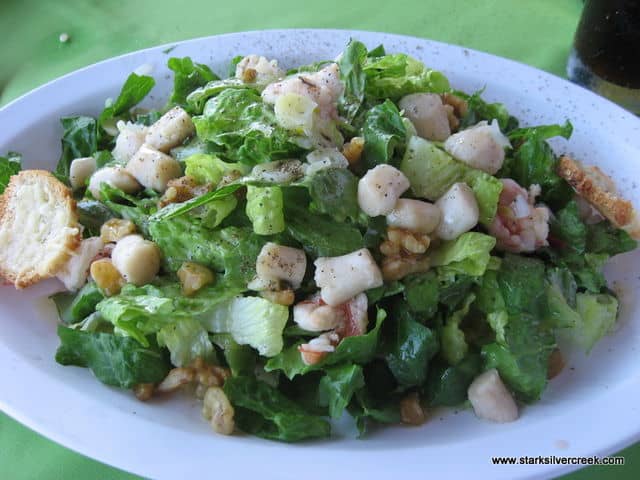 My Ensalada Mediterraneo. Very small shrimp and scallops. The walnuts were a nice touch to this salad.
We didn't try any of the wines. Clint ordered beer and I had a diet coke. It seemed they had a pretty extensive wine selection. We were very surprised to see a wooden Caymus box in the restaurant. I am not sure if this was just window dressing or if they did carry Caymus wines which would be impressive ('Caymus Vineyards: A Visit to a Gem of a Winery').
The service was attentive although rushed. They were a little too anxious to clear the table. Pacing of service is more an art than science. There is a fine line between being attentive and rushed.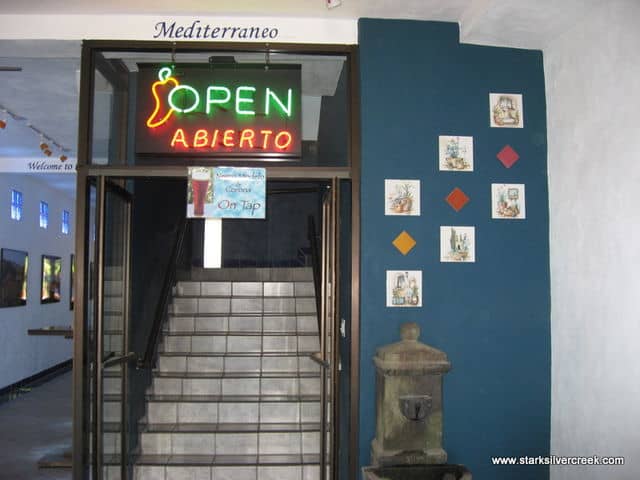 Inner entrance to restaurant which is on the second floor.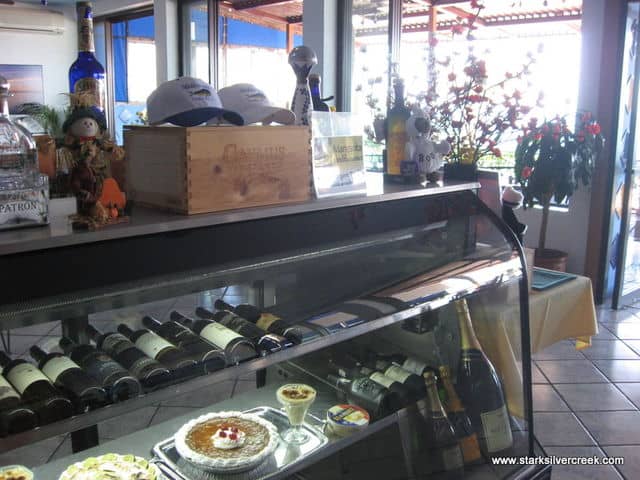 A selection of wine and desserts on display as one arrives on the second level.

Clint and I choose a table out on the terrace overlooking the Sea of Cortez. I took this photo aiming into the restaurant. You can see how the blue color dominates the decor. Nice windows that give the inside of the restaurant an indoor/outdoor feel on nice days.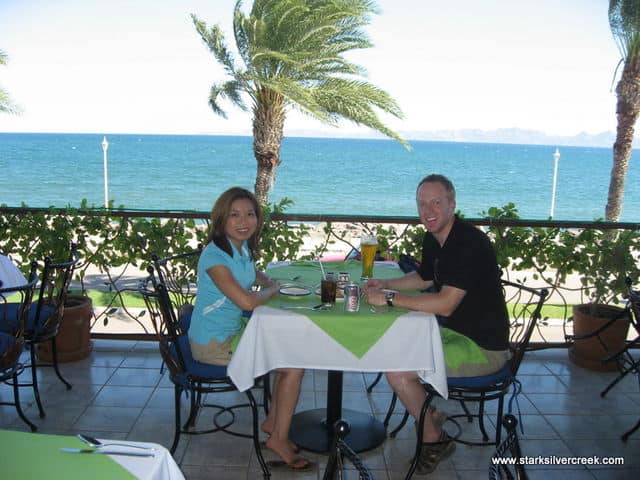 Sitting out on the terrace. Beautiful views of the water.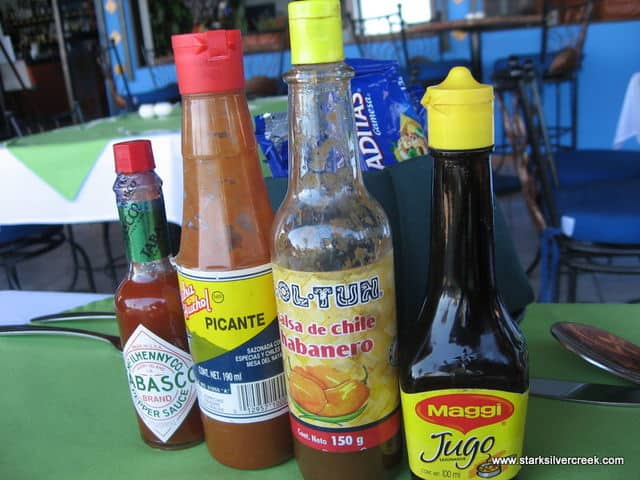 The different condiments on the table. We weren't sure what some of these were…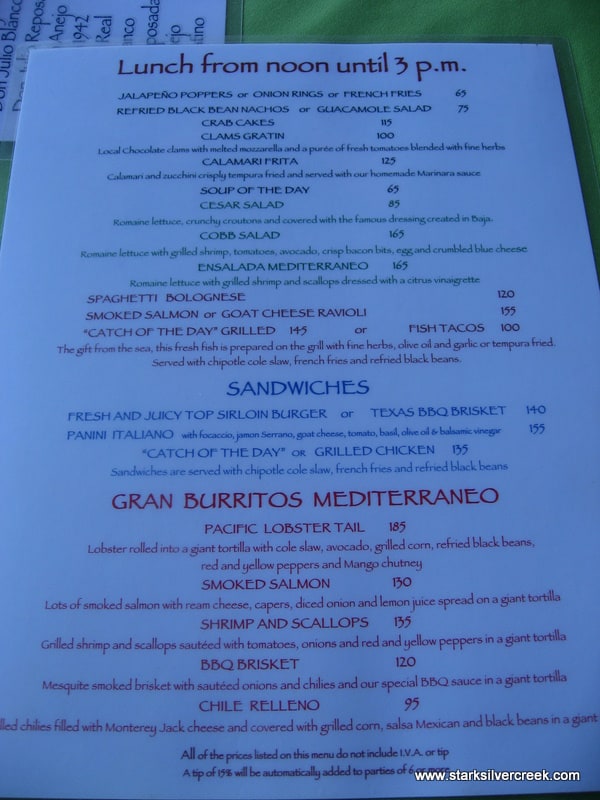 The lunch menu at Mediterraneo.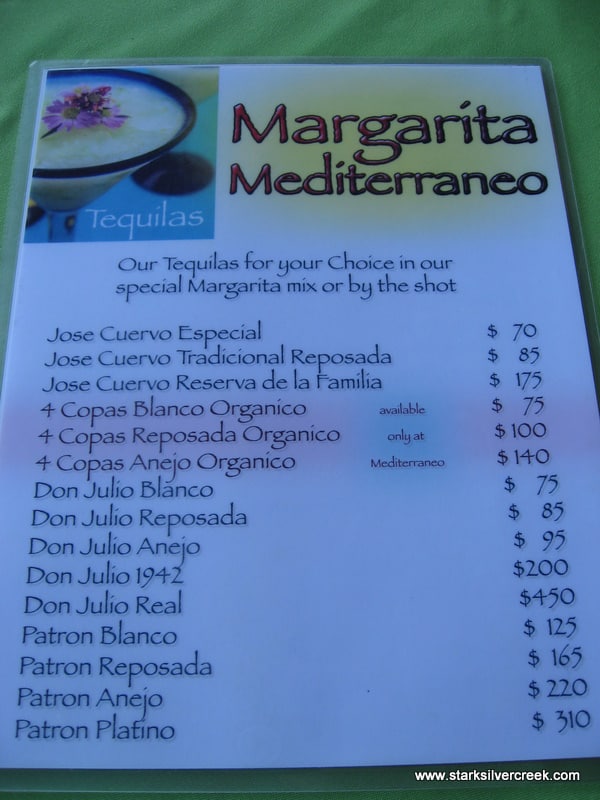 The all important Margarita menu!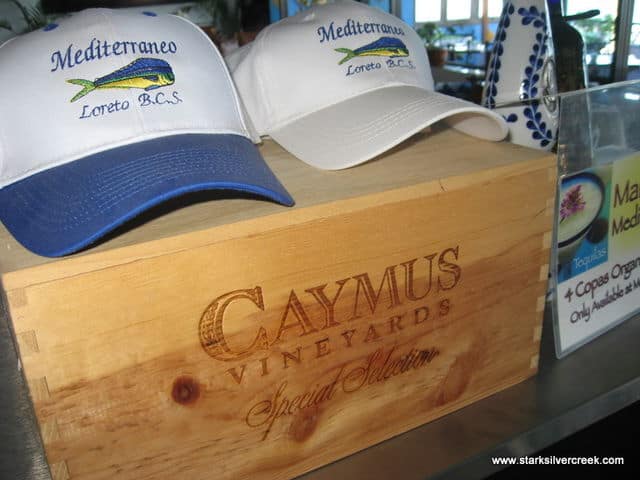 A Caymus Vineyards box…funny to see this in Loreto of all places.

Mediterraneo
Mediterranean
Owners: Lee and Carol BoydLopez Mateos and Avineda Miguel Hidalgo (on the Malecon)
(52) 613-135-2571
Web site