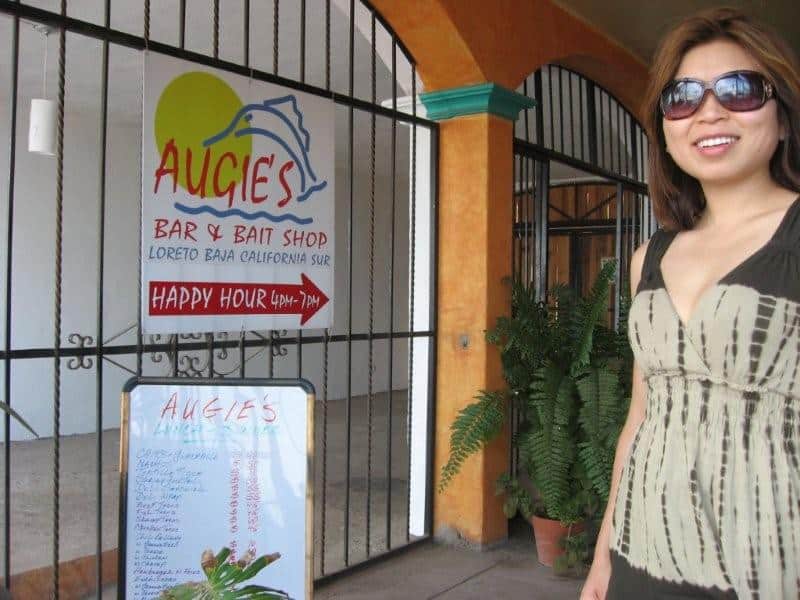 In front of Augie's. I couldn't wait to go in for some sushi.
Augie's Bar and Bait Shop (www.augiesbarloreto.com)
My cravings for sushi began on our flight down to Loreto Bay where we just happen to sit next to a gentleman who heads up the Oregon fishing club. Several of their club members were flying down to take advantage of the great fishing in the Sea of Cortez. Thoughts of large sashimi slices of yellowtail and dorado made me even consider rushing out to get a fishing pole and panga boat when the plane landed in Loreto.
Clint quickly curbed this crazy idea – perhaps another visit…
So it was with little hesitation that I jumped at the adventure of going into town for sushi at Augie's after seeing an ad in a local magazine.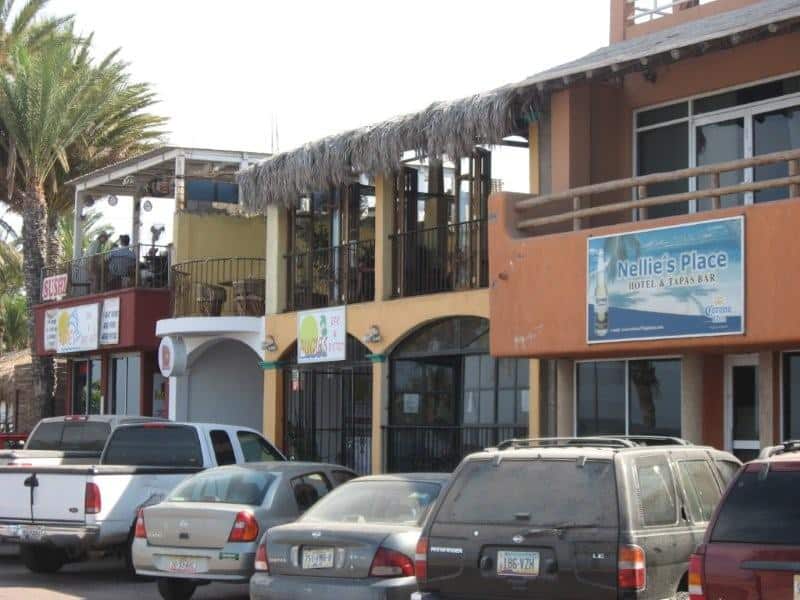 Augie's is to the left of the sign still on what use to be "Nellie's Place". Right on the Malecon, you can't miss it.
We popped into a taxi which took us from Loreto Bay into the town of Loreto for $20. Augie's is located on the Malecon. Although they serve some traditional Mexican fare, I had laser focus on their sushi.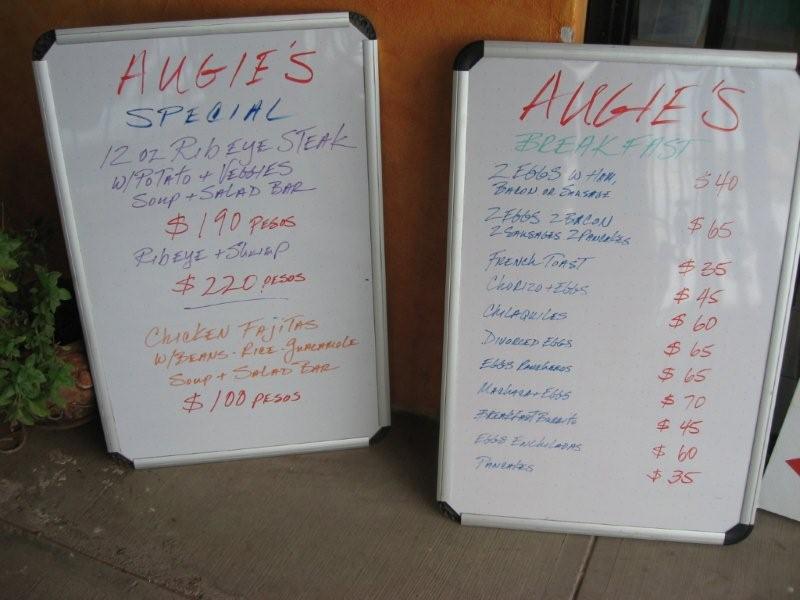 Specials and menu at entrance of Augie's
We ordered a yellowtail maki roll (85 pesos) as a starter which was decent. However, if you like raw fish, I would highly recommend the sashimi combination (100 pesos) which came with generous portions of three types of fish: salmon, tuna and yellowtail. We also happened to have stumbled into Augie's during happy hour so cerveza was half price. The service was very friendly and courteous.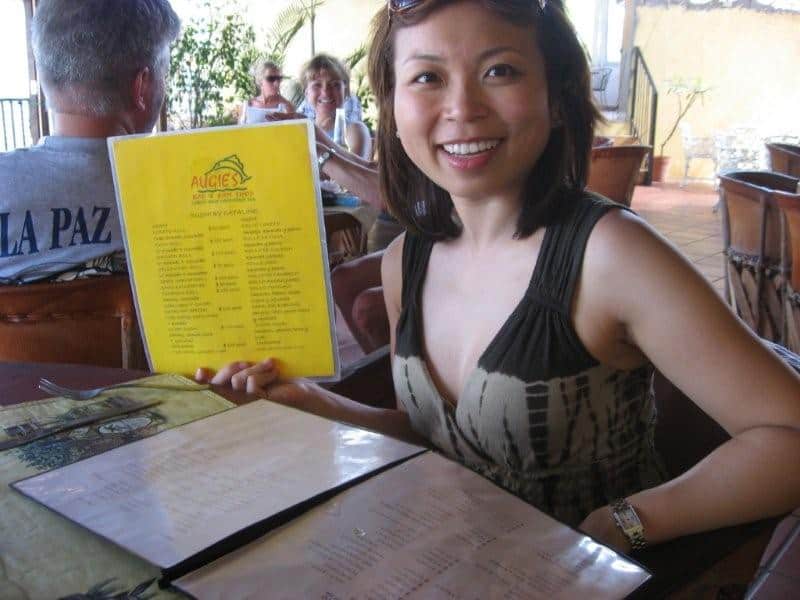 Holding up the Sushi menu…looking very happy.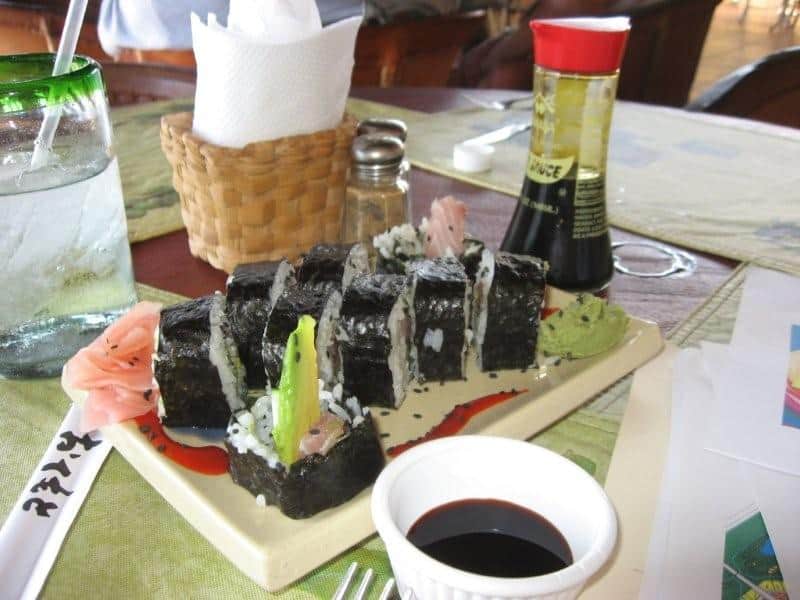 Yellowtail maki roll. Yellowtail, avocado, wasabi and a bit of soy sauce. Hard to go wrong with that combination.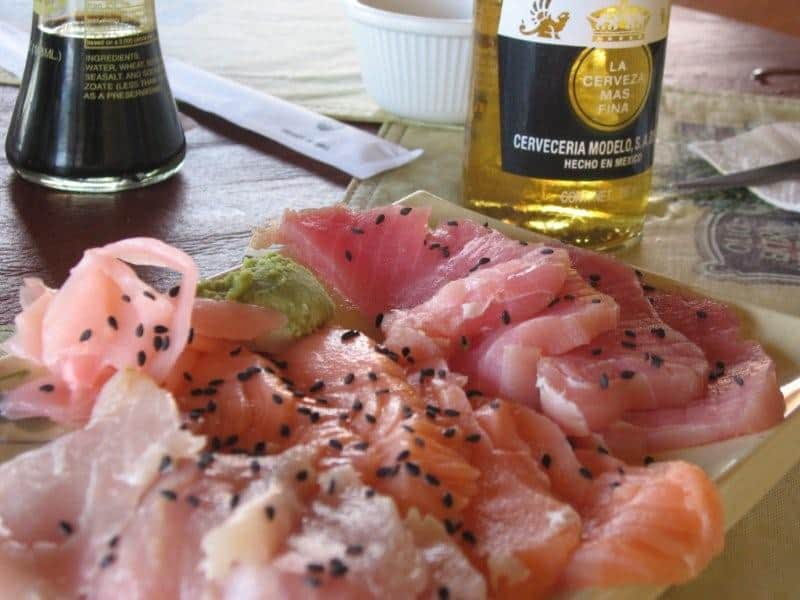 Sashimi combination. I highly recommend this dish. The fish was fresh and the portions generous. It was so good that after Clint and I polished off our first order of this dish, we ordered a second.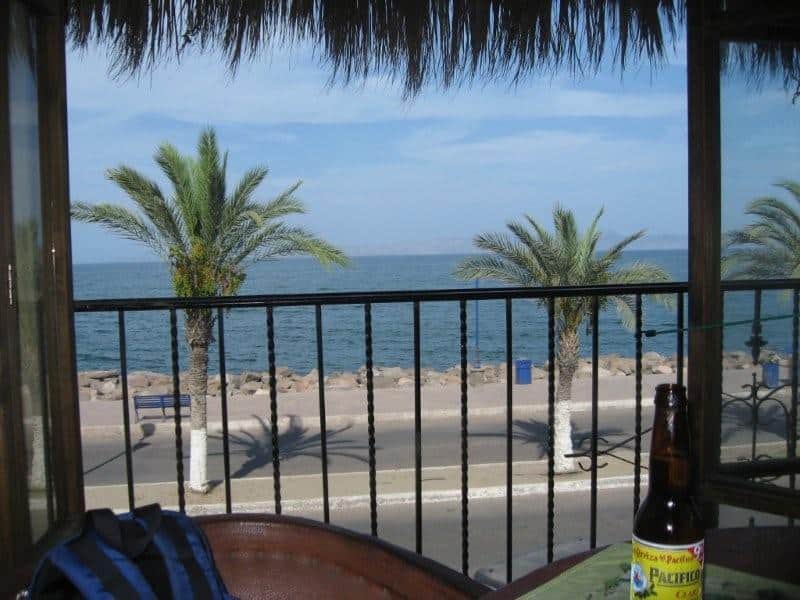 Incredible views of the Sea of Cortez from our table at Augie's.
If La Michoacana is paradise on a hot day, then Augie's is Sushi Heaven—fresh, raw fish and expansive views of the Sea of Cortez.