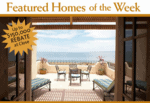 We just received the latest 'featured homes of the week' email from Loreto Bay.
No little Chicas this time; instead we're in the mid and high-range with a Bohemia, 2 Encantadas, a 4-bedroom penthouse condo and a custom lot. See below for the pricing summary.
LBC continues to use the "rebate" concept. It reminds me of car pricing techniques. A sign of the times.
The email branding is just OK. It's really a simple price list. I'd like to see more about the lifestyle, the Baja environment… imagery that can grab attention; the top photo is good though.
Also, the emails should include a travel incentive to visit; an all-inclusive, heavily subsidized package that will bring potential buyers down to Loreto Bay.
These are very tough times, but an aggressive offer to escape for some R&R in Loreto will perhaps appeal to those exhausted with the negative torrent of economic news in the US.
Founders 233, Bohemia

$479,000

($50,000 rebate)
Agua Viva 94, Encantada

$609,000

($50,000) 
Agua Viva 1, Encantada

$559,000

($50,000) 
Posada Sur 401, Penthouse Condo

$999,000

($100,000)
Agua Viva 265, Custom Home Site

$749,000

($149,000)
Selling enterprise and Web 2.0 software is difficult in the best of times. And I've seen my fair share of marketing challenges over the past 17 years in tech, but I suspect selling real estate, let alone vacation properties in Baja where many people have depended on cheap money or equity lines, to be challenging on a whole new scale.
Other things: I would like to see a virtual tour on the LB web sites. Potential buyers could sit at their desks on a break and take themselves away. Dreams never die, and LBC/Replay Resorts should continue to play up that messaging.
What do you think? Is LBC/Replay marketing headed in the right direction? Is there anything you would do differently?