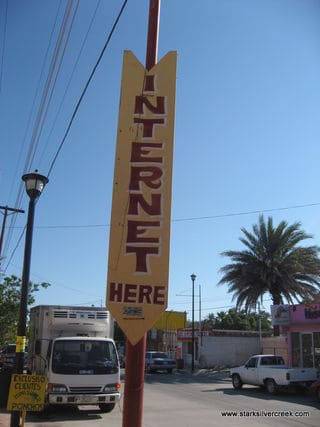 1. There are several choices for Internet shops and cafes.
Just ask around downtown Loreto, and chances are good you're just a few footsteps away from Internet. Given the price of cell service, it's not a bad idea since most of them only charge a few dollars/hour. Note that some shops use the term cafe loosely, and in fact don't offer any beverage or food service.
2. Speed and computers are acceptable. I was pleasantly surprised. No issues downloading mail, accessing banking accounts or surfing news sites. Accessing video might be slower though.
3. Some even offer laser printing services. Caseta Soledad has about 10 computers in a simple workdesk arrangement (chairs aren't comfortable, so don't write that mystery novel here) and has a good quality laser printer that I used for some FM3 prep.
4. You can sprint from the Loreto Immigration Office to the Caseta Soledad Internet shop on Salvatierra in 2.5 minutes (even in the rain). I've done that several times + ran up the same street to the 'Foto' shop for passport photos.
5. Cost is low. With the money you'll save from AT&T cell/data rates and roaming charges, you can have a nice dinner for two at Domingo's!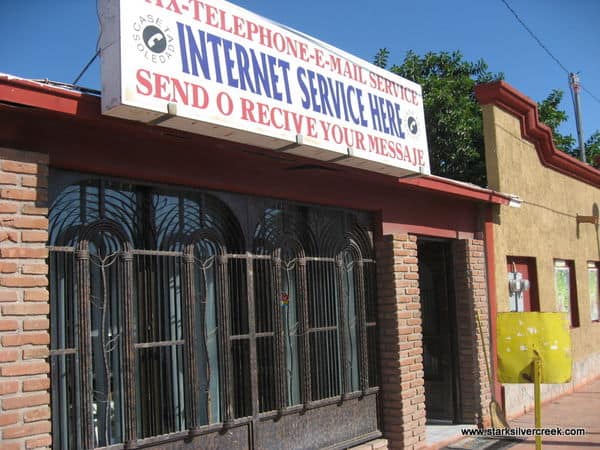 Caseta Soledad Internet Service in Loreto, Baja Mexico. About 10 computers, a printer and fax. Simple, but it does the trick.