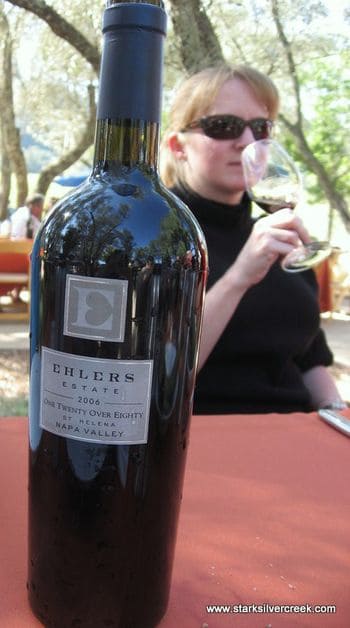 At the Ehlers fall harvest party in St. Helena, Napa this past weekend we were fortunate enough to taste their new wine, 'One Twenty Over Eighty'.
It was the perfect fall Napa day: lots of sun, light breeze, swirling colors and jubilant winemakers marching out their latest.
While we didn't get a chance to do a complete tasting (we were caught up in conversation with the new Ehlers winemaker, making new acquaintances with fellow club members and thanking people like Maria and other staff who put on a first class event), we did have an opportunity to enjoy a glass along with the Paella.
Luckily I think Ehlers has it right.
My early taste found an easy drinking wine, with character and plenty of interest through the finish. This is not a standard, off-the-shelf blend. Loni agrees (not an easy thing), saying that the wine was enjoyable and suited the afternoon harvest party perfectly.
We'll have a full review soon. Apparently club members will be receiving it in their next shipment. We're looking forward to it!