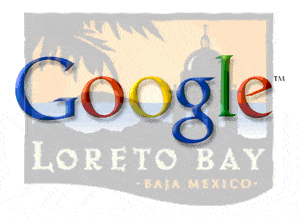 Every day it seems like a new Loreto or Loreto Bay web site or blog pops up. Loni and I read them with great interest and are pleased to see so many people writing about the area. Some track construction, others the experience of life in Loreto, while others are a smorgasbord of stories related to Baja and adventures throughout the peninsula.
So we find our Loreto bookmark folder growing and taking increasing numbers of hours to read.
Always one to enjoy new technology and ride the early adopter wave (or sometimes just snag Loni's gadgets), I put together a custom search. It scans 17 Loreto and Loreto Bay blogs, web sites and forums. I'm still testing it, but so far it seems like a fast way to get information on many topics without having to wade through thousands of results pages.
Give it a spin, and let us know what you think.
Mega Loreto Search Blogs and Web Sites:
www.firstcontactloreto.com
www.tccloreto.com
www.exploreloretobay.com
www.replayresorts.com
www.loretobay.com
casadavis.blogspot.com
loretobay-casadenuevossuenos.blogsÍpÍot.com
watch-and-learn.blogspot.com
loretobay.blogspot.com
www.mwenda.com/basket/construct.htm
groups.yahoo.com/group/Loreto_Bay_Owners-SF_Bay
www.starkinsider.com
forums.bajanomad.com
www.flickr.com/photos/28163247@N00
https://www.youtube.com/user/starksilvercreek
loreto464.blogspot.com/
I'm certain there are many good sources missing from this list. Please let us know any additions, deletions or corrections.
[UPDATE: Thanks Baja Barry, added:
casamcgraw.blogspot.com
loreto.ehuna.org
whereintheworldisnellie.blogspot.com]