Loreto and Loreto Bay are two of our favorite topics here on Stark Insider. Often described as "where the mountains come to swim", the area embodies historical charm, offers world-class fishing, and surrounds its visitors with beautiful landscape and friendly people. To many, it is one of Baja's best kept secrets. However, with the Mexican government Fonatur designation as a future tourist growth spot, and new development bristling along the shores of the Sea of Cortes (such as Loreto Bay), the transformation from small fishing town to a resort town promises to change that.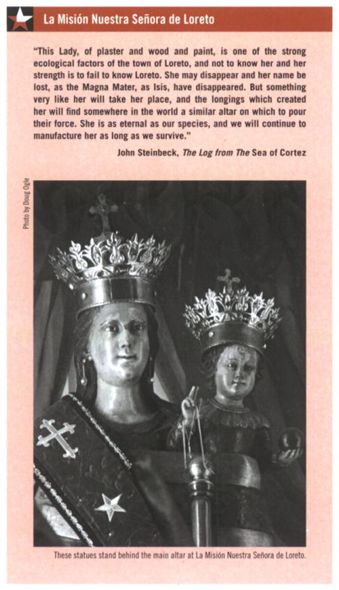 One indication of rising interest is the publication of a few tourist guides to Loreto. From my count, I can see two, one published in 2006 (You Decide Travel: Loreto 2nd Edition), and the one reviewed here published last year. Although there are many guides on the larger Baja region itself, the books are solely focused on Loreto.
I wasn't expecting much, but was pleasantly surprised with this helpful, fun, and well written travel companion. Initially, I wondered if there was enough to do and see in Loreto to fill a book. And while you are not going to be planning a mega, multi-day tour adventure as if visiting Loni's Rome for example, it turns out that is exactly the point. Loreto doesn't overwhelm, instead it charms.
The book itself is organized into 13 sections covering everything from a quick history, to getting around, restaurants and accommodations, and activities. I found the writing style simple and effective. There's enough here to add plenty of color, and many insightful observations. Photographs throughout capture the beauty and brilliance of nature. I found the maps useful, and there are several including Baja, downtown Loreto, and the surrounding areas. Clever touches are sprinkled throughout such as how to make a call in Loreto (not the easiest!), a fishing season chart, mileage chart to nearby towns and a Danzante bird checklist.
That the major attractions and events section is only 5 pages total (including a full-page picture and another map) gives you a clue as to why some refer to Loreto as the anti-Cabo, a reference to the tourist meca located 350 miles south.
Another thing I like is the author's willingness to rate restaurants on a 5 point scale. Although many received 4 stars or more, many were scored lower and gives the reader relief that perhaps his opinions were not entirely margarita-fueled.
I was surprised to learn that Loreto has Internet cafes downtown!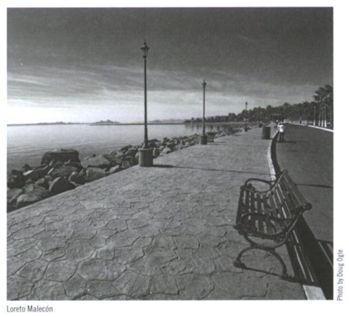 Despite the recent publication date and the Loreto celebration of all things mañana, some information is already out-of-date. Nellie's place, for example, is no longer in business. This of course is not a big deal, and from what I could tell almost everything was up-to-date, and expect future editions to expand along with the growth of Loreto.
Loni and I are enjoying this book a lot. It's a trusted advisor to our trips down to Loreto, and we highly recommend it.
Best Guide: Loreto
Baja California Sur, Mexico
"The definitive land and sea guide to Loreto, Baja California Sur, Mexico."
Alan Axelrod, David Axelrod, and Aaron Bodansky
200 pages, 2007 (Amazon)
4.5 out of 5 stars