Breville has discounted one of its most popular espresso machines and is now on sale on Amazon.
With a 25% discount the Breville Infuser Espresso Machine (BES840BSXL) is now selling for only $449 USD. That represents savings of about $150. Better still, you don't need to wait for Prime Day to take advantage of the deal which is now live on the site.
A quick recap of the Infuser itself. Breville positions the machine among its semi-automatic models which means you'll need to grind, tamp and brew the espresso without automated assistance. If you'd like a milk-based drink you'll also need to froth milk as well, again without assistance, using the included steam wand. Basically this is a very capable machine that can produce cafe quality drinks.
Breville says the Infuser Espresso Machine is designed for Third Wave Coffee (a recent trend which includes higher quality, typically single sourced beans, similar to high end wines). Specifically, that means this espresso machine meets four criteria:
Ensures the right dose of beans
Optimal water pressure
Precise temperature control
Microfoam milk for latte art
Breville Infuser Espresso Machine: Key Features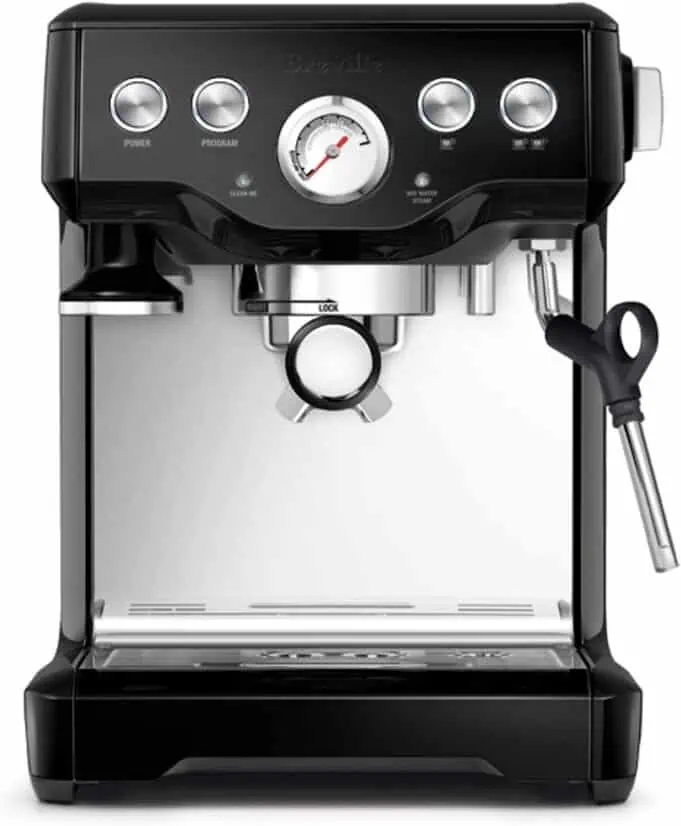 Volumetric control (single, double cup)

Pressure gauge

PID for temperature control and consistent espresso extraction
Key features of the Infuser include two preset buttons (single, double) that allow the user to specify the volume of each shot without having to manually estimate. This volumetric control helps ensure consistency of each espresso shot.
In addition, up front and center on the control panel is a brew pressure gauge which informs as to the status of the heating element.
Finally, the Infuser has a PID for temperature control. That's a fancy way of saying you can specify the precise temperature for the group head and the machine will maintain it so that each shot is also consistent, yielding the ideal extraction. Typically PID is only found on espresso machines costing over $1,000 or more, so to find on this Infuser model is a welcome bonus for would-be buyers.
Where Does the Infuser Sit in the Breville Espresso Machine Lineup?
The Infuser is a step-up from the Breville entry level Bambino/Bambino Plus

But you could spend more (+ $250) for an all-in-one machine that includes a built-in grinder such as the Barista Express
In terms of where the Infuser is positioned in the Breville espresso machine lineup, it's essentially toward the entry level. You can spend more and you can spend less. Let's take a brief look at a couple of other options.
You could opt instead for the entry level Breville Bambino ($340 USD) and save about $150 over the Infuser. However, you will give up key features including the aforementioned PID for temperature stability. Also, you won't get a three-way solenoid in the group head which will make cleaning spent espresso pucks a messy affair. There's other differences too. With the $150 price difference (due to the Infuser sale which normally sells for more) we highly recommend considering the step-up to the Infuser.
Or you could step-up to something like the Barista Express ($699 USD). This is the entry model in Breville's all-in-one lineup of espresso machines which include, most notably, a built-in bean hopper. The nice thing here is that you won't need to allocate counter space for an espresso bean grinder — a consideration if you buy an Infuser or Bambino. Some suggest this is a negative. That you want a separate grinder so that you can upgrade it as you grow your espresso hobby and want to evolve into a true home barista. With the Barista Express you're stuck with the built-in grinder. It's a tough call. Your personal preference will likely dictate if you prefer the all-in-one machine with built-in grinder, or if you want to go the separates route and buy a separate espresso machine and grinder.
Breville Infuser Espresso Machine: Perfect for Fans of Home Espresso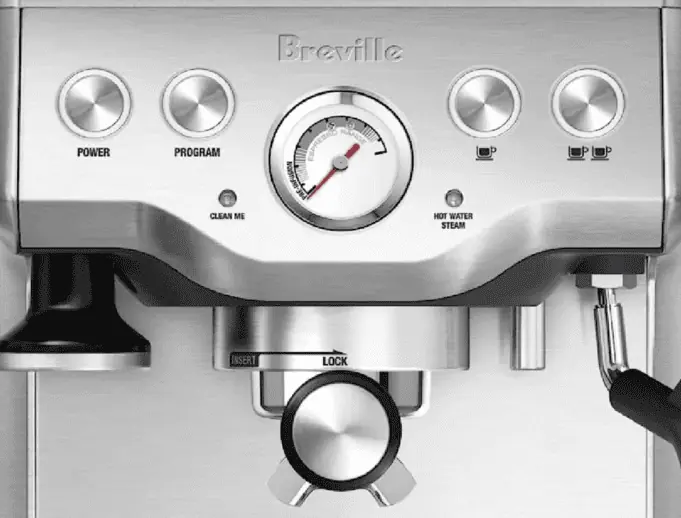 Excellent warranty coverage from Breville

Includes all the needed accessories including multiple baskets, milk pitcher, portafilter, tamper and cleaning supplies
We think the Infuster is an ideal choice for most fans of home espresso. There's enough advanced features such as PID (for temperature stability and ideal espresso extraction), yet the machine is still easy enough to learn for those just beginning their journey to becoming a home barista.
Breville Infuser Espresso Machine

Dimensions: 31.2 x 27 x 33.4 cm / 12.3 x 10.6 x 13.1 inches

Available colors: Black Sesame, Stainless Steel

Water Tank Capacity: 61 oz.

Brewing: 15 bar Italian pump, PID temperature control, 1650W thermocoil system

Portafilter: 54mm

Gauges: Pressure gauge
Breville is known amongst the espresso community for making value-performance machines that don't compromise on flavor. The Infuser is no exception. In our tests it consistently produced high quality espresso and beautifully textured microfoam suitable for Latte art.
There's a sea of choice when it comes to espresso machines, especially for those priced under $1,000 USD. When it comes to ticking all the boxes at this price point we find the Breville Infuser Espresso Machine to be an excellent choice.
Our suggestion: at least shortlist the Infuser for consideration during your espresso machine shopping research.