American film director Kasi Lemmons has been interviewed extensively on her vision for her stirring film biography of Harriet Tubman. Lemmons has said:
"She was incredibly strong. She was incredibly tiny….This very small, very strong, very fierce woman was doing this work [helping enslaved people escape via the Underground Railroad] in incredibly turbulent times….The physicality involved in just the act of escaping or the act of running: It was a man's world [and she was] a tiny, illiterate black woman in a man's world… "
As a child enslaved on a plantation in the South, young Harriet – known as Minty — was struck on the head by one of the plantation owners. She was in a coma for two months; the hard blow may have caused some permanent change in her brain. Her subsequent visions and premonitions played a significant role in her ability to outsmart the trackers and slave catchers who pursued her with a vengeance as her reputation grew. Since Harriet dressed as a man and most people saw her only at night, many assumed she was a man and called her "Moses." The wanted posters nailed to trees by southern slavecatchers referred to her as "Moses.
Young Minty was born enslaved. As an adult she dreamed of freedom, and was more than a little rebellious. Once she realized she had to run to avoid being sold away from her blood relatives on the plantation, Minty said farewell to her father and he gave her one name. That name put her on the path to Pennsylvania. After she crossed the border and reached freedom, the shock on her face tells us all we need to know about the contrast between her life of never-ending labor for others and what she saw as she walked along wide city streets with people of color walking as naturally as whites. She took a new name — Harriet from her mother, and Tubman from her husband.
Award-winning actor Cynthia Erivo brings this legendary figure fully alive in scene after scene. Our images of the runaway who went back south into danger to rescue dozens of others are based on photographs taken years after the Civil War, when she was much older. Through the efforts of director and screenwriter Kasi Lemmons, and Cynthia Erivo's performance, we see the fiery young heroine after she escaped to freedom and then decided she could not rest until she had rescued her blood relatives.
Always part of Harriet's experience as a conductor on the Underground Railroad was the awareness that there was dedicated cooperation based on a shared belief – that enslaving another human being was wrong. The peaceful Quakers, the quiet farmers, the country preacher who counseled obedience to one's owner – all were members of the Underground Railroad.
In Philadelphia where Harriet first experienced freedom, she was introduced to abolitionists and free black citizens who had never been enslaved. After she began bringing back other enslaved individuals on the Underground Railroad, always a dangerous journey, she was introduced to those who financed the escape routes, a very secret society.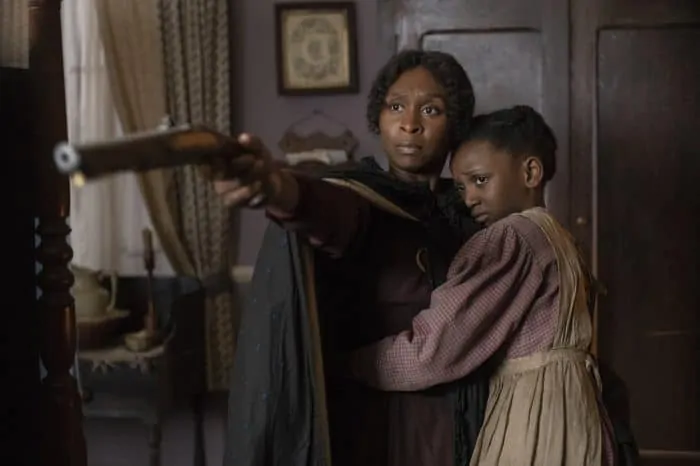 Their task became so much harder when Congress passed the Fugitive Slave Act, which meant that slavecatchers could reach even into Pennsylvania and other northern states in order to bring people back into bondage. When helping enslaved people to escape, Harriet now had to run not 100 miles to freedom, but rather 600 miles to freedom, all the way to the Canadian border. Yet she still made at least one more trip into a South rife with slave catchers. And she was armed with a pistol and a sword.
According to a history.com documentary, Harriet Tubman became the first woman to lead an armed military expedition in June 1863 when she and 150 black Union troops rescued 700 enslaved in the Combahee Ferry raid, during the Civil War. She later worked on similar missions with the famed Massachusetts 54th Infantry.
A Tony winner for the stage play The Color Purple, Erivo's singing voice was very much a part of the film portrait of Harriet. As most readers know, many enslaved communicated with each other by singing spirituals, to convey important messages without plantation owners or overseers suspecting anything. To those who knew how to listen, Harriet communicated her presence this way.
A Tony winner for the stage play The Color Purple, Erivo's singing voice was very much a part of the film portrait of Harriet.
Choosing locations for the filming was complicated, according to an interview Lemmons gave to Conde Nast Traveler. Harriet escaped from Maryland, but filming was done in Virginia. Water is an important part of Harriet's story – the Choptank River, the Delaware River, Chesapeake Bay and the Combahee River, so water had to be nearby. The director and cast took time to consider the reality that they were filming on hallowed ground – the horrors of slavery and the horrors of the Civil War permeated some sites and made them too sensitive for filming.
Director Kasi Lemmons is known for the film Eve's Bayou in 1997. That film was inducted into the Library of Congress' National Film Registry in 2018. John Toll is the cinematographer for Harriet. His fine work appears in Terrence Malick's The Thin Red Line.
Excellent supporting performances by Janelle Monae as the first free woman of color who takes Harriet under her wing in Philadelphia, and Joe Alwyn as the son of the plantation owner. His performance is multi-layered and conveys both the ambivalence and emotional dependency which could develop between slave owner and the enslaved as children. Leslie Odom Jr. is the abolitionist who is Harriet's final contact once she successfully navigated her way to freedom. Jennifer Nettles is frighteningly effective as the plantation widow who is sure that God meant for her family to own other humans and that their wish to escape is an affront to her family.
As Jeffrey Anderson said in a recent review, Harriet is both powerful and delicate, embracing reality and magic. From her childhood injury leaving her in a coma for two months, to her direct communication with the spiritual world, to her incredible bravery and dedication to her family, Harriet inspires and heals. Significant American history brought to life in an exciting and uplifting film.