Amazon has updated the Fire 7, its budget-friendly, entry level tablet.
With 16GB and special offers (ads), Amazon (NASDAQ: AMZN) will reportedly start shipping the Fire 7 on June 6, 2019 for only $49.99.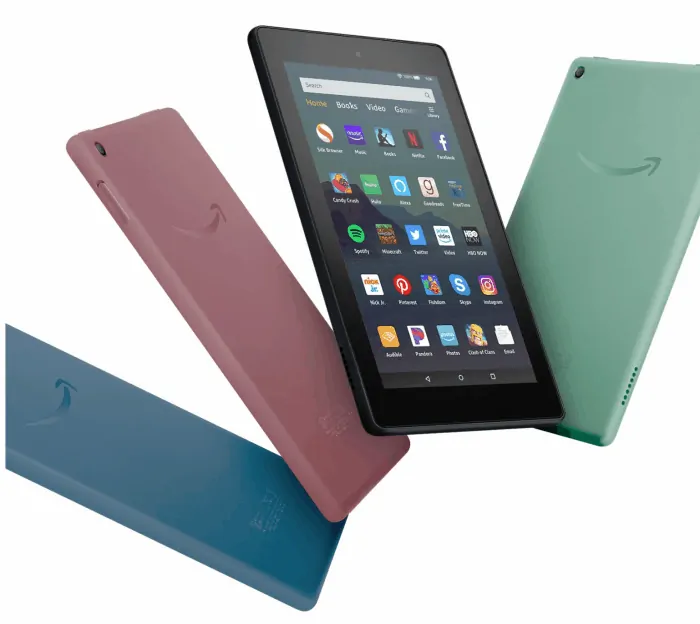 As the name implies Fire 7 features a 7″ display (IPS 1024×600 @ 171ppi). In addition you can expect up to 7 hours of battery. Other key specs include: 1GB RAM, 1.3GHz processor, 2MP cameras, dual-band WiFi, built-in Alexa assistant MicroSD slot and 3.5mm headphone jack. Warranty is limited to 90 days.
Fire 7 will be available in 4 colors: black, plum, sage, and twilight blue.
One key point Amazon is marketing to set the Fire 7 apart from the competition — namely Apple — is durability. Specifically Amazon claims the Fire 7 is "2x durable as the latest iPad mini." That's an interesting point to highlight. Given the low price point and rugged design I'd expect to see this is to be popular with parents who are looking for cheap entertainment (babysitters) for their kids without having to worry about breakage.
At $50 USD these tablets are almost throw-away level devices. It wouldn't be much of a surprise to see them at check-outs across Whole Foods stores (which Amazon now own).
Upgrades include getting rid of the Special Offers which will cost you $15. Doubling storage to $32GB goes for an additional $20.
Amazon is running a launch promo. Pre-order a Fire 7 Tablet and you'll get a $10 Appstore credit which you can use to fill it up with games and apps.
BUY/RESEARCH: