Travel writer Janice Nieder continues her Vermont road trip. The journey began in Part 1, and now continues…
Day 2: Shelburne Farms & Basin Harbor
Shelburne Farms is the first farm I've ever visited that I actually felt a little under-dressed for. After exploring the stunningly gorgeous pastoral landscapes and historic buildings overlooking sparkling Lake Champlain, I decided that this was my kind of farming, particularly when I found out that the "farm" was originally a glamorous Gilded Age estate created by Eliza "Lila" Vanderbilt and William Seward Webb back in the 1880's. It was surrounded by a formal Italianate flower garden designed by Frederick Law Olmsted.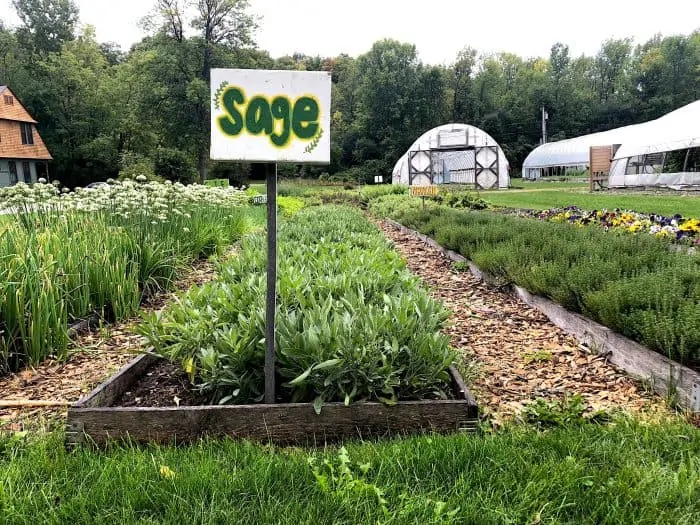 Today, Shelburne Farms is a nonprofit education center for sustainability, a 1,400 acre working farm, and a National Historic Landmark, where you can tour (by foot or tractor shuttle) their award-winning cheese-making operation (where no matter how big a chunk you buy of their clothbound cheddar, you'll wish you bought twice that amount!) the historic barns, market gardens, bakery, petting zoo, and even a "solar orchard" which produces a whopping 70% of their electricity.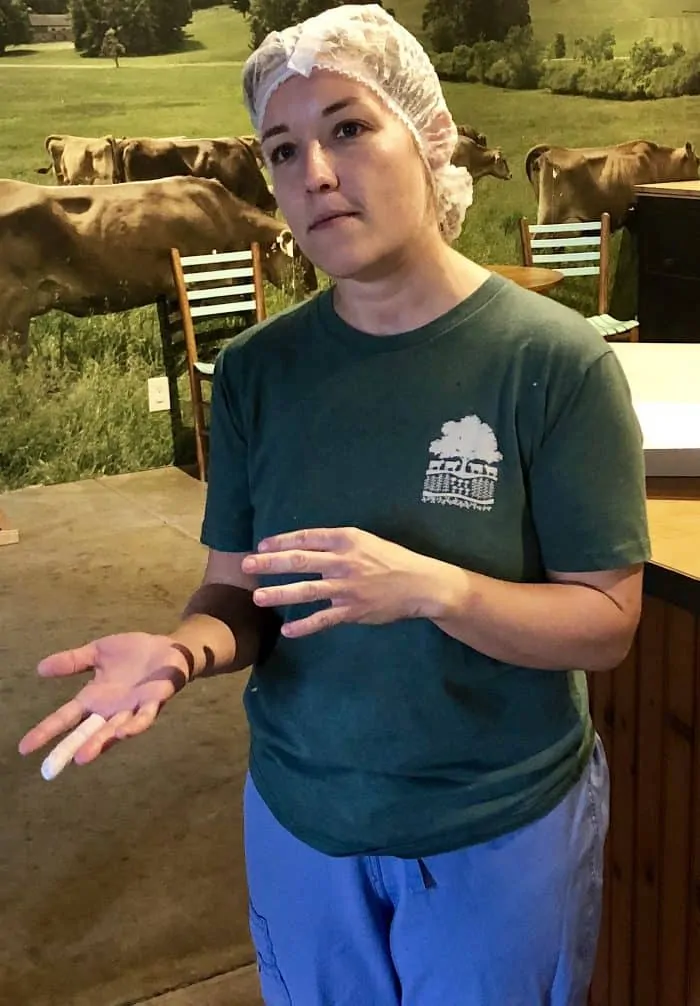 I learned that while the cheese is made using the milk from their purebred Brown Swiss cows, their tender beef comes from "Swangus" cows which are Brown Swiss crossed with Angus.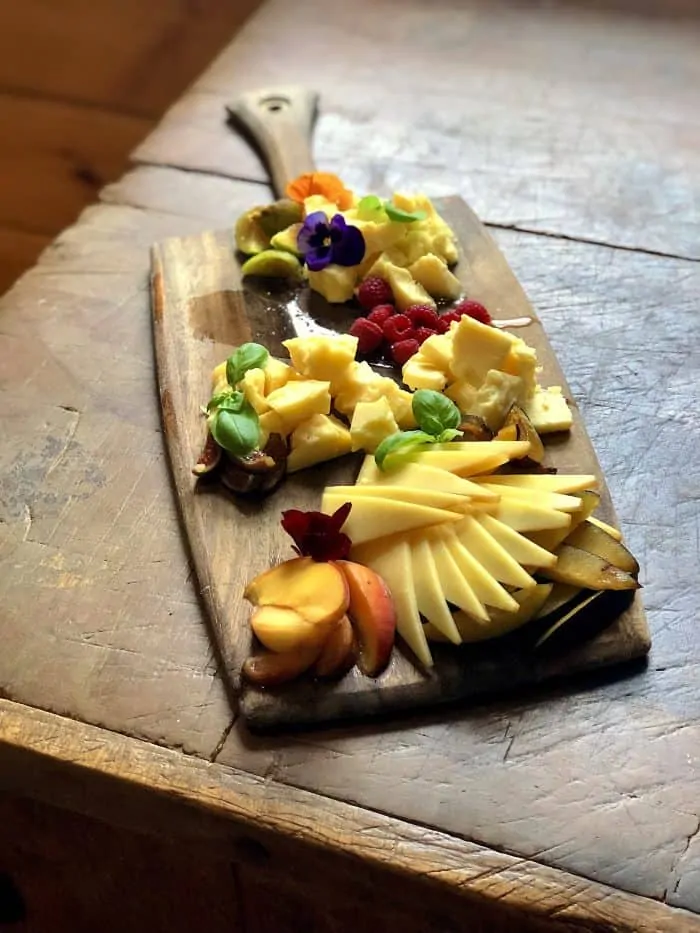 After strolling the grounds head inside for a meal at their right-down-the-path-farm-to-table restaurant, where 75% of the food served is gathered locally and the menus are hyper-seasonal. It was kind of special actually seeing the chickens, sheep and cows that all played an important role in my scrumptious cheese and sausage omelet.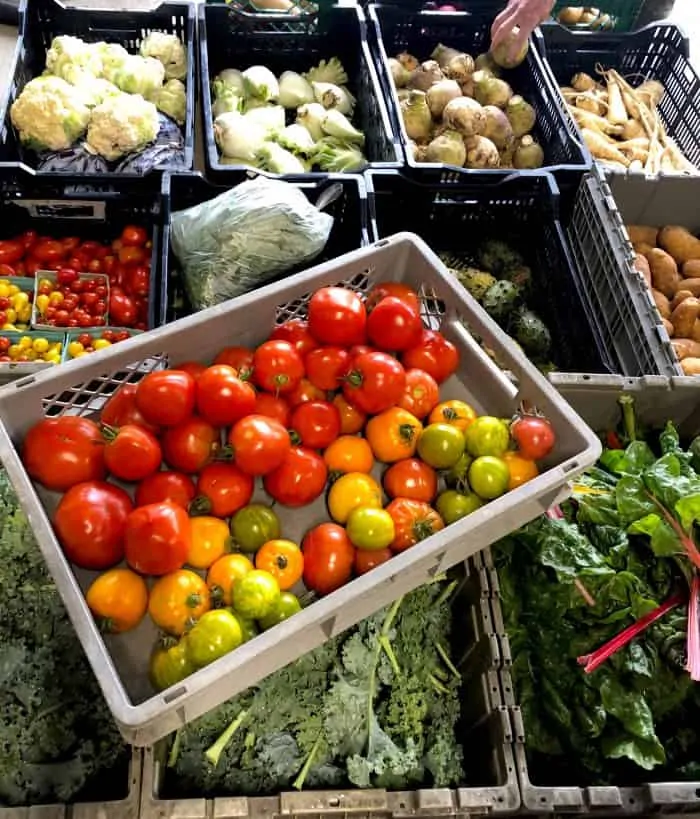 FYI: As you walk down the hall to the restaurant note the original 1880's blue wallpaper.
Inside tip:

If you can live without a TV and air con, often replaced by wood-burning fireplaces and tons of charm, then try and reserve one of their 2-dozen rooms and cottages for your stay. Each is unique and run the gamut from a Pottery Shed to a Tree House.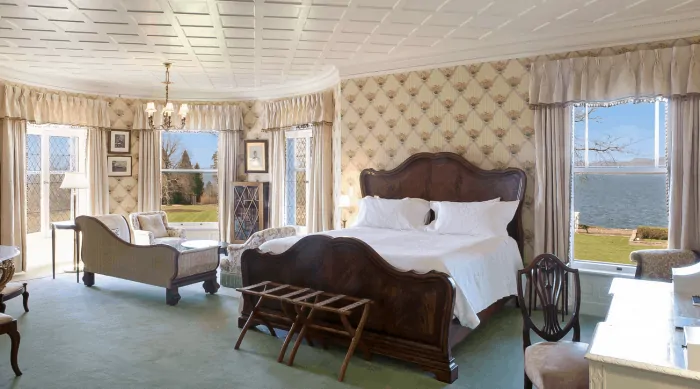 For a special occasion reserve The Overlook room, which was Lila Webb's bedroom with outstanding views of some of her favorite places—the lake, meadows and gardens.
Side Trip: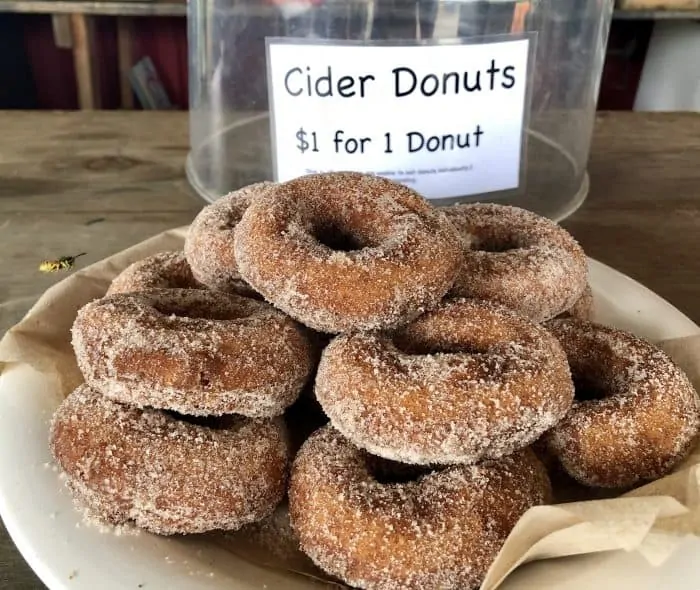 Cold Hollow Cider Mill is a general store selling various Vermont items and food products. But the main reason everyone stops here is for the home-fried cider donuts washed down by some fresh pressed apple cider.
Stay: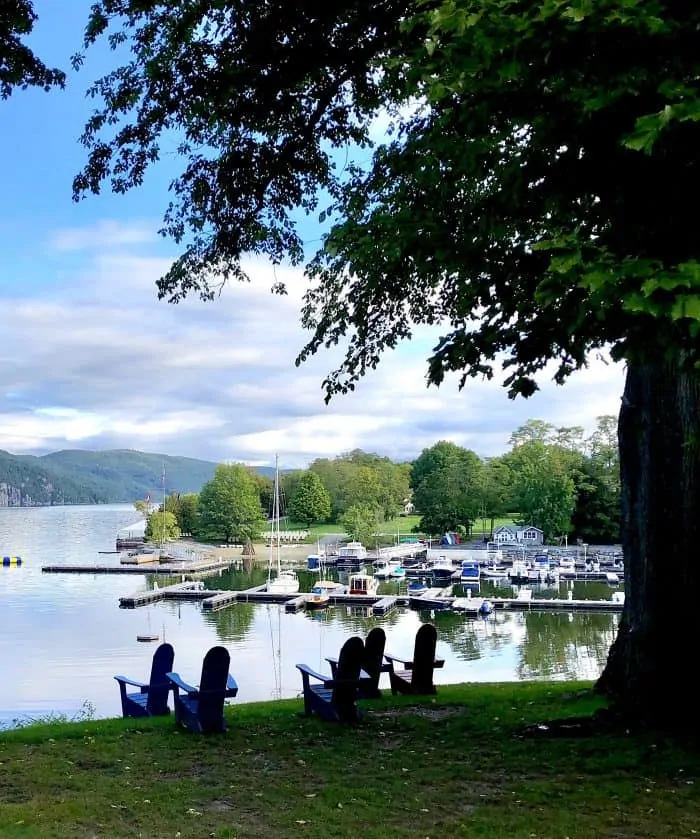 Many fine inns in Vermont are family-owned but I doubt that any can match Basin Harbor's record since this lovely has been proudly owned by the Beach family for 6 generations! I can totally understand why when I was told that the same guests return to their same cabin year after year for family retreats. It's like a classier Dirty Dancing setting, with the friendliest service (when I was caught stealing a handful of their scrumptious homemade Maple Shortbread Cookies, I thought I was busted, but instead they urged me to take all I wanted and sweetly offered me the recipe for them!)

There is tons to do at Basin Harbor starting with swimming, kayaking, paddle boarding, biking, fishing, tennis, fitness center, 18-hole golf course, or you can simply relax while watching the sunset from the porch of your lakeside cottage,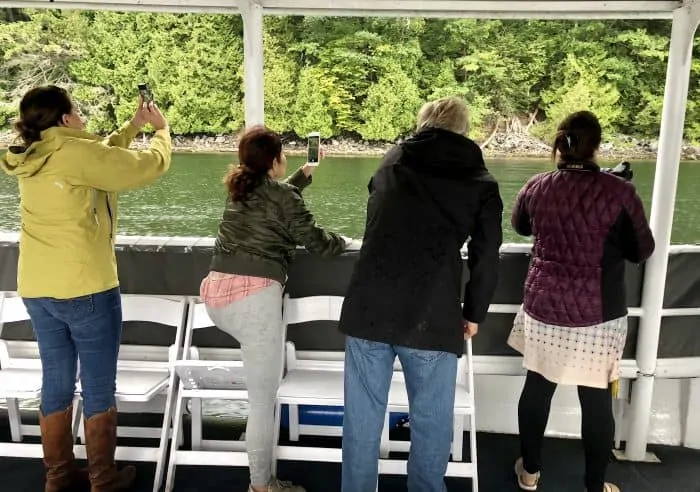 Inside Tip:

Ask Bob Beach, one of the owners, to take you on a scenic boat cruise where he regaled us with a fascinating historical overview of the area, complete with sunken "treasure ships" and bald eagle nests.
I was expecting the food to be family-friendly, plain and serviceable but not so, my friend. IT WAS INCREDIBLE! Our 5-course wine pairing tasting meal at the stunning Ardelia's restaurant could rival any top French restaurant in NYC. I'm still dreaming about Chef Philippe Ducrot's, a member of "La Chaine des Rotisseurs", miraculous Lobster Fricassee over Pumpkin Risotto. Wine connoisseurs can rest easy since Ardelia's have been awarded Wine Spectator Award of Excellence every year since 1991.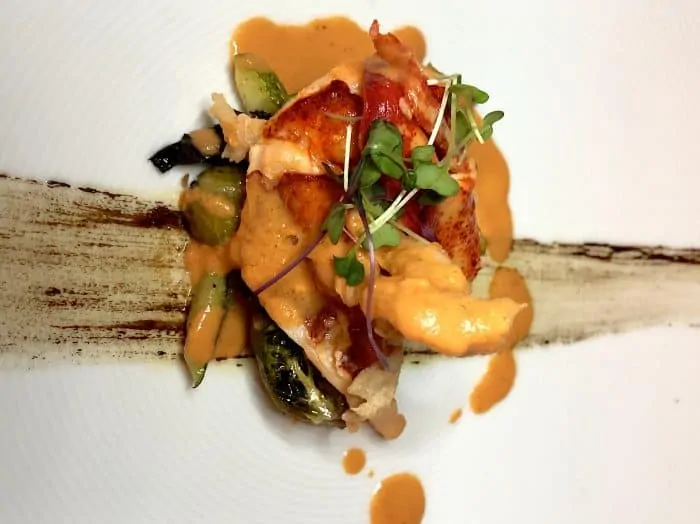 Day 3: Vergennes and Stowe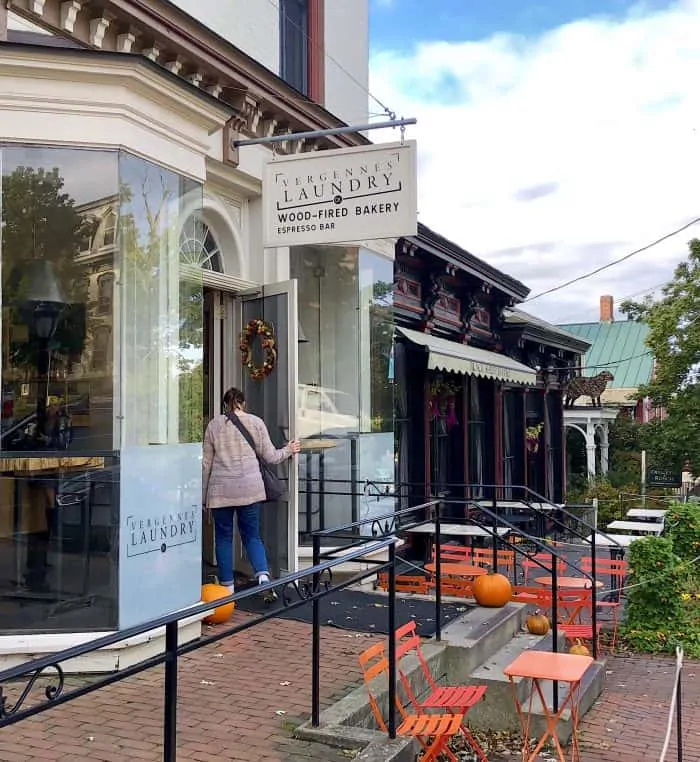 Brunch:
Vergennes Laundry-though it may be small town this eatery is big on taste. (I later found out that Vergennes' hash tag is #LittleCityBigHeart which could not be more perfect.) I wanted to try everything on their creative brunch menu but settled for sampling their addictive cider donuts before devouring my healthy vegetarian/Korean rice bowl, which swapped out the meat for avocado, and a kim chee topped fried egg. Yummers!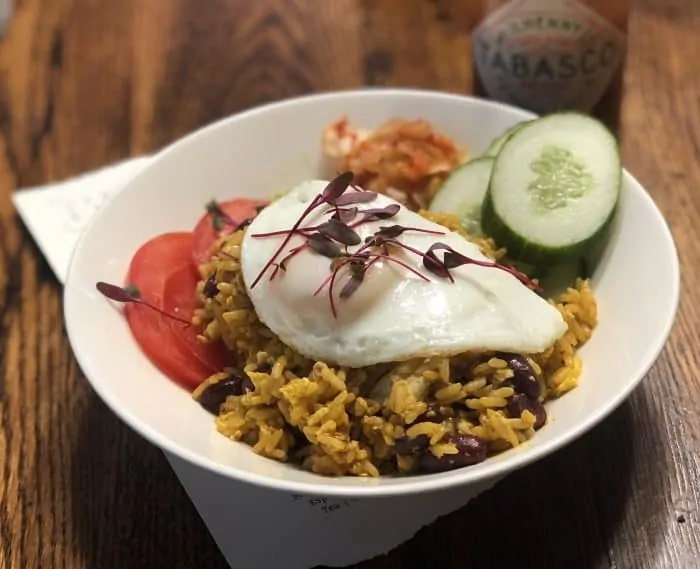 Christian Kruse, the chef/baker/owner had grown up near by, attended a local culinary school, perfected his skills at Basin Harbor and then struck out on his own, Originally V.L. was only open just coffee and pastries, but it soon morphed into a full-scale, exceedingly popular restaurant. Although the dinner menu changes monthly, Chef Christian said the most frequently requested dish is his goat cheese, beet and mascarpone panacotta.
Beer Break:
I had one of my best night's sleep ever after our visit to The von Trapp Brewing Bierhall because I finally found out what happened to Maria and the fam after Sound of Music ended. And I got it (almost) straight from the horse's mouth-since it was Sam von Trapp, the grandson of Maria von Trapp, who gave me the update.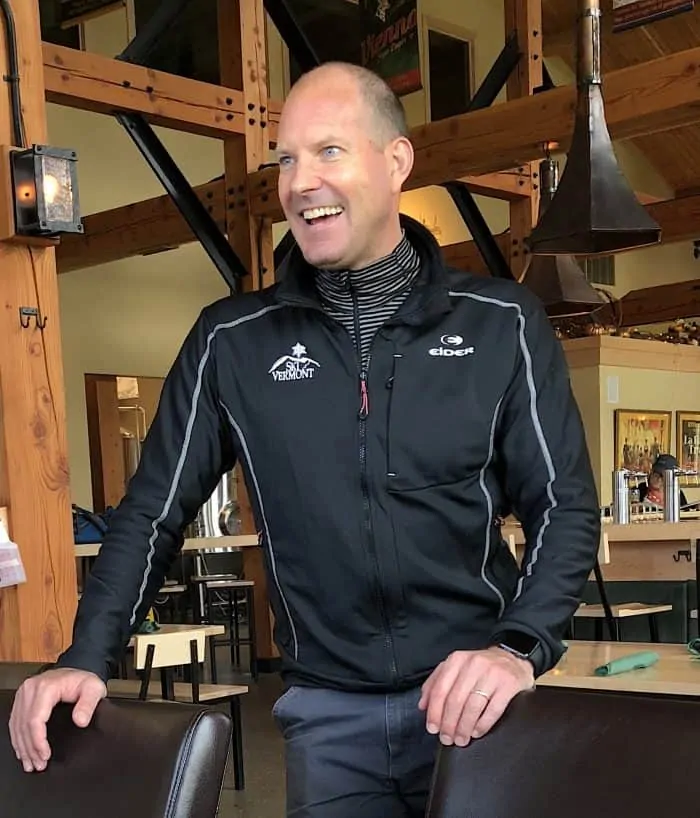 The short version is that after fleeing Austria in 1938, the family toured the world as the Trapp Family Singers until they fell in love with Vermont and bought a farm here in 1942. They turned this into the first commercial cross-country ski resort in America, and have been adding to it ever since. Johannes von Trapp, Maria and the Barons youngest son, always dreamed about brewing the crisp clean lagers he enjoyed in Austria, so a few years ago, with his son Sam, they opened this innovative, state-of-the-art brewery, with a Rolec Brew House form Bavaria, capable of producing up to 35,000 barrels of beer annually.
The rustic/ industrial chic decor pairs thick Vermont wood beams with shining stainless steel glimmering under the sunlight streaming in through the tall picture windows overlooking the woods.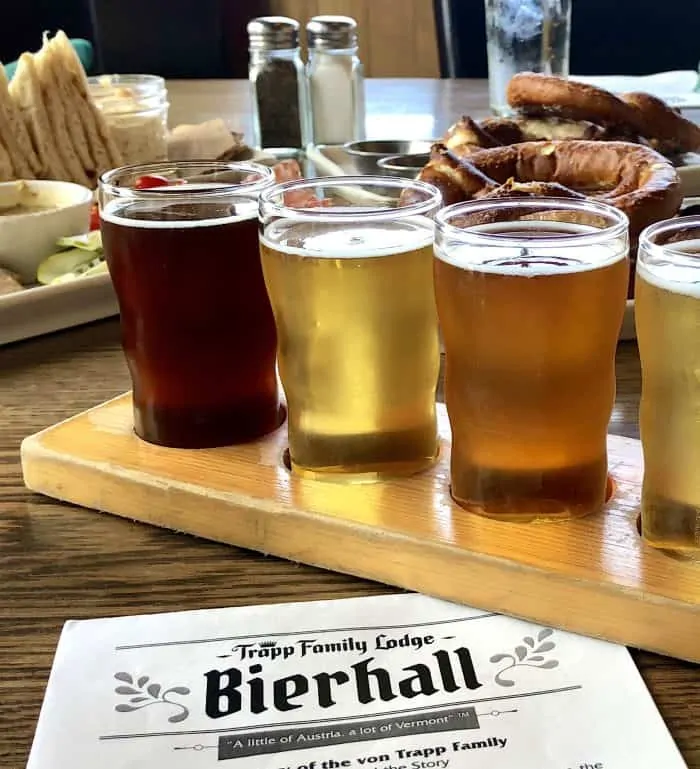 Inside Tip:

The best way to sample a lot of tastes is to order the Flight of Beer with four 4 ounce beers of your choice, paired with a sausage grill platter which contains a variety of German sausages, smoked pork belly (bacon), red cabbage, sauerkraut mashed potatoes, etc. Add on a cheese platter, featuring award-winning artisanal cheeses from the Von Trapp Farmstead, where Sam's cousin Sebastian makes the cheese using organic milk from his family's small herd.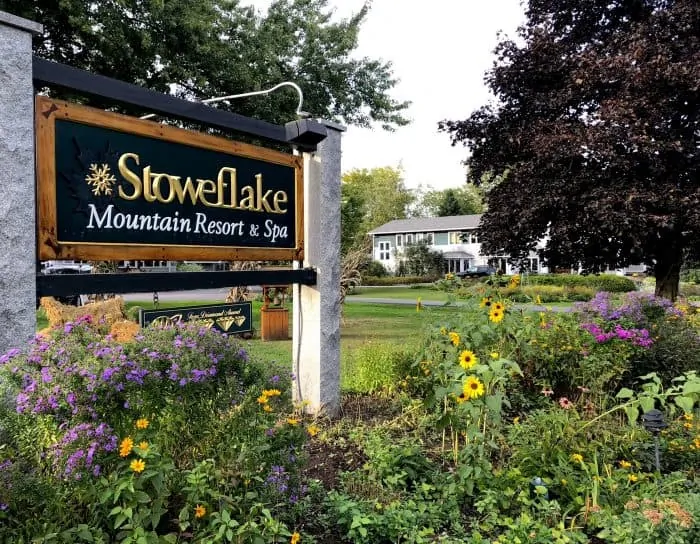 Stay:
Another stellar family-owned spot, Stoweflake Mountain Resort and Spa was home to our final sleepover. This upscale resort has it all going on and you truly never have to leave it to have all your creature comforts met…unless you're dying for a fresh brew, then head to the back of the property which abuts to the much-loved Alchemist Brewery.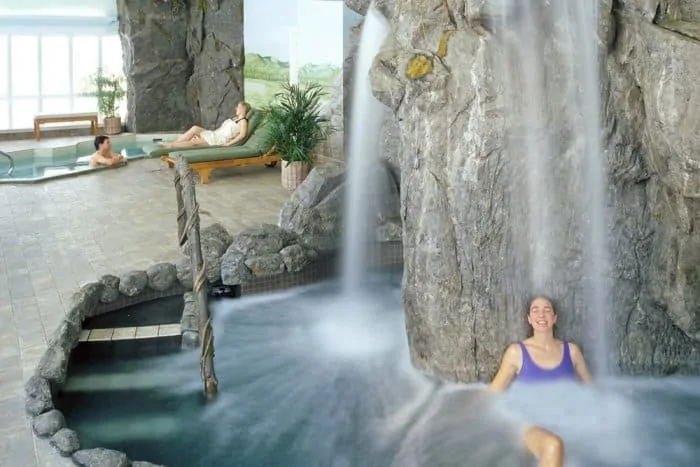 But first you might want to unwind at the acclaimed, 50,000 sq.ft. Spa at Stoweflake, the largest in the northeast. Pre-treatment, take advantage of the Hungarian mineral soaking pool, hot tubs, Eucalyptus-infused steam rooms and a hydrotherapy waterfall. Offering a whopping 150 relaxing remedies, it's hard to choose, but if you want to go local I'd suggest combining the moisturizing Vermont Maple Sugar Body Polish followed by their invigorating Green Mountain Coffee treatment which culminates in a full-body Coffee Oil Massage. Ahhhhhhh.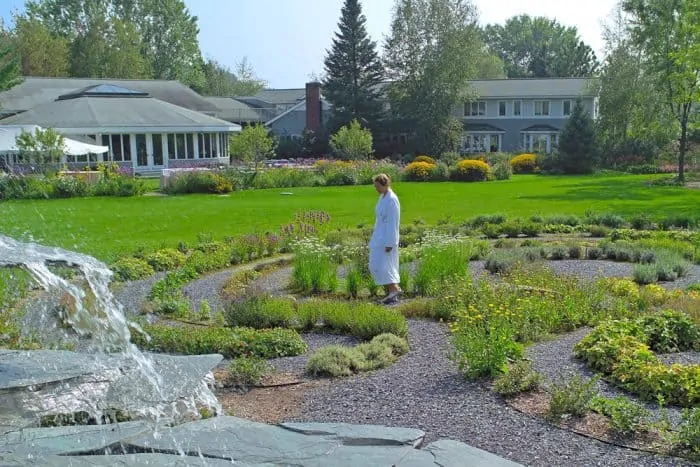 Pop outside for a little mind-unwind as you ramble through their 10,000 square-foot meditative garden, complete with a seven-circuit Zen Labyrinth.
Energy renewed, you can swim in the indoor or outdoor pool, work out in the fitness center, use the racket ball, squash or tennis courts, join a Pilates or yoga class, or play a round at the onsite 9 hole, par 3 golf course.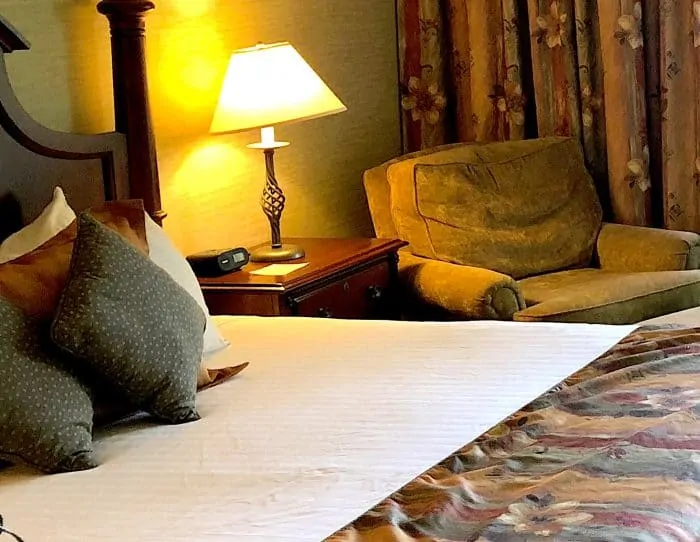 While all the rooms are warmly appointed you'll definitely want to book one of the spa rooms here for the fireplace and Jacuzzi, refrigerators and wet bars. Other thoughtful amenities include spa bathrobes, complimentary WI-FI, HD flat screen TVs, Keurig coffeemakers and more.
Charlie B's, the cozy onsite eatery, features farm-fresh Vermont cuisine, a Wine Spectator award-winning wine list (over 50 by-the-glass) a wide array of craft beers and creative cocktails. I could easily make a meal from their inspired list of appetizers (don't miss their Duck Ninja Rolls!) with a few of their Vermont Mapletini's.