There are approximately 172 islands in Washington State's San Juan County, plus the popular neighboring islands of Whidbey and Camano, and once you start visiting them you'll soon learn that the finest fresh caught, shucked, brewed, foraged and farmed food awaits you at every turn.
The easiest, prettiest and most fun way to island hop is on the Washington Ferry System which runs regularly scheduled ferries between San Juan's Friday Harbor and Orcas, Lopez, Shaw Islands.
Below are my favorite spots for a weekend gastronomic getaway to Whidbey and Orcas-two culinary treasure islands I'd love to be shipwrecked on.
WHIDBEY
Eat here: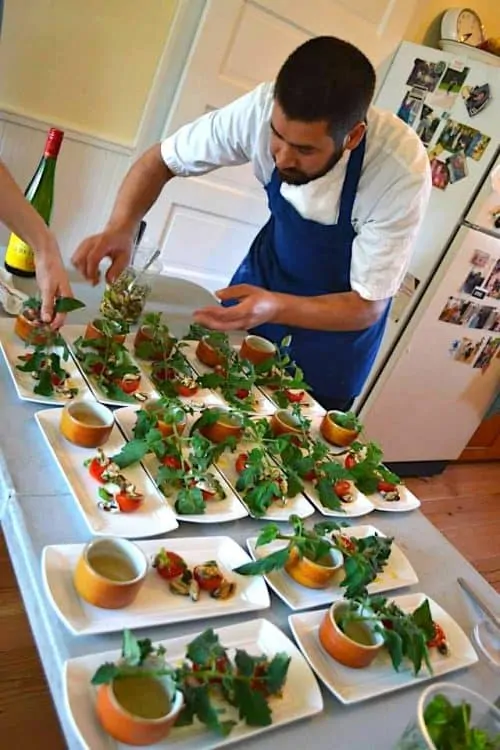 Oystercatcher could be the poster c'hild for locally sourced, sustainable, farm to table dining. The talented Chef Tyler Hansen, along with his extremely capable wife Sara, who seamlessly runs the front of the house, spins his magic on the farm fresh bounty to create an outstanding, memorable meal. You know you're in caring hands from your first bite of his justly famous, house baked bread, be it Rosemary olive, molasses oatmeal, sprouted wheatberry, rye, etc., topped with a savory spread such as pork lardo or roasted shallot goat cheese, all the way through to your final bite, which in our case was an incredible Rye pound cake topped with rhubarb jam, buckwheat crumble and honey ice cream.
Insider Tip:

Our dinner was artistically presented on organically shaped, handmade dishes created at Cook on Clay. Stop in at their studio to see how they are made or to purchase your own ruggedly elegant pots.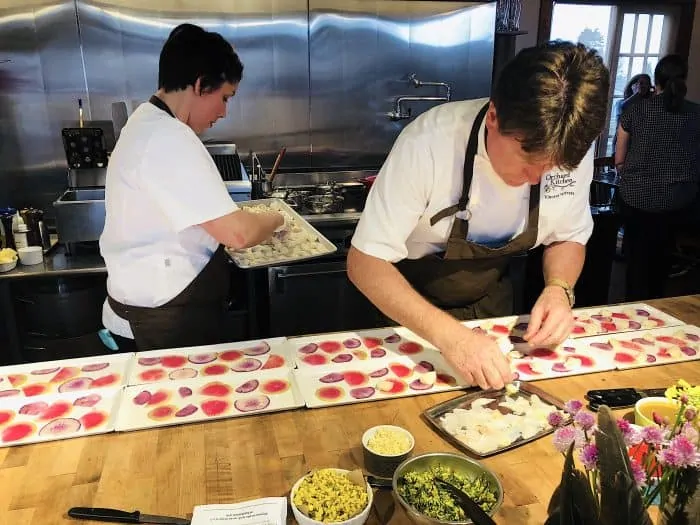 Orchard Kitchen has another dynamic husband and wife team who also turn out uber seasonal, local, refined farm food.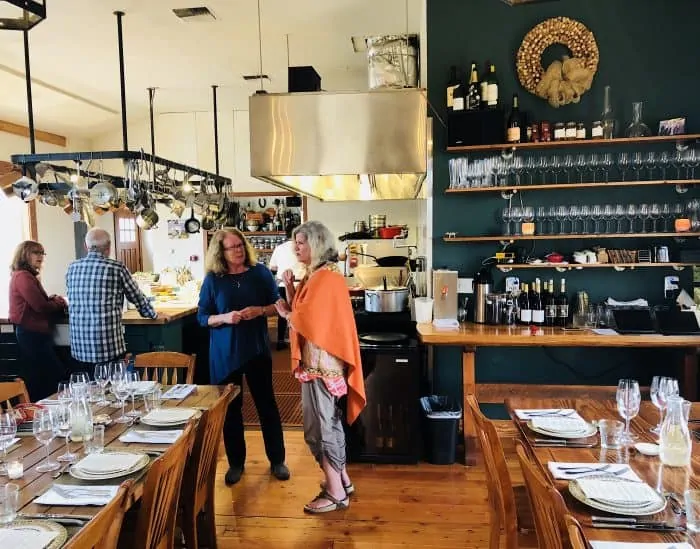 Chef/restaurateur Vincent Nattress, who has cooked at Michelin-starred restaurants in both France and California, and his wine maven wife Tyla, moved back to Whidbey to realize their dream of opening Orchard Kitchen, a restaurant and cooking-school set on a five-acre farm. Be sure to reserve a spot in advance because their unique four-course family style farm dinners are only served at one 7:00 PM seating, Thursday -Saturday. Trust me- you'll be happy you did.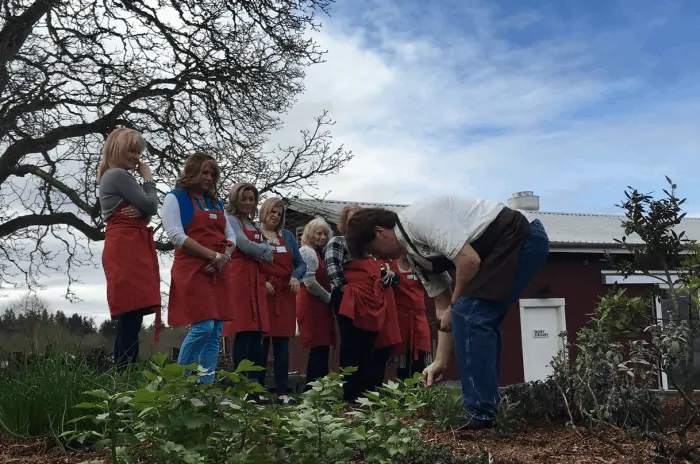 Insider tip:

Once you try Vincent's food, you'll be hooked so why not learn how to DIY by signing up for one of his in-depth cooking classes, ranging from "How to Make Gnocchi" to "Flavors of India".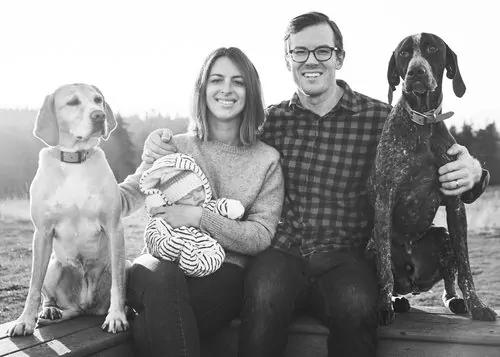 Whidbey Pies is well worth a detour if you're anywhere even remotely on the West Coast. Owned by yet another hub & wife duo (maybe Tinder should start a foodie division?) they also own Greenbank Farm, which was once the world's largest Loganberry farm. The pie team makes over 1,500 of these flakey handmade pie with various fillings ranging from a tart Washington Cherry pie, classic Loganberry, salted caramel apple and even a savory Thanksgiving Pie filled with turkey, sausage stuffing, gravy and taters.
Insider Tip:

Due to popular demand their classic Apple, Marion and Pumpkin Pies are now available gluten-free.
Drink here: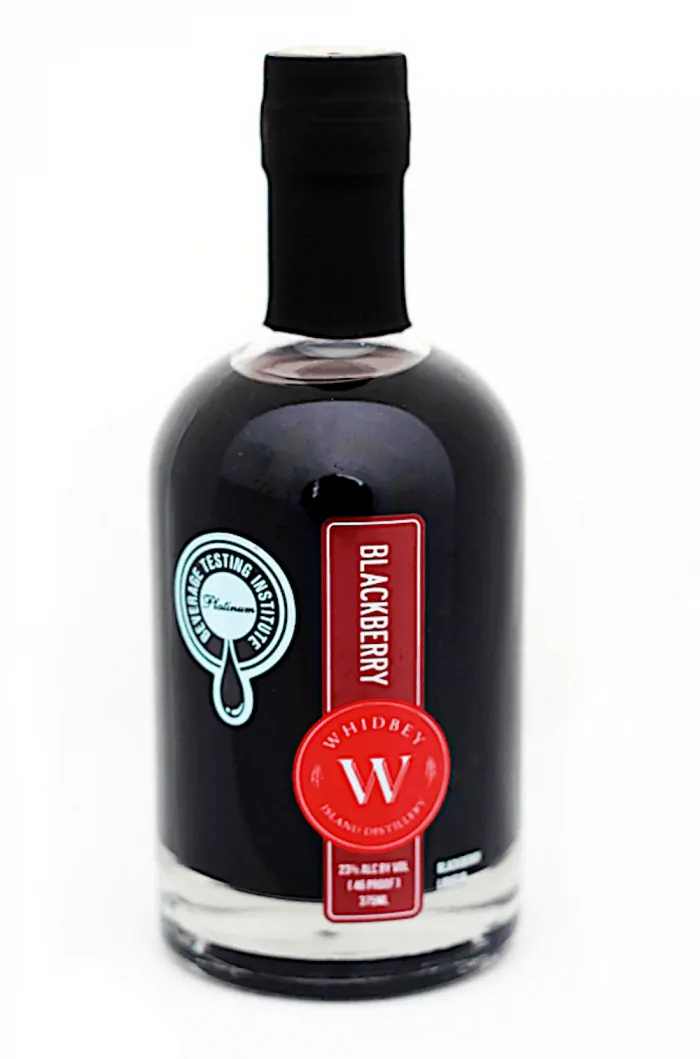 Who would have thunk that the understated, rustic, family-owned Whidbey Island Distillery would make the single highest rated spirit (of any type) produced in North America? Not only that, but their Blackberry Liqueur, has been awarded the prestigious Platinum Medal (98 points) by the Beverage Testing Institute and is one the top rated in the entire world!
Who would have thunk that the understated, rustic, family-owned Whidbey Island Distillery would make the single highest rated spirit (of any type) produced in North America?
And if that doesn't grab your attention than the family friendly distillery, plunked on nine acres, also offers daily informative tours by a super friendly staff and tastings for free! Whisky aficionados will be impressed by their "Whidskey."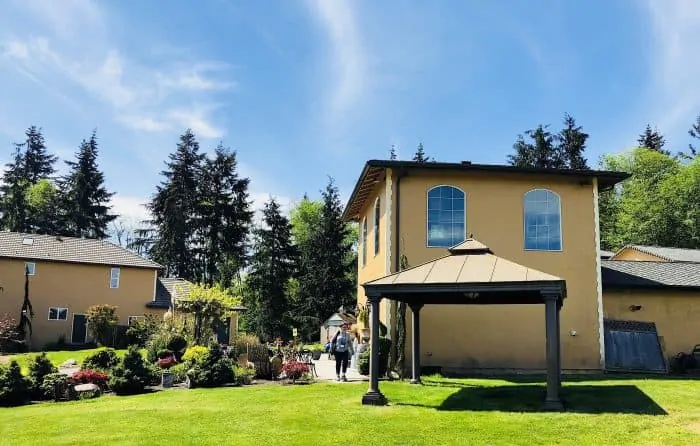 Holmes Harbor Cellars is what happens when you combine art and science. Owned by Greg Martinez, a long flying Delta pilot who has tasted the finest wines worldwide and his chemist wife (the science half) who produce a diverse range of elegant Old-World style wines. Their award-winning, Red Etude, a balanced blend of Cabernet Sauvignon, Merlot and Syrah, certainly pleased my palate. If either of the knowledgeable duo are there, absolutely chat them up since there are very few places Greg hasn't been and his passion for great wine is infectious.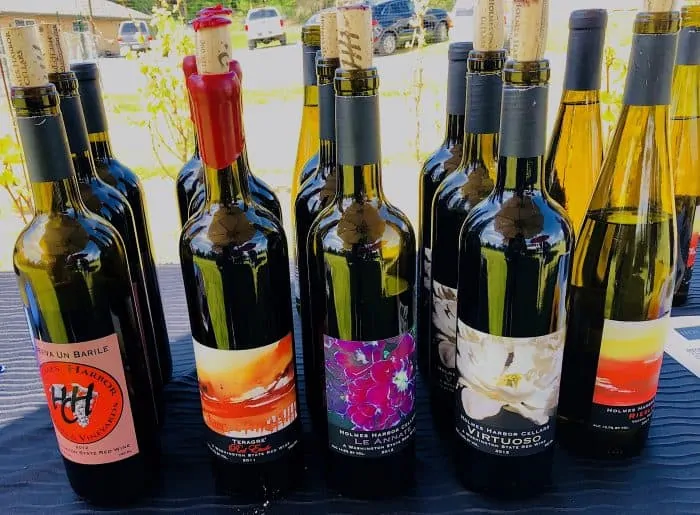 Their 20-acre wooded estate overlooking Holmes Harbor includes a few garden picnic tables, a tasting room and a brand new loft, where they will be holding cooking classes. They are also building a new "barn" venue that is modeled after one of Greg's favorite European train stations.
Sleep here: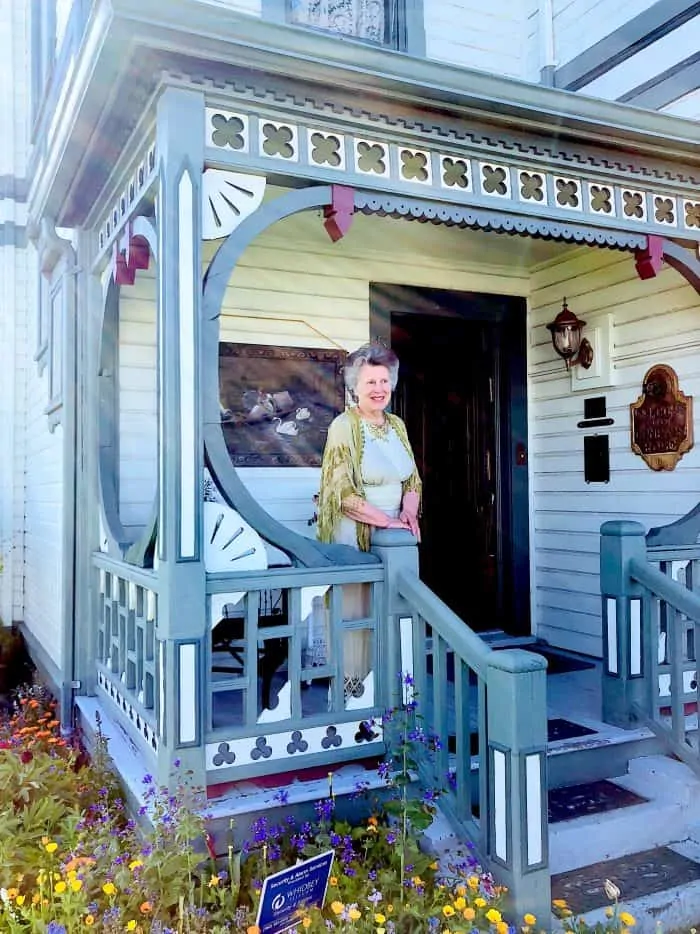 Compass Rose B&B, listed on the National Register of Historic Places, will provide one of the most fascinating sleepovers you'll ever have. Seemingly, every square inch of this elegant 1890 Queen Anne Victorian home is filled with eclectic, often priceless, antiques and objet d'art…but not in a hoarder way, much more like spending the night in a glorious museum.
Your remarkable hosts, Captain and Mrs. Marshall Bronson (Jan) will regale you with stories about their 30 years of traveling the world while entertaining foreign dignitaries, which were part of Marshall's duties as an attaché in the US Navy.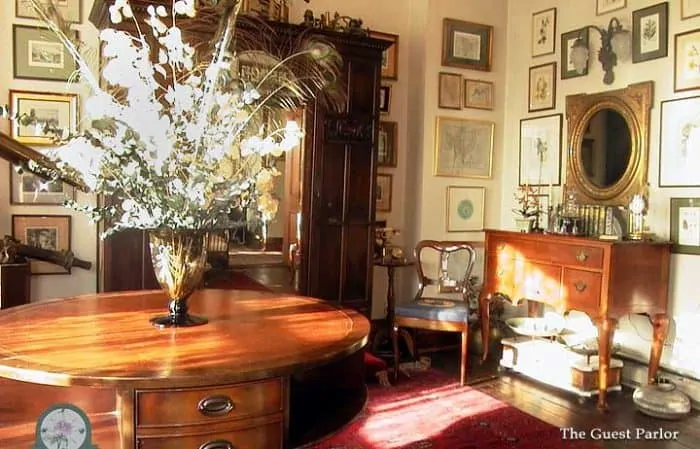 Wake up to a scrumptious candlelit breakfast served on bone-thin china, crystal, silver, linen and lace.
Word is that their island mode of transportation is a green Thirties Packard which certainly would compliment the long Victorian-style gown that Jan wears with great style.
Insider Tip:

There are only 2 rooms so book well in advance.
Part 2 of travel writer Janice Nieder's San Juan adventures continues to Orcas Island…