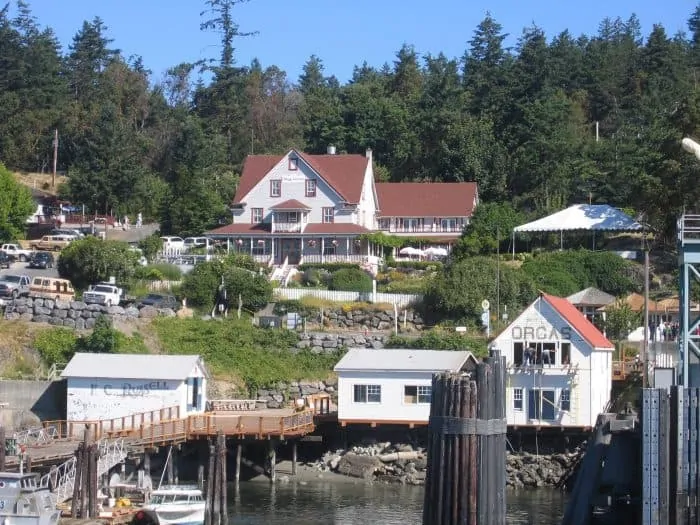 Time to board the ferry for the scenic ride to Orcas Island, or as the locals call it "the Emerald Isle". A diverse green playground, Orcas is known for having the highest mountain in the San Juan's, the gorgeous 5,252-acre Moran State Park with 38 miles of trails for you to hike, bike, or horseback ride through, and it's charming villages.
­
Eat here:
Roses Bakery & Café – this gourmet restaurant has successfully merged its split personalities: fine dining, a casual pizzeria, bakery, wine store, and a specialty food grocery. It's no wonder that S.F. famed Chef Nancy Oaks and hubbie, Bruce Aidell had happily dined here the night before.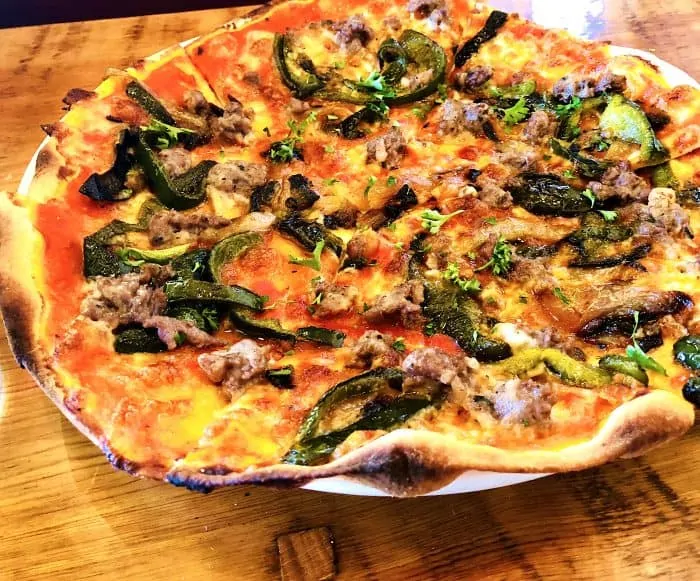 The thin-crusted asparagus pizza was calling to me but I couldn't resist ordering the steamed mussels with crème fraiche and herbs-simple perfection. Luckily, I overheard our server telling another table that there was just one serving of rhubarb raspberry crisp left which I promptly dibsed, although I generously (reluctantly) shared it with the rest of the table.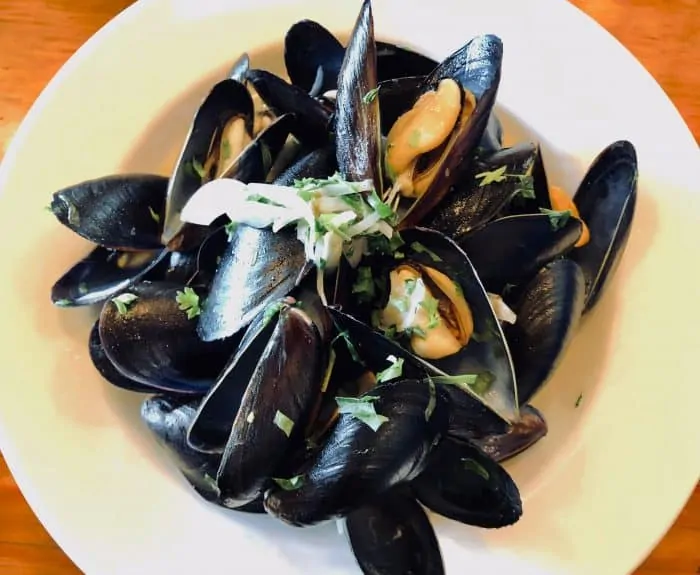 I strongly suggest raiding the store for picnic supplies for another day. We filled our basket with a crusty, seeded loaf, cheese, and a selection of charcuterie, mixed olives, some home-baked sweeties and a bottle of wine.
New Leaf Café – so many choices, so little time. It's a good thing that New Leaf serves breakfast, lunch and dinner and does all three supremely well! Since it's located inside the historic Outlook Inn, particularly lazy foodies could sleep here too and never have to budge off property!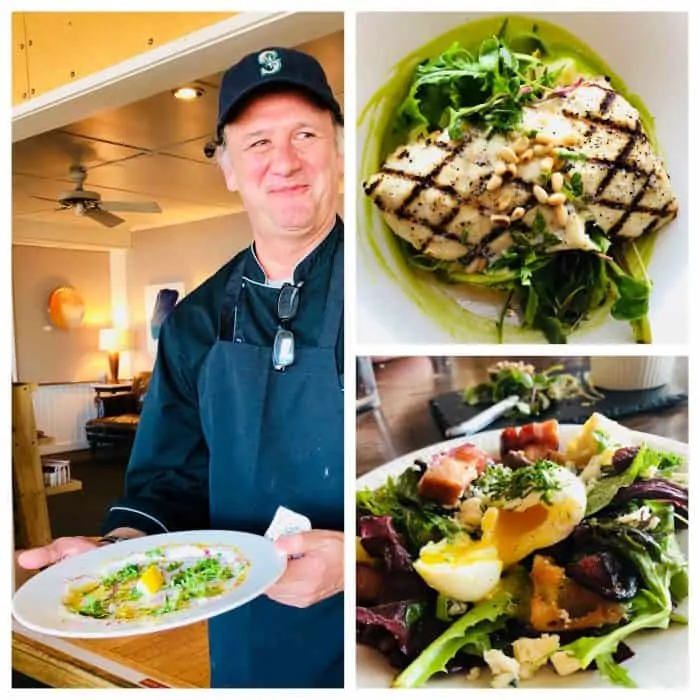 A classic lardon salad of bacon, garlic croutons, Gorgonzola cheese, and greens, with a perfectly poached local egg set the tone. While I was expecting simple bistro food, it was elevated to a much grander scale with a menu that focused on seasonal island ingredients, cleanly and simply prepared with a nod to Chef Steve Debaste's French heritage. Their local Judd Cove Oysters embellished by a shot of housemade horseradish vodka has now become de rigueur for my mollusk enjoyment, and I'm still dreaming about the impeccably cooked halibut with white truffle verjus.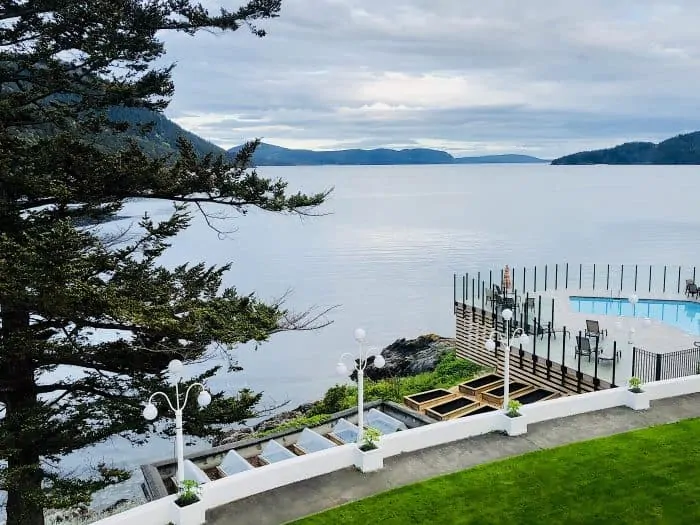 The Mansion at Rosario – This historic Arts and Crafts style mansion was originally built in 1906 by Robert Moran, a shipbuilder and former mayor of Seattle. It now houses The Mansion Restaurant, the centerpiece for the popular Rosario Resort & Spa which offers 88 guestrooms sprawled over 30 waterfront acres.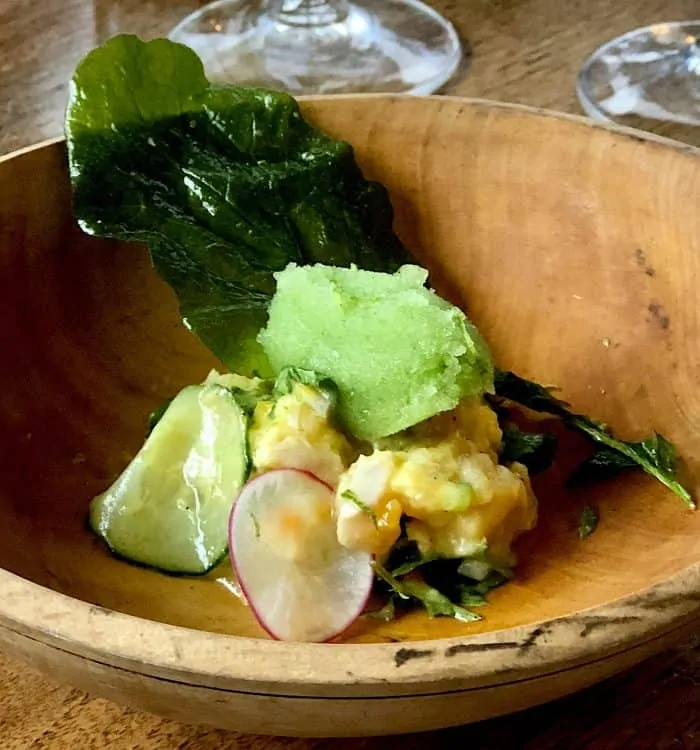 Combining old world glamour with a sparkling Cascade Bay backdrop, The Mansion Restaurant has always been stunner, but the food was "meh". The good news is that ever since Chef Raymond Southern took over the kitchen in 2016, the ohhs and ahhs, once reserved for the view, are now murmured while dining on his creative seasonal cooking.
Inside Tip:

After dining head upstairs for a self-guided museum tour featuring original furnishings and fixtures and an extensive display of the ships built by the Moran Brothers Company in Seattle.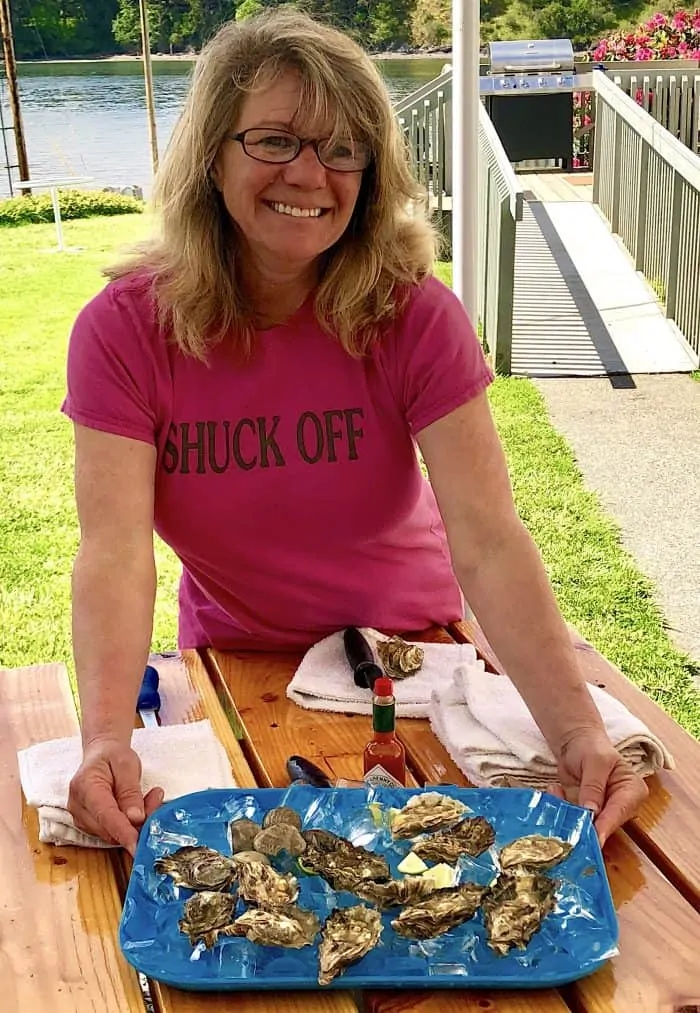 Buck Bay Shellfish – It's worth getting lost as you search out this hidden gem to dine on their locally harvested Buck Bay oysters, clams, and cooked Dungeness crab. BYO wine, cheese and crackers, fruit (which hopefully you picked up at Roses's like I told you to;) and grab a spot at one of the Shuck Shack's picnic tables overlooking the water, while the vivacious owner, Toni Hermansen, enthusiastically shows you the proper way to shuck these babies.
Their local Judd Cove Oysters embellished by a shot of housemade horseradish vodka has now become de rigueur for my mollusk enjoyment, and I'm still dreaming about the impeccably cooked halibut with white truffle verjus.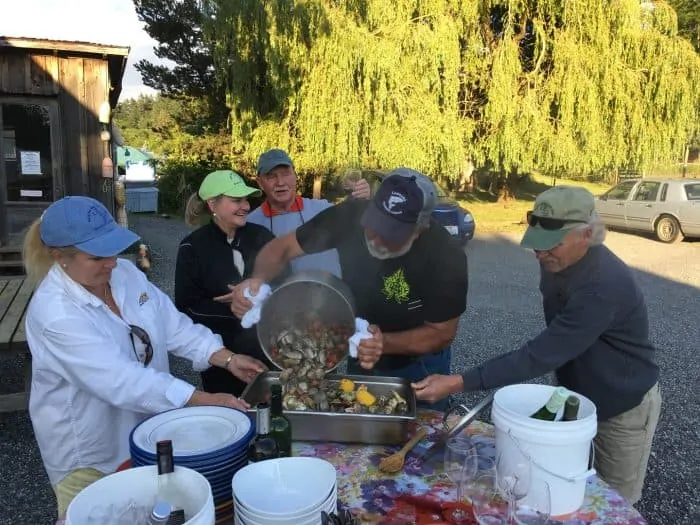 Inside tip:

Their Buck Bay Getaway rental, a cozy 1 bedroom cabin right above the shoreline, has a fully stocked kitchen so you're staying here you could cook your own seafood dinner straight from the shellfish farm!
Drink here: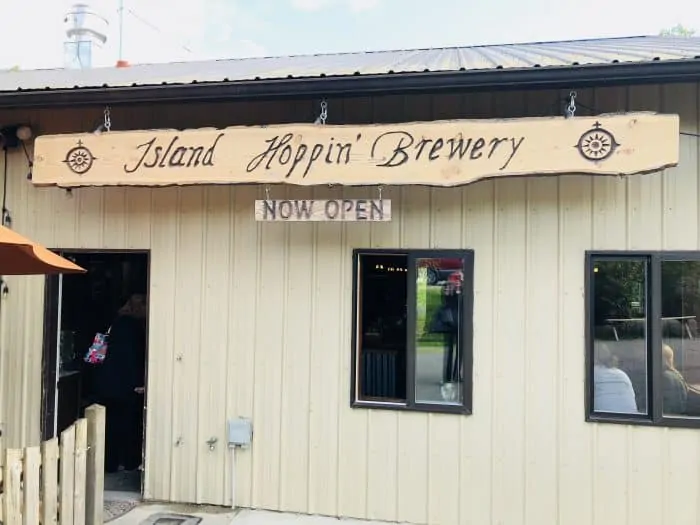 Island Hoppin' Brewery has become a second home to local craft beer enthusiasts. Visitors should start with a flight of their unique small batch beers before settling in with a pint (or growler) of their favorite brew from the constantly changing offerings. Perennial faves include their Elwah Rock IPA, which jump-started their business, to the milder K-Pod Kolsch or the dark and toasty Oatmeal Stout. Some are made with an appealing lower alcohol content so you can easily sip all afternoon here.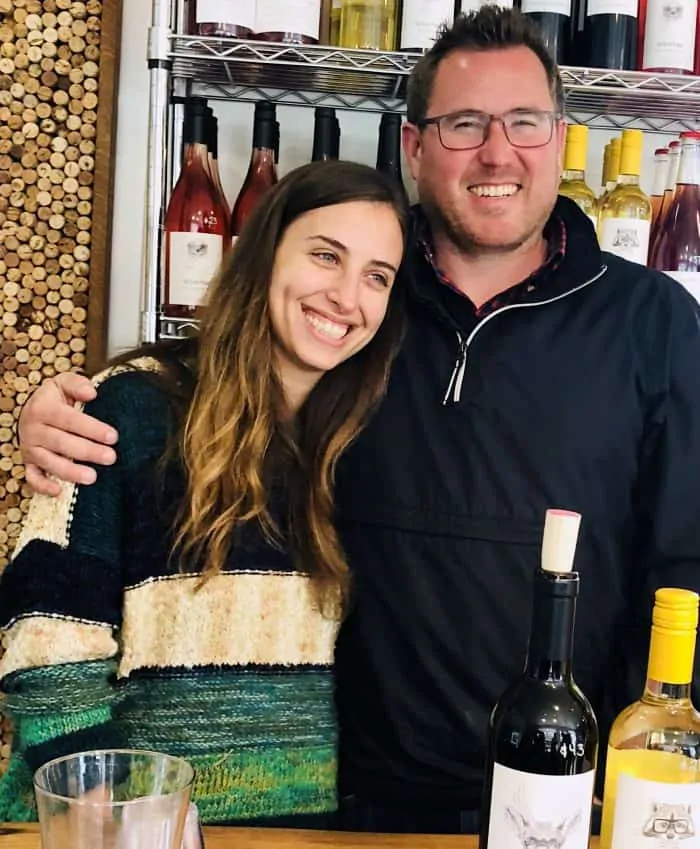 Doe Bay Wine Company, a most welcome newbie offers a superb selection of wine, beer and ciders housed in attractive bottleshop with a lovely back-story. Local home-schooled boy, Cole Sisson, leaves for greener pastures, falls in love with wine, travels, learns and tastes through Europe. He then works at Michael Mina's renown RN74 before moving to Vegas to become the wine director at the Michelin starred Bellagio in Vegas. During one of his business trips to Philadelphia he spies Stephanie (a Jersey native, then involved in wine sales) and was immediately smitten. She, not so much, however after much persistence she agrees to join him on a last minute trip to Oaxaca…and four day's later they were engaged. Go Cole! They marry, move back to Orcas into a (literally) tiny house and open Doe Bay Wine Company. These two simply radiate happiness, with each other and their new venture, so they are a delight to be around. During your visit make sure to taste their new 'The Orcas Project' wines — a collaboration between acclaimed Winemakers and Vineyards in the Pacific Northwest, featuring labels designed by Orcas Island Artists.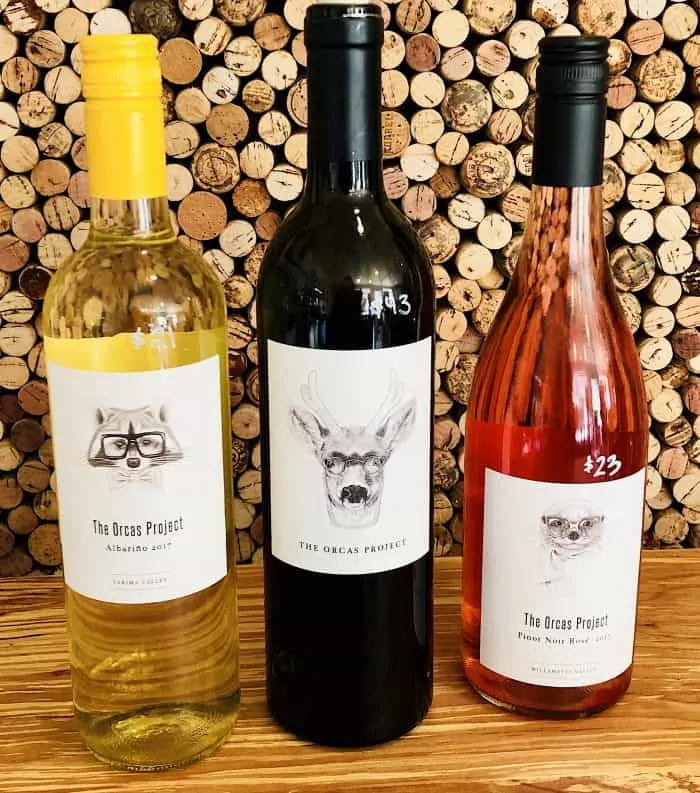 Inside Tip:

Cole recently purchased a roomy Mercedes van for his new venture, Salish Sea Tour Co., your one stop choice for the island's best in Eating, Drinking and Exploring. Whether you're interested in historical narratives, learning about the coastal Salish tribes, finding the park's best photo ops, meeting local entrepreneurs behind the food scene, or arranging a hassle-free inter-island adventure, Cole offers inside access to an authentic experience.
Sleep here: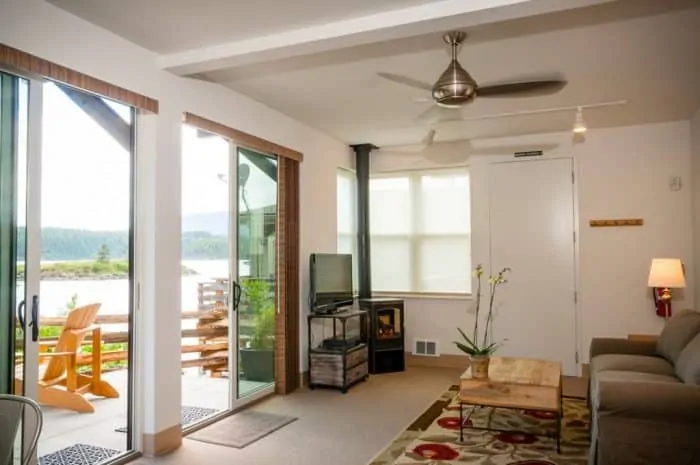 SeaStar Lodging on Orcas Island – you cant get any closer to the water unless you're sleeping on a boat, and then you'd have to give up the roomy, stylish bedroom, cozy fireplace, fully equipped kitchen (there's even fresh cream for your coffee in the fridge) comfy queen bed with handmade quilts, private waterfront patio and the many other thoughtful conveniences the owners provide.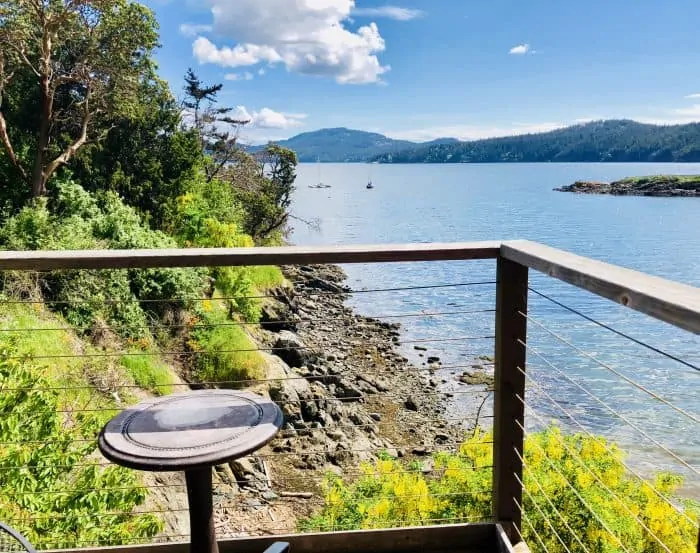 Head downstairs and you're right on Eastsound's main drag where you can shop the artsy boutiques, indie-stores and pick from the many eateries.
Inside tip:

In the morning I just threw a coat over my jammies and ran across the street to Brown Bear Baking to bring back a sampling of their phenomenal pastries including an intense chocolate muffin, sticky buns and oozy Gorgonzola chive scone. Their quiche looked killer also.