In this Stark Insider video, Loni Stark heads to San Francisco Opera to learn about the The Ring of the Nibelung, an opera that took 28 years to create, and was first staged in 1876 (and most recently in San Francisco, in 2011).
The Ring is back in San Francisco. Richard Wagner's epic 4-part opera can be seen through June at the War Memorial Opera House. And it's an event like no other. Sure, you can binge-watch Netflix, but how about a storyline that spans decades, centuries and generations, unfolding live before your very eyes? All told, 17 hours of incredible spectacle.
Fundamentally it's just a story of who we are.
San Francisco Opera most recently produced Der Ring Des Nebelungen (The Ring of the Nibelung) in 2011. All the classic themes of love, power and destruction are here once again, though look closely and you'll see modern touches here and there.
Fafner, the dragon, for instance, has been given a contemporary design. 16 feet long, and weighing 2 tonnes, the metallic beast is almost steampunk-like in appearance, eschewing classical, medieval interpretations of the fire-breathing beast: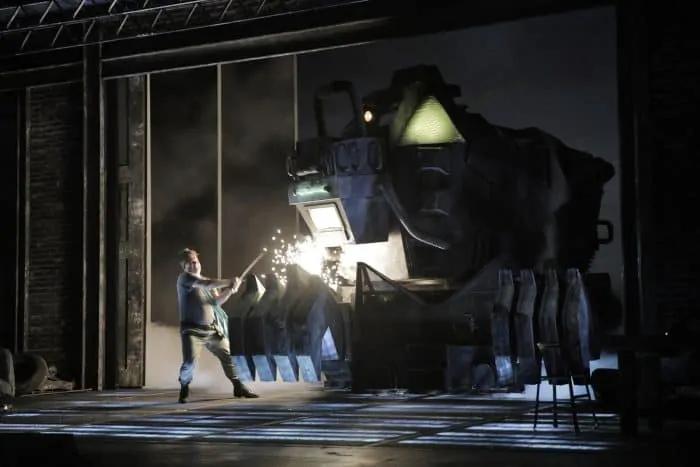 "Love is a primal human emotion," says director Francesca Zambello. "The quest for power, or how power manifests itself is primal and those are things that make great stories."
If the story of the pursuit and lust for an all-powerful ring sounds familiar, it's because Richard Wagner's original work has spawned a century of inspiration. Most famous, is, of course, the Lord of the Rings books and movies — one ring to rule them all. Other pop culture references and inspirations abound including films like L.A. Confidential (1997), Alien: Covenant (2017) and who can forget the famous invasion scene from Apocalypse Now (1979) which used "Ride of the Valkyries" to forge and unforgettable visual sequence.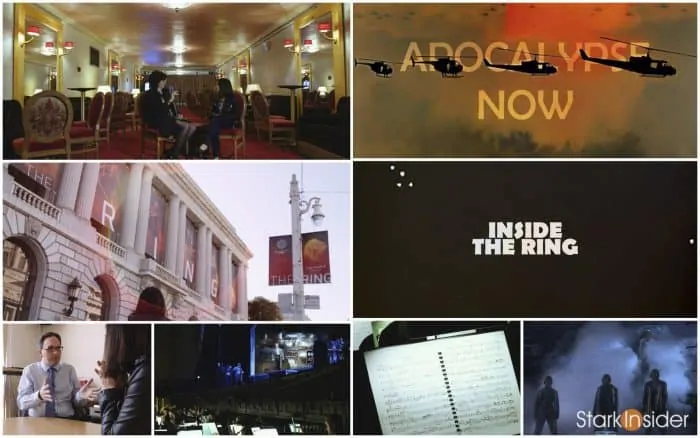 San Francisco general director Matthew Shilvock calls The Ring "the greatest story ever told in art." Now the father of a 4-year old daughter he notes the personal significance one scene in particular has on him. At the end of the second opera, Das Walküre, the incredible moment when the god Wotan has to discipline his daughter and put her to asleep on a rock for the next 20 years.
As Shilvock says, "And so where ever you are in your life there's something in The Ring you can connect with in a very powerful way. It may be long. It may be complicated as a story. But fundamentally it's just a story of who we are. And to so to me, you can't get much more powerful than that."
Did you Know?

This is San Francisco Opera's 7th production of The Ring. A brief history:

The Ring at San Francisco Opera, 1935. Photo: Franlkin and Rognon.

1972 (as part of its 50th anniversary)
1985

The Ring at San Francisco Opera, 1985.
There are four parts to The Ring (each told over the course of a week as the original composer intended): Das Rheingold (June 12, 19 and 26), Das Walküre (June 13, 20 and 27), Siegfried (June 15, 22 and 29) and the conclusion with Götterdämmerung (June 17, 2 and July 1). Of course, for the true experience you should see all of them in order, to complete the cycle — and enjoy one of the most ambitious pieces of music, theater and stagecraft ever created.
In their review, San Francisco Examiner called The Ring a "welcome journey" and noted the impressive mood-setting projections (S. Katy Tucker) and dramatic opening on the Rhine River.
Georgia Rowe was particularly impressed by the performance of Falk Struckmann, writing in the San Jose Mercury News Ring review, "Making his San Francisco Opera debut as Alberich, the great German bass-baritone burned with malignant fury. Alberich sets the saga in motion by stealing the Ring. On opening night, he simply stole the show."
IN PHOTOS: Der Ring Des Nibelungen (The Ring of the Nibelung) at San Francisco Opera 2018
Photos by Cory Weaver
The Ring by the Numbers

28 – Number of years to create The Ring

4 – Number of operas in The Ring

1876 – Year of first performance in Bayreuth (1900 in San Francisco)

17 – Number of hours for The Ring, including intermissions

24 – Number of gods/demigods

33 – Number of principal roles

253 – Number of costumes

45″ – Size of Siegfried's sword

2 tons, 16 feet long – Size of the dragon

Fafner the dragon (2018).

920 – Number of liters of liquid nitrogen used nightly for fog effects

Source: Gentry, June 2018
To learn more check out the video below (or at top of this article on Stark Insider) as Loni Stark meets with director Francesca Zambello and Matthew Shilvock to experience the 2018 version of Der Ring Des Nibelungen.
Inside The Ring:
Backstage at San Francisco Opera's production of Ring of the Nibelung (Video)
INSIDE THE RING

Featuring:

Director General Matthew Shilvock
Director Francesca Zambello

Shot on location in San Francisco at the War Memorial Opera House
With Loni Stark contributing from San Francisco.