Facebook Live is not new. The live streaming service pops up all over our feeds. But these days what I find most interesting is when Facebook's popular feature is being used where you might least expect it.
Sure, breaking news is a good use case. As are interviews, and impromptu get-togethers and other examples where "being live" brings energy and possibly unexpected suspense.
But how about live streaming from film sets? Sharing all the ins-and-outs of making a television show with hours and hours of (mostly) uninterrupted live streams so that we can "participate" in its creation? Meta social media entertainment for the 21st century?
Such is apparently the case with Too Old To Die Young. Backed by Amazon Studios, filmmaker Nicolas Winding Refn is allowing — even celebrating — lots and lots (and lots) of BTS shooting action from the set of his upcoming TV series to be streamed to Facebook Live.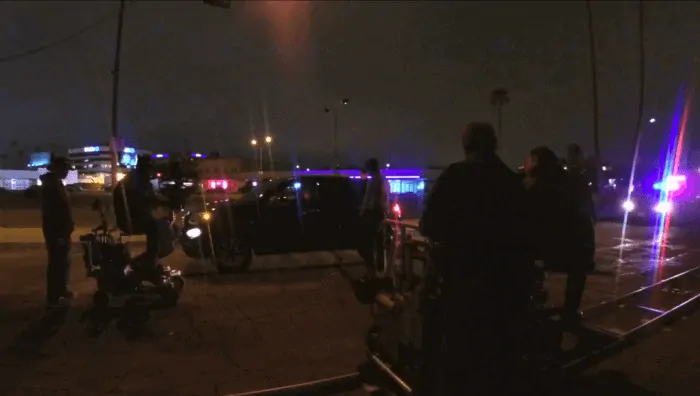 Over the past few months, the TOTDY Facebook Page has been flipping the switch and going live from any number of sets from the production: abandoned warehouse; a New Mexico highway in the middle of nowhere; a gritty old auto repair shop; a fancy mansion; an office; and, recently, an overcast beach somewhere in Malibu. And, we're right there. Along for the ride that is film production.
Given that Facebook Live feeds typically eschew fancy production values in favor of being in the here-and-now, we get plenty of random things. Lots of butt shots. Unpredictable shots of the sky or ground. Shakey cam. Unitelligible audio from time to time. And, of course, buffering, stuttering and image freezing… all dependent on cell phone reception.
I find the whole thing fascinating. Here's a few takeaways so far:
We get an up-close look at film production. Nothing really new here, but with FB Live we see it all unfold in real time. Nothing is scripted, aside from the actual show itself (a 10 episode TV series that will air in 2019). We watch the director Nicholas Winding "Make Television Great Again" Refn discuss the script and dialog with the actors, block a scene, work with the director of photography on composition, and, occasionally, talk directly to us when he looks at the phone someone is holding and says something Refn'y (i.e. something quasi Americana, quasi political). All so meta.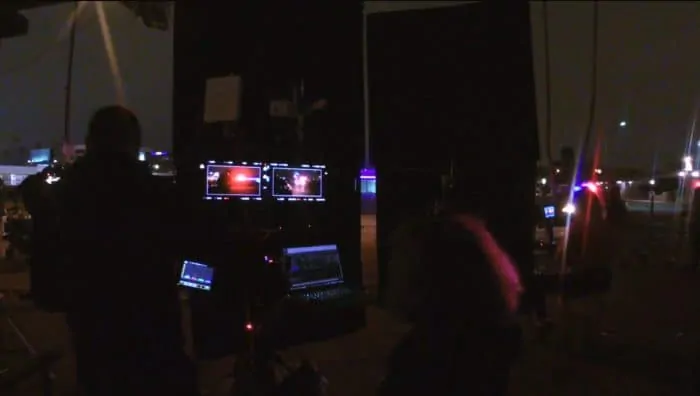 It reminds me of how much hard work goes into these things. Often it can be like watching paint dry. People shift in and out of the frame. Lights are assembled and setup. Dolly tracks are laid with the utmost care. And during it all not much seems to be happening. Until. "Are we ready" "Quiet" "Roll sound" "Action!" Sure enough, we can watch take after take, noting how each is tweaked every so slightly to get the result Refn and crew desire.
Everyone loves their smartphones… even on film and TV sets. As soon as "Cut!" is decried a few things happen. People start talking once again. Actors head to the tent, grab some water. And everyone — everyone! — looks down to their phones.
You can learn about camera placement and movement. I don't aspire to move to L.A. and shoot a feature or even a short film. Rather, I like using indie film as an influencer for the projects we do here on Stark Insider. Watching Too Old To Die Young in the making affords me — us — a wonderful way to learn about many things, most interesting to me perhaps, is where Refn and his cinematographer Darius Khondji (and Diego Garcia for 2 episodes) opt to place the camera, and, then, how/if they move it. This along with lighting (not to mention the actual sets of course) are some of the key instruments of creating a look and feel that ultimately gives the TV show its aesthetic, for better or worse.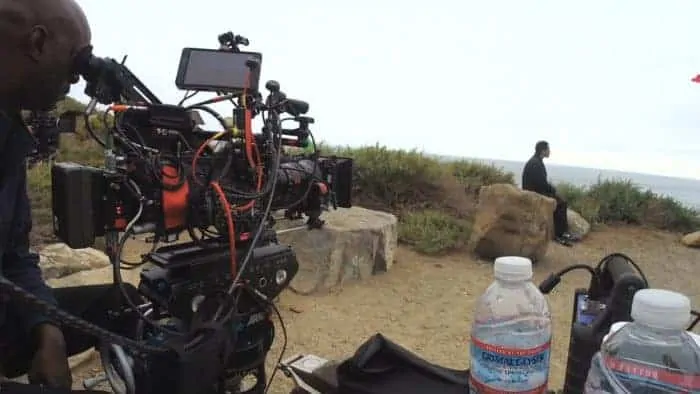 Actors often go through hell. Take after take after take. Being an actor means many things I'm sure. Patience is likely the most important facet. Eye on the prize! Despite all the camera and lighting gear, and commotion around you, when the scene begins, it's game on. Over and over and over again, until the wee morning hours.
However, there's a potential downside; this over-sharing.
Recently, a trailer for Too Old To Die Young was released on YouTube:
(this is not an official TOTDY channel, as the original trailer was released and then removed a few days later — "exploded" — per a marketing stunt)
It was the first time we got a look at the show. Refn fans and The Internet devoured it like wild dogs. I too was anxious to see what he had in store for us. Neon Demon was a hoot — and rankled Cannes even more than we could've asked for. What next then? Well, there's purples and pinks and blues and Neon this and Neon that and flare here and there. And guns. And beautiful men and women. Par for the course I'd say. But…
Instead of watching the action, and paying attention to threads of potential plot or storyline I was, instead, trying to imagine where each scene was shot. Ah, yes, I remember that one! That was when they were Facebook Living from that old concrete warehouse with graffiti everywhere. Oh, right, yes that one! The tire shop with the long takes. Etc.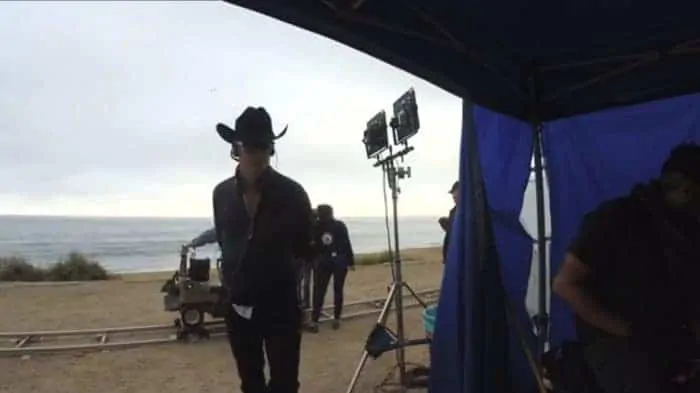 Typically these sorts of behind-the-scenes vignettes come after a production wraps. We get some clips on the Blu-Ray or watch them later on YouTube (one of my favorites is watching David Lynch direct Naomi Watts in her star-making role in Mulholland Drive). Now-a-days we're digesting a lot of this BTS material in advance — in this case, well in advance — of a show's release. I wonder what sort of impact it will have on the viewer? Then again, most aren't watching these videos given the small number of views.
I'm not going to stop checking out the TOTDY Facebook feed. But as I told my wife, I wonder if watching all this minutia takes away some of the mojo, that filmmaking magic — all that stuff that's supposed to happen behind the curtain, none of which us mere mortals should ever feel remotely privileged to know about.
Yes, I'll keep watching. And hopefully learning. It's quite impressive to watch a large crew enjoy their work, and put in such an effort to bring a show to life. Watching on Amazon and Netflix — so many series, so many shows — it's easy for us couch-bound fans to forget how much sweat equity goes into making not just an episode, but just a single seen. The camera angles. Coverage. Multiple takes. Resets. Late nights. Early mornings. Dusty deserts. Sandy beaches. Toxic warehouses. I'm exhausted just writing about it.
Meantime, you can check out the Too Old To Die Young page here on FB, including the aforementioned live streams and random butt shots.