I recently bought into the mirrorless video craze that is the Panasonic GH5. So far, so good.
But like most straps that come with the kit I wasn't a fan of the tourist type strap that Panasonic included with the GH5. It has a huge "LUMIX" logo emblazoned across it, and, worse still, it just looks very touristy — having the camera hanging off your belly in front, you know what I mean? Nothing wrong with that really (well maybe it's totally wrong), but it's less than ideal for video shooters.
So I began searching for a better solution. I wanted a strap that could secure the GH5 and be easy to use, without interfering with various shooting stances.
I found this thing: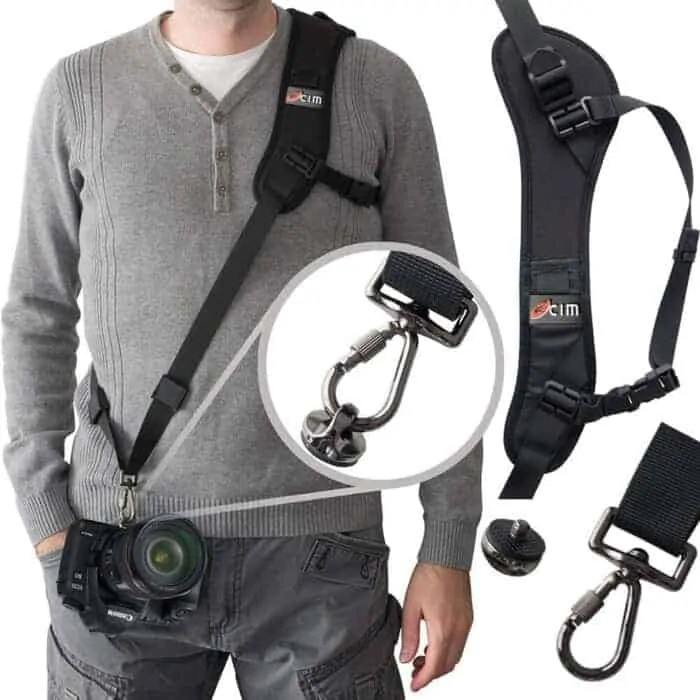 It's made by a company called Ocim and available on Amazon. You just can't make this stuff up. It costs only $10 USD.
And: it works great.
I like that it results in the camera riding off your hip, sort of like a holster.
The strap attaches to the GH5, or any DSLR or mirrorless camera for that matter, to the bottom using a standard 1/4″ screw. The great thing about this is you can unclip the tether using the quick release. One downside potentially is that if you're switching back and forth between handheld and tripod shooting you'll need to remove the mount screw. Ideally, you'd want to use a strap like this purely for times when you're shooting handheld.
I've used the strap a few times now. Once for shooting a foodie event in Pebble Beach. And, last month shooting a travel video in Vancouver, Canada. I found the strap non-obtrusive, and essentially let me shoot comfortably all day and night. Eventually I'd forget it was there, and was able to just focus (ha) on my work at hand.
If you have a Panasonic GH series, or a Canon EOS such as the 70D or 80D or essentially any of the Rebel models, this YRMJK (seriously) will work on your camera, and might warrant a quick look if you're not a fan of the full-on tourist mode… not that there's anything wrong with that.
Happy shooting!
PS- Why I decided to shoot these below photos on this rug is a mystery to me. May the shag be with you.
IN PHOTOS: Camera strap sling on Panasonic GH5