I found myself doing what I tell myself never to do: taking gratuitous photos of my gear. Sigh. Why on earth do all of us involved in videography feel compelled to do this — as if we're taking monumentally profound shots of famous landmarks, or memorable events, or loved ones? Look. Here. A memory card!
Yet here it is. The fabled 'What's in my gear bag(s)' — a rite of video passage.
I tell myself it's to capture a moment in time. Yeah, that's the ticket. Why the need to (over)share I'll never be sure, but for today at least, I succumb.
There's a practical reason too. Over the years I get asked about my gear. What camera I use to shoot videos for Stark Insider. Lights? Audio? Lenses? All the stuff us camera guys like talking about, debating about, lusting about.
This morning I was prepping for a shoot in Sonoma; beautiful wine country here in Northern California. Loni Stark (thankfully, my ever-willing on-camera partner) and I have shot there many times before, since about 2006 actually. Bi-annually we take "creative getaways." Now a-days we typically book a quirky or cool airbnb (perfect sets!). She paints. I do videos.
With all my gear lined out for the trip, I decided to catalog it… for posterity. And, so if anyone asks about my gear, I can just merrily share this Stark Insider link.
The thing about gear is generally it sucks. It takes up space. Needs endless TLC and charging. Costs money. And if you're not careful it can screw up your back. So in the end, all this stuff — I tell myself — is in service to me, to us. Nothing fancy. These are just tools. Fortunately I sold my Raven. Having, learning, and becoming efficient in two major camera systems, a Canon C100 and the RED, was just too much for me to handle. I'd rather have one less, and use the freed mental capacity to apply my energies to things like script writing, learning filmmaking and story-telling techniques, and brainstorming what/how to use Loni in my next experimental project. Bueno!
Okay, with that here's the kit I've built up over the last 10 years, and use to shoot vids for Stark Insider.
1. The Big Picture: A Bunch of Video Gear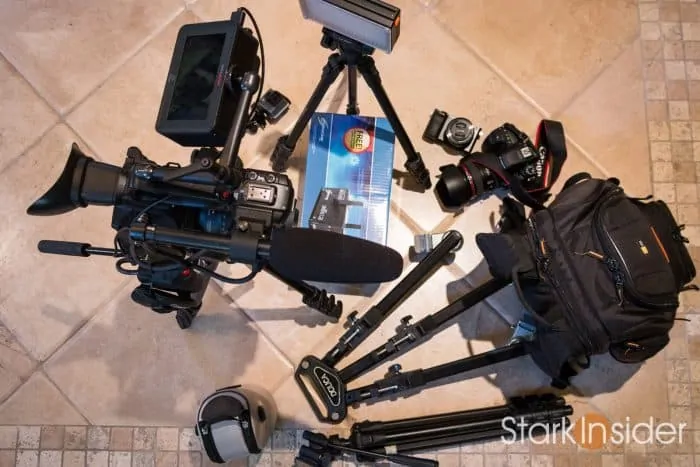 Starting from the camera on left, and moving sort of clockwise.
Canon C100 Mark II EOS Cinema Camera — Hands-down my favorite run-and-gun camera. Doesn't shoot 4K natively. But does have 4K sensor, and downscales to 1080p in camera. So you get beautiful images without having to re-mortgage the home to buy hard drives to store years of footage.
Atomos Ninja Blade Monitor/Recorder (on C100) — Larger screen helps me focus. Also, I like that it captures ProRes files to low cost SSD drives.
Sennheiser MKE600 Shotgun Micropohone (on C100) — Great mic. Clean. Lots of prescence. Perfect for run-and-gun. No battery required. It draws (phantom) what it needs from the C100 battery.
Manfrotto Tripod (supporting C100) — Why yes, it's a… tripod.
Cheap Genaray LED Light Panel (on cheap Targus Tripod from Costco) — Handy little panels. Adjustable light temperature. For fun, I throw on a homemade gel to get my Refn Red when needed!
Cheap Targus Tripod from Costco (for light panels or 2nd cameras)
Mini LED Strobe Light (in blue box) — Because… strobe baby.
Sony a6000 Mirrorless Camera — Great little APS-C all-in-one shooter. Handy when I want to travel light, or grab some discrete video b-roll.
Canon EOS 80D DSLR Camera (and I have the trusty old 70D too) — My b-cam. A workhorse. DPAF is the biz. Now that I sold the RED Raven I have some budget to perhaps look at different b-cam, maybe the new Canon XC15. And/or maybe a Blackmagic Pocket Cinema Camera and/or Lumix GH4/5 when we're in a cinematic kind of mind.
Shot on Canon EOS 70D:
"Wrong's What I Do Best" – San Francisco Art Institute
Backpack with various stuff inside (see below)
Another cheap Targus tripod from Costco
A Dolico dolly — I get a kick out of this. I mount my tripod on top, and then I can channel my inner Kubrick… with mixed results to be sure. Surfaces need to be smooth. But from time-to-time I get the money shot. And: no batteries or complex rigging required (gimbal?!)
Canon lens in bag (see below)
2. Lenses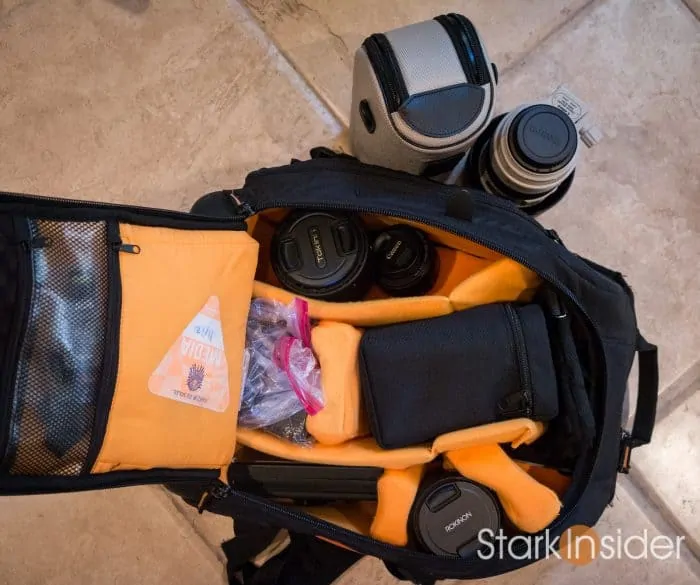 Lenses are a complicated topic. There's run-and-gun lenses that can do a bit of everything like the Canon 24-105mm f/4 L. Then there's the razor sharp cinema primes that look great, but need light and stabilization, like the sweet (and inexpensive) Rokinon 85mm f/1.4, and epic Sigma 18-35mm f/1.8.
I've built my system around the EF mount. I can use these lenses basically forever. Good glass is good glass (though not all of mine is good). I can use it on a Sony using a Metabones adapter. If I rent or buy another RED, I can use the EF lenses natively. Each time I head out on a shoot for Stark Insider I think carefully about focal lengths and coverage. I can only carry so much (it's just Loni and me). Then I bring only the bare minimum. If I'm in the studio, say to shoot some green screen, then great, I can use anything and take my time.
Clockwise from top:
Tokina 11-16mm f/2.8 – Beautiful, sharp wide shots.
Canon 70-200mm f/2.8 (in bag above backpack) — Most expensive lens I own. Couldn't afford one until I got a 30% off coupon from Canon for spending 5 min to fill out survey. That saved me $600! I plan to use this one for wildlife and interviews and possibly concerts too.
Canon 50mm f/1.8 STM — New model. Dirty cheap. Amazing. A must have.
Sigma 18-35mm f/1.8 (in the bag) — Believe the hype. Stellar lens. RED guys love it. Me too.
Shot with Sigma 18-35mm:
"Only Art Forgives" – Magical Redwood Retreat in Sebastopol, California
Rokinon 85mm f/1.4 — Organic and gorgeous, performs far above its price class. De-clicked so you can really dial in the perfect shot. Takes time. No stabilization. Specialty lens to be sure.
Not shown:
Canon 24-105mm f/4 L and Canon 18-135mm f/3.5-5.6 USM Kit Lens — two lenses I use often for run-and-gun
Another Genaray light panel, and in the middle a ridiculous zip lock bag full of random batteries
3. Audio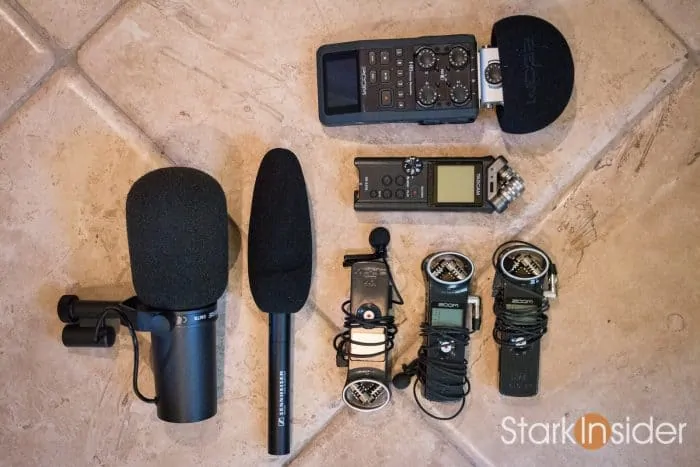 Okay, audio. Because sound is critical. Everything must sound really, really good. I'm still learning about sound and all its intricacies (voiceover, sound editing, ADR, foley, overall mix, maximizing S/N, etc.), and trying to develop my skills. Much to learn. For now this is most of my audio kit, and it serves us well, whether shooting on the red carpet, a sit-down interview, run-and-gun for a travel segment, or an event.
Clockwise from top:
Zoom H6 Six-Track Portable Recorder — Couldn't live without it. I use in the field for interviews, in the studio for voice-overs. For collecting room tone, effects, foley, etc. Great for concerts too. Does it all.
Tascam DR22WL Portable Handheld Recorder — Really cheap and handy. Quality results.
Zoom H1 Field Recorder with Sony lavalier mic (x3) — I've used this combo for Stark Insider interviews for as long as I can remember. Requires sync in post, but so easy to do in Premiere and other NLEs.
Sennheiser MKE600 Shotgun Microphone
Shot with Canon C100 II, Zoom H1s, MKE 600 Shotgun:
"Broadway Under the Stars" – Sonoma, California
Shure SM7B Vocal Microphone — Just got this one. Wasn't happy with our v/o on "Out of this World" (too tinny) so I'm re-working our portable audio studio. Hoping this mic gives us a step up in audio quality and presence when Loni lays down the voiceover.
And… the rest.
There's more too, of course. All the (silly) little things: memory cards, batteries and chargers, ND filters, lens cleaning do-das, XLR cables, monitor mounts, various adapters, etc.
What's NOT in my Kit?
No drones. No gimbals. No sliders. No jibs. No fancy stabilizers.
I have nothing against any of those tools. They can produce amazing results. I just need to draw the line somewhere. Each requires more TLC: more batteries, more space, more practice. For me, it would cut into the creative process. For the most part I can do what I need handheld, and with a tripod.
One thing that concerns me with young aspiring filmmakers is their hyper focus on drones and gimbals. You can tell they just bought one. Every single shot in their videos is a super smooth drone or gimbal shot. Every shot. It may sound good on paper, but in my estimation the result is often, at best derivative, and at worst, nauseating. On the other hand, some use them perfectly — for one or two key shots — and the images and impact on the story are, often, breathtaking.
INSIDE: Stark Insider Voiceover Session
For me, I'm resisting (for now) the temptation to acquire any of the new trick stuff. Instead, I'm going to pour my energy into story-boards, writing, and documenting all my ideas in OneNote. Writing and development has been a weakness for me (among many) and that needs to change.
There You Have It
That's my gear. Nothing fancy. Just gear.
If you're starting out I'd recommend playing around with your smartphone. Shoot some stuff. And cut it. Get some friends together, or use your wife like I do, and try to make something creative. Cut it. Learn. Move forward. Try not to drool over the latest camera. Pixel peeping can outright kill the creative process. I discovered that when I wasted months playing around with the (stellar) RED Raven cinema camera.
If you do want to buy a nice low-cost camera to start-out your filmmaking and/or videography journey, consider a Panasonic Lumix GH4 (or upcoming GH5), Blackmagic Pocket Cinema Camera, Sony a6300, or, my choice, a Canon EOS 70D or 80D. Or maybe look for a used Canon EOS Rebel T2i. Load up Magic Lantern firmware and the world is yours. All amazing cameras. all more than capable. And all within reasonable budgets.
Remember, the tool serves you, it serves us. Don't worship a camera. Worship the creative process!
Any questions or advice or thoughts, as always let me know. I'm off to Sonoma for a few days of shooting. Then we have a packed schedule for the fall of 2016 which I'm very excited to share soon.
Happy shooting!