Since I started shooting videos for Stark Insider in 2006 I've tried as hard as possible to make our stuff look like film. I haven't always succeeded, that's for sure. But there's something about the video-ish footage that comes out of a lot of cameras and camcorders that drives me batty. I just love, adore, celebrate the look of film.
DSLRs are fairly good at capturing pretty looking footage. You can add artificial film grain in post, using a plugin like the superb FilmConvert. I've had pretty good results doing that with the Canons: the T2i, then 60D, 70D, and now 80D. The C100 is even more beautiful thanks to a 4K sensor that captures a lot of detail and dynamic range, before down-sizing it, in camera, to 1080p HD.
But, of course, there are now even better ways to attain that vaunted filmic look:
Blackmagic Micro Cinema Camera
Blackmagic Design has several camera models in its line-up. It seems, however, the Pocket, and the new Micro have become breakout stars. Part of that I'm guessing has to do with their low, low prices (by cinema camera standards). You can get either for only $995 (USD). You'll need to add a lens. In the case of the Micro you'll also need to add a monitor as none is built it. Still, the bang for the buck is incredible: RAW/RAW 3:1, ProRes HQ/Standard/LT recorded in camera with something like 14 stops of dynamic range recorded on to easy-to-get SD memory cards. Sweetness indeed.
In my limited use of the BMMCC I've become a believer. There's so much to love.
The camera is incredibly tiny:
With the small 5-inch Blackmagic Video Assist mounted on top, and connected via HDMI, I find the setup to be a decent, low profile run-and-gun camera.
Operation is a breeze. Menu options are fairly limited which makes it easy to dial in your settings (primarily ISO, White Balance, Shutter, F-stop) and then start shooting.
Best of all: the image.
Gorgeous.
The image out of the BMMCC (and I'm sure others in the Blackmagic line-up) feels very organic. Definitely less digital feeling than, say, a file from my EOS 80D (which is still very nice).
I've only shot a few projects so far with the Micro. One was in my backyard, shooting wasps, and gauging the image from it and my C100 II:
The other was a short homage to film, MOVIE STAR, that I shot with my wife Loni Stark in front of a projector:
Neither ideal scenarios really for the BMMCC. Still, I came away really impressed. This is really an easy camera to use!
Focus peaking works incredibly well — the magnification punch-in icon (top right) on the BM Video Assist helps too. Battery life is very respectable. And because it uses the ubiquitous Canon LP-E6 you won't need to load-up on yet another battery type. I have tonnes lying around, amassed after shooting a decade with Canon DSLRs.
Blackmagic Micro Cinema Camera or Canon EOS 80D or Canon EOS Cinema C100 II?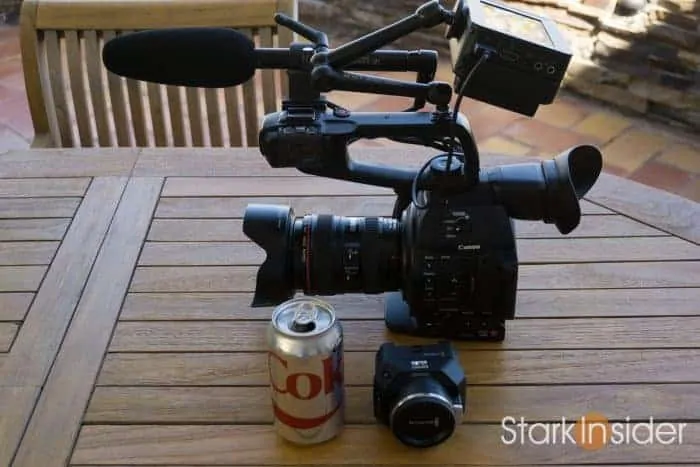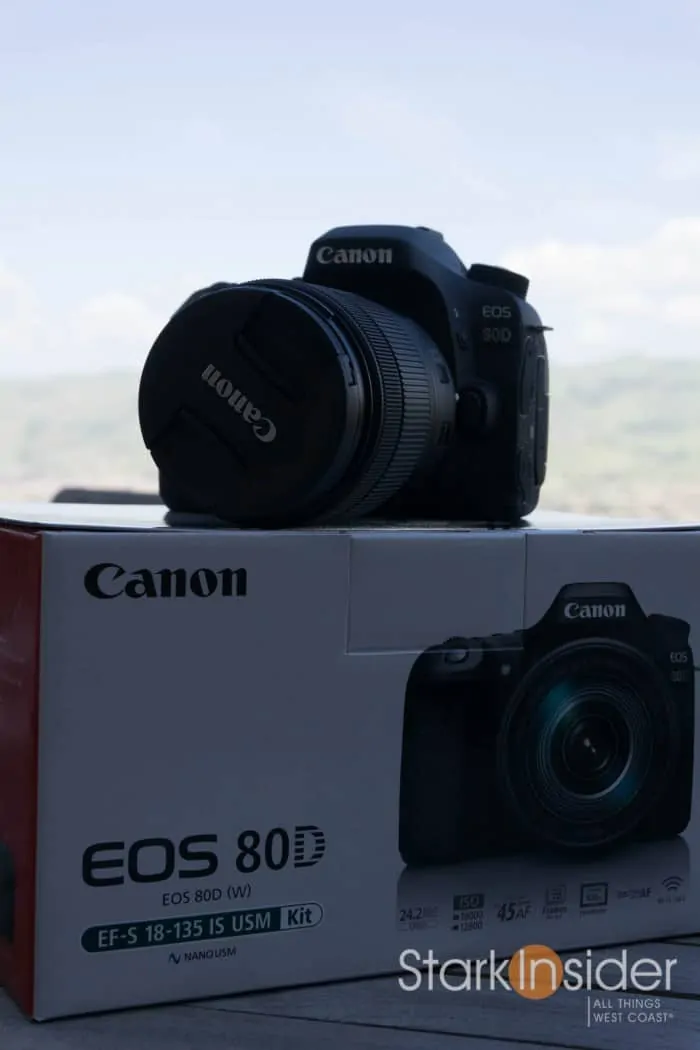 I don't believe there's a right answer. Nor is it a worthwhile pursuit spending much time thinking about whether one camera is slightly sharper, or slightly better at a given ISO, or better at this or that. All of the above cameras (BMMCC, Canon 80D, C100 II), which I own, are fantastic in their own right.
My main "A" cam remains the C100, no doubt. I can get great audio (XLR), shoot outdoors easily thanks to built-in ND filters, and I worry less about losing footage because it has dual SD slots, both recording simultaneously (plus a third Prores copy in the external Ninja Blade monitor/recorder!).
Something like the 80D is great because it looks like an everyday DSLR, yet can capture beautiful video that usually immediately usable without further work. Thanks to its Dual-Pixel focus and touchscreen, I can nail focus on interesting shots that might otherwise require a dedicated focus puller to achieve. Plus with the 80D you get the benefit of being able to switch modes, and take 24MP stills.
And the Blackmagic?
Well, no question I'll be using it as much as possible to capture filmic footage. It does need extra time, because the controls are, for the most part, manual. And, to achieve best results you need to plan out your lenses carefully.
Trendspotting: Give Me Sharpness Or Give Me Death!
I've noticed an interesting trend in video and short filmmaking.
Sharpness has apparently become the Holy Grail. The sharper the image the better. Let's zoom in 400%, for instance, and pixel peep sharpness across half a dozen camera models, and debate the differences.
Me, I naively didn't get it. Why this hyper-obsession with uber sharp images? Do we really want to see every flaw in an actor's skin?
Then, after some time, I've come to realize that I can understand sharpness does matter for certain types of shooters: fashion, landscape, travel, wildlife, astronomy, and I'm sure others too. I think, yes, in those situations 8K might come in handy. But for narrative… I'm not quite as convinced.
I guess I'm one of the rare ones who likes the grit and grain, particularly as you might find in the 70s and 80s. Could you imagine a razor sharp version of Taxi Driver? Or The Godfather? French Connection? Raging Bull? It seems that the film stock used by the directors was (almost) as equally important as the script or actors — it gave them all a look that is iconic. When I think of a 4K Discovery Channel (does it exist?) I'd expect clean, high quality images, but those resonate to me in a different way then something with gorgeous film, or film-like, grain. Not better or worse necessarily. Just different.
I fear I'm in the minority, and that super sharp imagery is taking over the world — or at least the camera forums.
Blackmagic Micro Cinema Camera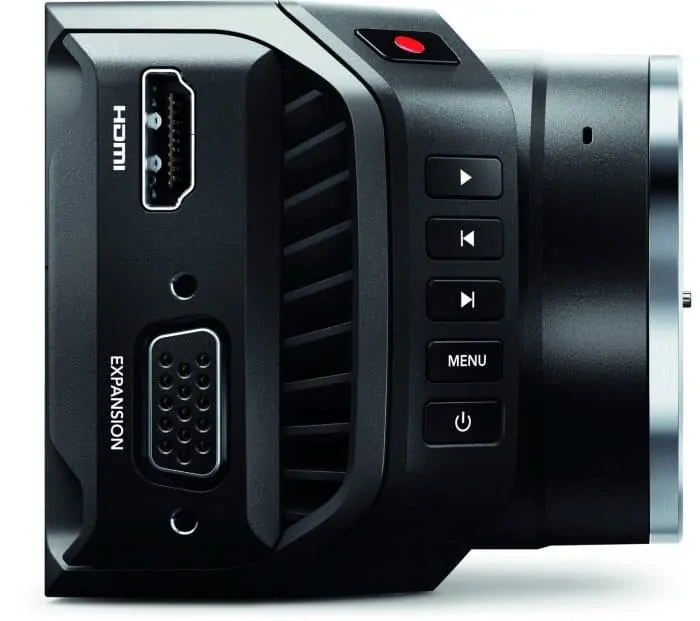 Back to the Blackmagic Micro Cinema Camera. It's a real winner. Great filmic images. Easy to use. Low cost. And small enough to just throw in your bag without a thought.
I regret selling my RED Raven earlier this year (that, after waiting 6+ months). At the time I was very busy with multiple Stark Insider projects and I didn't have the time or patience to learn it properly. Sold it prematurely I think, then lamented my decision. Sad, sad rain. On the upside, the Raven went to a talented Bay Area filmmaker who is doing wonderful things with it including shooting a documentary in Oakland.
So I bit the bullet and ordered a RED Scarlet-W. It won't come until some time in 2017. Meantime, I'll use this handy Micro to slot in to projects where we need more of a cinematic look — and where the 10-bit depth of the files will help us in post achieve a look to the footage without falling apart.
Rigged Up: Blackmagic Micro Cinema Camera

My BMMCC rig is minimalist. The great thing about this camera is you can use it like I do, with no cage or extras, or go crazy and rig it all up and shoot a short film or feature. It's that flexible.

Here's my simple set-up:
If you're an aspiring filmmaker, or shoot music videos, or just enjoy capturing beautiful video, I'd highly recommend you check out the Blackmagic Micro Cinema Camera (another, especially if you need 4K, would be the impressive Panasonic GH4). Don't expect it be run-and-gun ready out of the box. And be ready to grade footage if you shoot in "Film" mode. If you're up for it, and want to learn more about videography and filmmaking, the BMMCC is a superb place to start.
Happy shooting!
VIDEO GALLERY
Shot on Blackmagic Micro Cinema Camera
BMMCC with Canon 70-200mm F/2.8
BMMCC with Panasonic Lumix Vario 12-35mm f/2.8