Into the Woods is a difficult show to perform, demanding split-second responses, with nary a rest. Fairytale characters busily weave their assorted tales, while simultaneously operating on a whole different level to subtly remind us that these archetypes live in our heads, inhabiting some deep part of ourselves. These stories live us as much as we live them. Good productions of this play operate on the same level as the opening of Dante's Inferno, in which that narrator finds himself "within a forest dark, for the straightforward pathway had been lost."
Opening night of Palo Alto Players' production of this gem provided a few hints as to how good this play can be. The 13-piece orchestra, under music director Katie Coleman, did justice to Sondheim's shimmering score, offering up something far better than one might expect from community theatre. The care taken with set design was obvious, and the decisions how to handle Jack's beanstalk and the Giant were good ones.
Unfortunately, however, the cast seemed to be doing it by rote. While most opening night issues (and with multiple mic failures, this production had more than its share) aren't worth mentioning, this lack of animation rendered the show unnecessarily sluggish and hid the show's luminous beauty.
Despite this low-energy opening night, Chris Janssen's standout performance as the Baker helped power the evening forward. The physicality of Marisol Sonia Urbano as Jack's mother was interesting to watch. However, these weren't enough to save the evening.
Part of the problem was the stage felt too small for the production. While the mammoth trees, anchored on a turntable, worked well to create the woods, the stage was so cramped that the video projections were barely visible, and choreography felt unnecessarily constrained. Tighter stage direction might help compensate, quickening the pace and giving loft to an otherwise draggy production.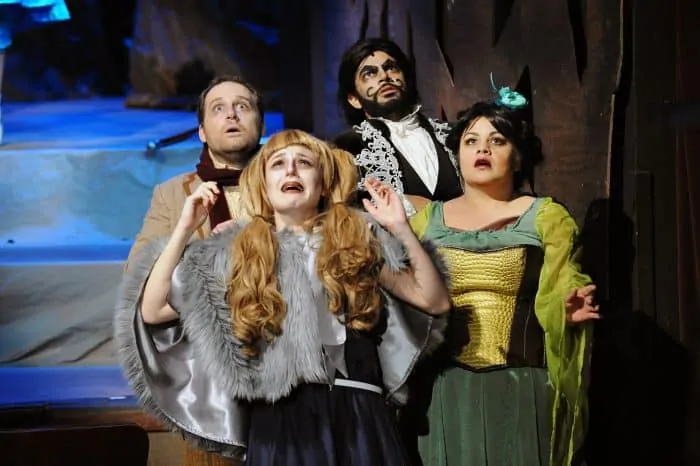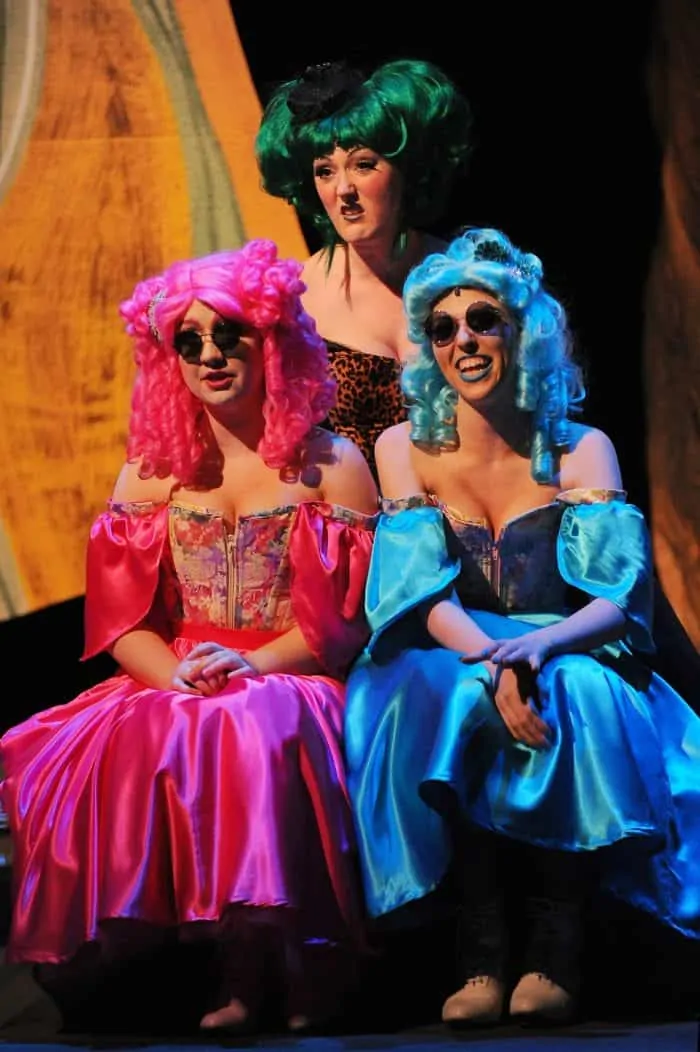 Friends who saw Sunday's performance reported fewer of these bugs so it may be that the issues (as they often do in theatre!) worked themselves out. However, the show I saw was flawed enough to give pause.
Good productions of Into the Woods have consistently graced Bay Area stages, including Ray of Light's production, which garnered a Critic's Circle Award in 2013, and the killer 2014 production by SF Playhouse. Fans of this Sondheim gem may enjoy the Palo Alto Player's production, but first timers may want to wait for another production that better reveals the true glory of this show.
Photo credit: Joyce Goldschmid