Cy Ashley Webb reviews Broadway San Jose's latest touring production, The Wizard of Oz.
That this production of the Wizard of Oz, directed by Jeremy Sams, makes it out of the gate at all means it's graced enormous hurdles.
First, it had to pass those forces that doom imitators of the celluloid Wizard of Oz, making them victims of our collective memory. Wicked, The Wiz and other envisionings of the Baum tale succeed because they take the story some place far from the original, safe from our expectations.
This show easily passes that bar. The script retains dialogue essential to the spirit of the thing, treading close enough to even give the same hit as the original. Arron Fried's delectable Cowardly Lion emanated some concentrated essence of Bert Lahr-ness. However, that original was very gently stretched, adding just enough novelty so that it didn't seem like you should have stayed home with the movie. New songs by Andrew Lloyd Weber and Tim Rice succeeded in their unremarkability, ceding all the glory to the original.
Whether this show merits "get off yr butt" status probably turns on whether you remember The Wizard of Oz back in those decades when sightings were annual. If the show was valuable precisely because of its scarcity, you might take a pass on catching on this production. However, anyone who didn't grow up watching this every year, or otherwise escaped being spot-welded to the original could do considerably worse.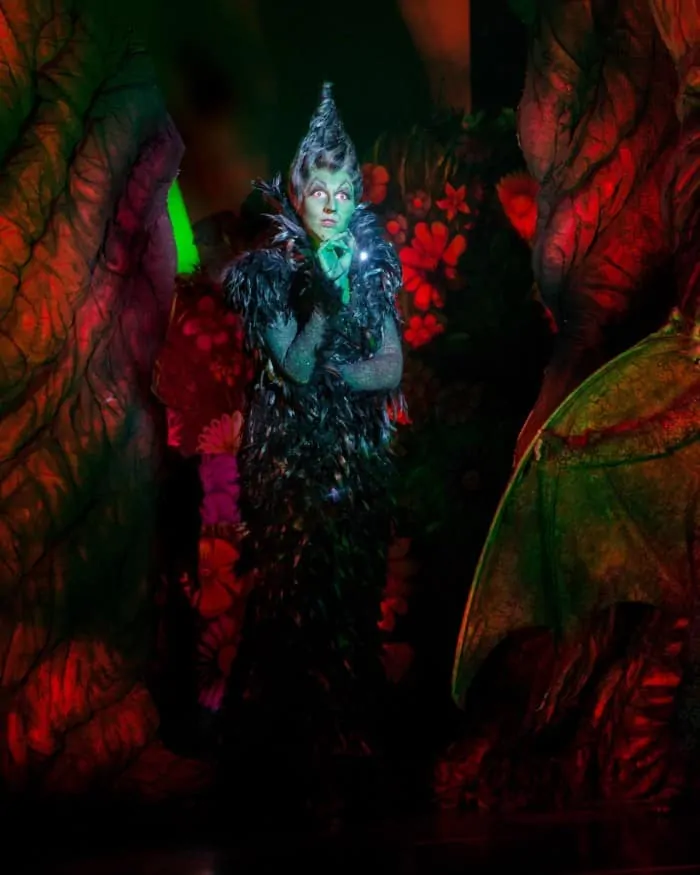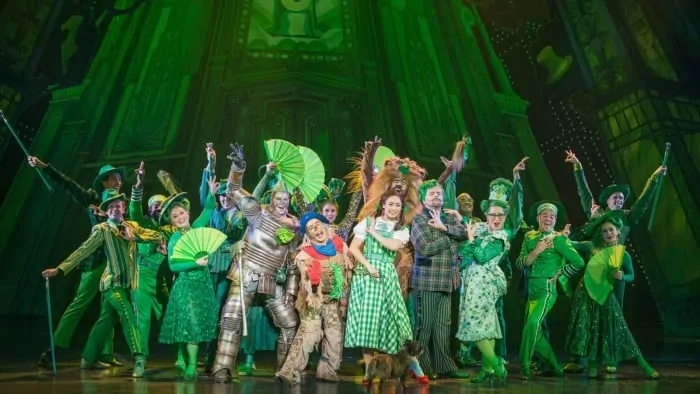 Fantastically nerve jangling video projections and brilliantly executed tech effects can sear the image of Dorothy's Kansas home spiraling away in your memory with an alarming intensity, but they're overused to the point of being a brain numbing distraction. Younger audiences are unlikely to find this objectionable– and when not distracted by the excess, adults can enjoy the occasional effect so perfect that it  magnified some essence of Oz-ness.
Shani Hadjian as Wicked Witch of the East, and Rachel Womble as Glinda, served the material gloriously, with dramatic entrances and killer costumes.
However, these  strengths aren't sufficient to make the production work for more critical audiences. This Dorothy seemed older, corseted, remote from the enthusiasms required to power her down that yellow brick road. Adding to the problem, mic errors were just frequent enough to create a nervous anticipation.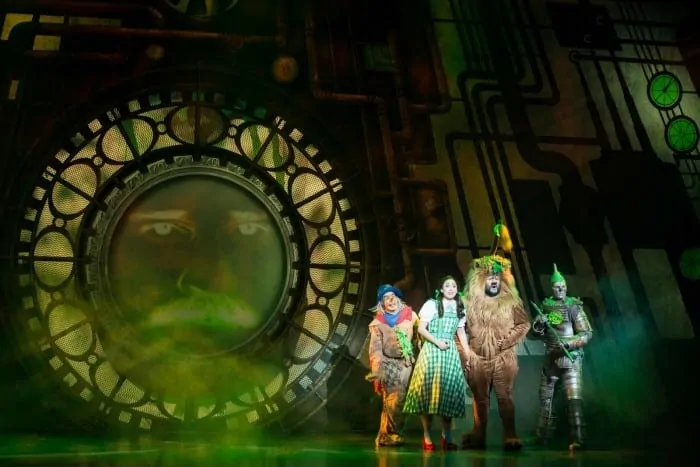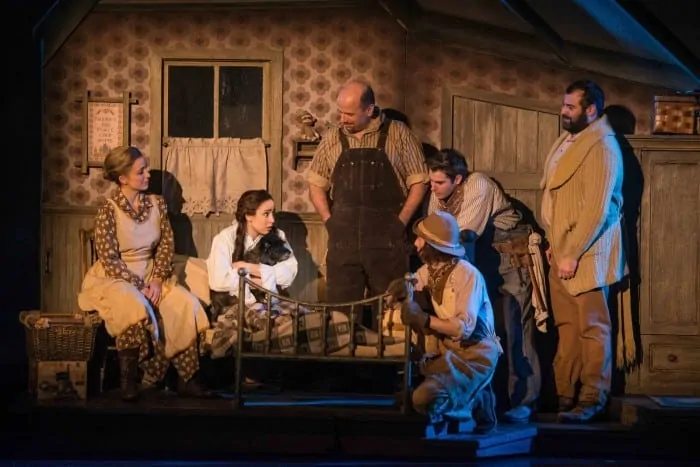 Even these nits wouldn't be problematic for a younger audience, especially one unlikely to get apoplectic about Dorothy not wearing gingham in the first moments of the production. Those younger audiences get Baum's tale unfiltered by movie images. This story doesn't have to be married to our vision of it.  Hey – what's blue gingham?  The story about watching for a man behind the curtain should always get new viewers – especially in an election year.
The Wizard of Oz is at the San Jose Center for the Performing Arts through February 4th.
Photo credit: Daniel A. Swalec