Three a cappella group members walk into the Oregon Shakespeare Festival. It's not the start of a joke; it's the birth of a musical. Or a rock opera. Or a staged concept album. It's hard to pin down what, precisely The Unfortunates is, but it doesn't need to be categorized to be catchy.
The narrative of the show is strange and at times confusing. After enlisting in the army, Big Joe watches his friends die beside him. He is next. He enters a fevered dream world with a clown, a plague, an evil doctor, and the "disarmingly" wingless bird Rae. He initially fears death, tries to forget his fallen friends, and solves his problems with violence (represented by two giant fists that replace his hands). "We are all gonna die; let's just go do it by ourselves," he shouts, as he pushes away his imaginary friends. But he falls in love with Rae, who encourages him to stop fighting and start feeling and remembering. When Rae becomes sick, Joe finds courage in his attempt to save her. When the scene shifts back to the war, he is ready to face his death bravely.
Music carries the show more than the plot, as the cast enthusiastically and skilfully claps, taps, and belts their way through. The style is eclectic, moving from jazz through rock and roll, break-neck Gilbert-and-Sullivan-style patter, pop, rap, blues, ballads, hip-hop, and gospel. An initially thin instrumental backing gets supplemented when the dream-like portion of the play begins. Bass, drums, saxophone, brass, acoustic and electric guitars, and piano create an immersive musical soundscape that continues even during the show's poetic spoken sections.
The style is eclectic, moving from jazz through rock and roll, break-neck Gilbert-and-Sullivan-style patter, pop, rap, blues, ballads, hip-hop, and gospel.
American Conservatory Theater's Strand Theater has a small stage, but director Shana Cooper and choreographer Erika Chong Shuch make excellent use of it. Much of the music is accompanied by impressive dancing. Swing and jazz dominate, but Eddie Lopez (as Koko the clown) has an awe-inspiring star turn tapping. Russell Champa's highly theatrical lighting changes to suit the variety of settings and musical styles, with bright spots, flashing fluorescents, winking strings of bulbs, and a giant red cross. The simple set, by Sibyl Wickersheimer, holds a few surprises, as when Big Joe's punches send curtains crashing instantly down. An overarching aesthetic somewhere between a comic book and a propaganda poster keeps the show visually unified.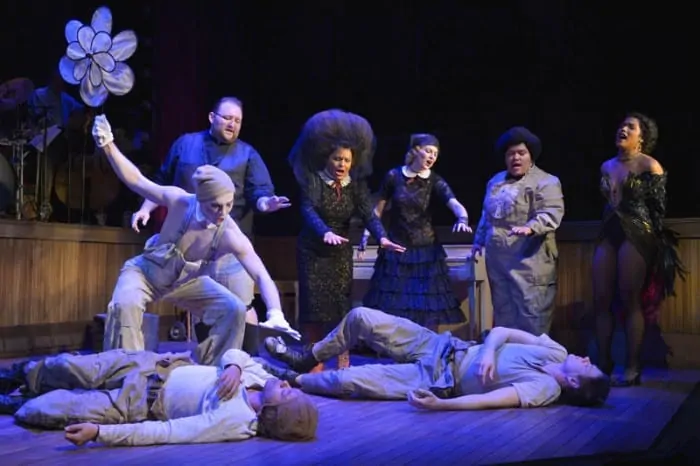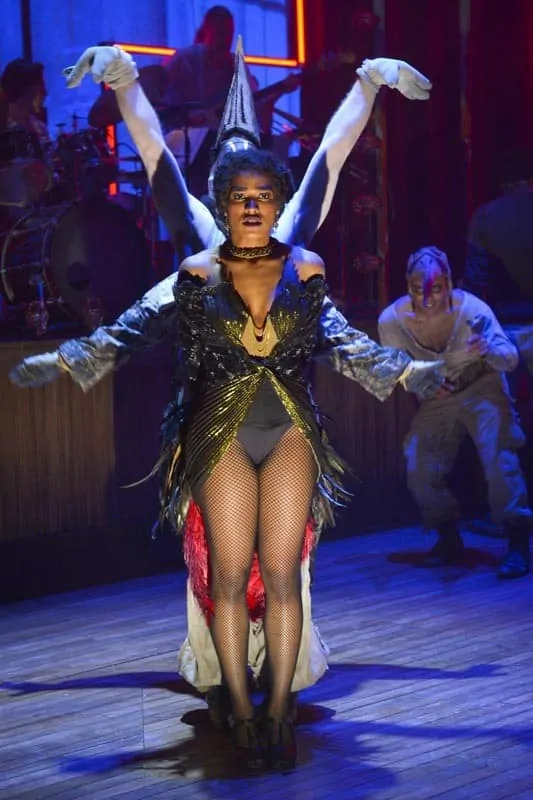 More than anything, it is the cast's energy that makes The Unfortunates so compelling. If the lyrics are hard to parse or the plot is difficult to follow, the sheer enthusiasm with which the show is performed makes that irrelevant. The entire ensemble consists of triple threats with uncanny harmonic abilities, killer belts, and dancing chops. Taylor Iman Jones as Rae performs especially improbable feats of vocal gymnastics, while Ian Merrigan anchors the show with his touching performance as the insecure and clueless Big Joe. Ramiz Monsef plays all of the villians—sometimes more than one in the same scene—with unabashed glee. He gets the biggest laugh of the show for his bravado-filled entrance as the high roller Stack, undermined by his realization that he is stuck atop the piano. (He is terrified of heights.)
MORE: A.C.T. Strand Theater
Ultimately, I wanted more from the words and narrative of this show; the spoken rhyming couplets sometimes came across as trite, and the story had undeveloped potential to inspire both emotion and thought. But in its current form, The Unfortunates is already novel, diverse, and electrifying. If heart-filled, genre-defying wackiness is the future of musical theatre, then musicals are sure to find delighted audiences for years to come.
4 out of 5 stars