Someone raving about this week's opening of Jersey Boys lamented on Facebook they were "ten years late to the party" – which was precisely how I felt after realizing I'd wrongfully dismissed this play, about Frankie Valli and the Four Seasons, as another '60s band story. Boy, was I ever wrong.
The Jersey Boys lives in cultural implications. Threads running through this play follow the Jersey Turnpike and the Garden State Parkway, passing Bloomfield, Fairfield, Belleville. You didn't have to be mobbed up to appreciate the undercurrents of violence.  A little further out in the burbs, you might entertain an obliviousness to the mob, but never to the echoes of the dark energy that ricocheted, appearing in unlikely places and unlikely times.
If you grew up in New Jersey, you didn't need some arcane physics to explain the arc connecting Sinatra, The Four Seasons, yea unto Springsteen, and beyond. That's one of the few good things about the state, and possibly the most generous thing I'll ever say about the place.  Jersey Boys gets that part right – gets part of that whole New Jersey thing – in a way I'd never imagined. Wow… New Jersey. Shudder and shake.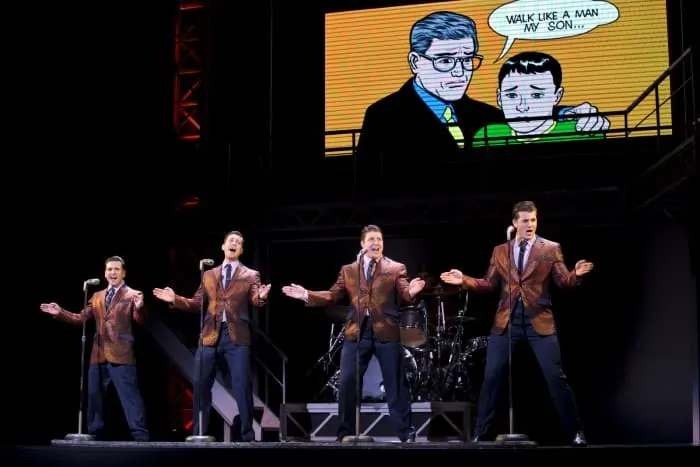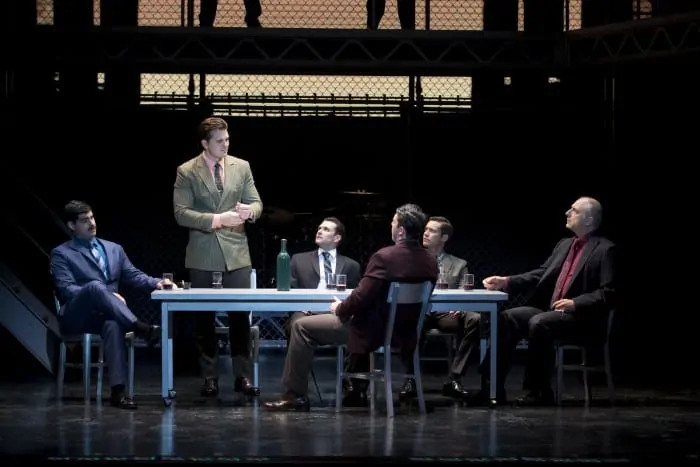 That shudder and shake is precisely what happens on stage, all night. I was stunned that nobody was up dancing. Have we really all gotten that old? Shocking.
One reason, perhaps, the audience wasn't dancing, was they didn't want to interrupt the story. Songs arose so naturally from dialogue that dancing might have been distracting. Unlike almost every other play about '60's groups, Jersey Boys nails it with music and dialogue so tightly coupled you never feel pelted by one song after another. The show was so good that even those songs that occasionally screech at your nerves (Sherri Baby, anyone?) take on a sun-through-the-Jersey-smog glow.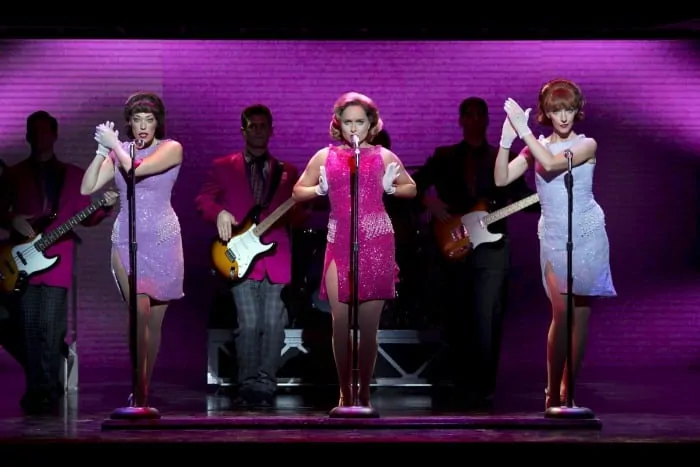 Together, Matthew Dailey (Tommy DeVito). Aaron de Jesus (Frankie Valli, Drew Seeley (Bob Gaudio), Keith Hines (Nick Massi) came together with an authenticity that the most clonal tribute band could never possess. Aaron de Jesus's ability to invest some warmth into his falsetto rubbed off on his character. Matthew Dailey's Tommy DeVito, has a certain swoon-ability, albeit in a Jersey sort of way.
Jersey Boys is at the Orpheum through February 14th.
Photo credit: Jeremy Daniel