Riverdance… even if you've never seen the show, it's probably part of your cultural DNA. Twenty years ago, it opened in Dublin, and from there to the West End and Radio City, bringing new fans all the while. Their current project, a 20th anniversary tour that opened yesterday at the San Jose Center for Performing Arts, is as good as it ever was.
Touring shows are an odd mix… The same ones that make your heart skip a beat the first time can make you stifle yawns the second. Whatever novelty once existed is no more and you're often left with art that often looks dated at best. Don't worry about it happening here, though. While Irish dancing is no longer novel to most Americans, the beauty of Riverdance remains timeless.
With small changes, the numbers of this 20th anniversary tour are largely the same as the original – a mix of music and Irish dancing – but spiked with other cultures and pairing Irish dancers against impossibly acrobatic Russian ones, and pitting an Afro-American duo doing the dozens against an Irish pair.  Programmatically, this draws the audience into something new and fresh – before returning again to the mind-blowing Irish numbers as percussive as the drummer on stage.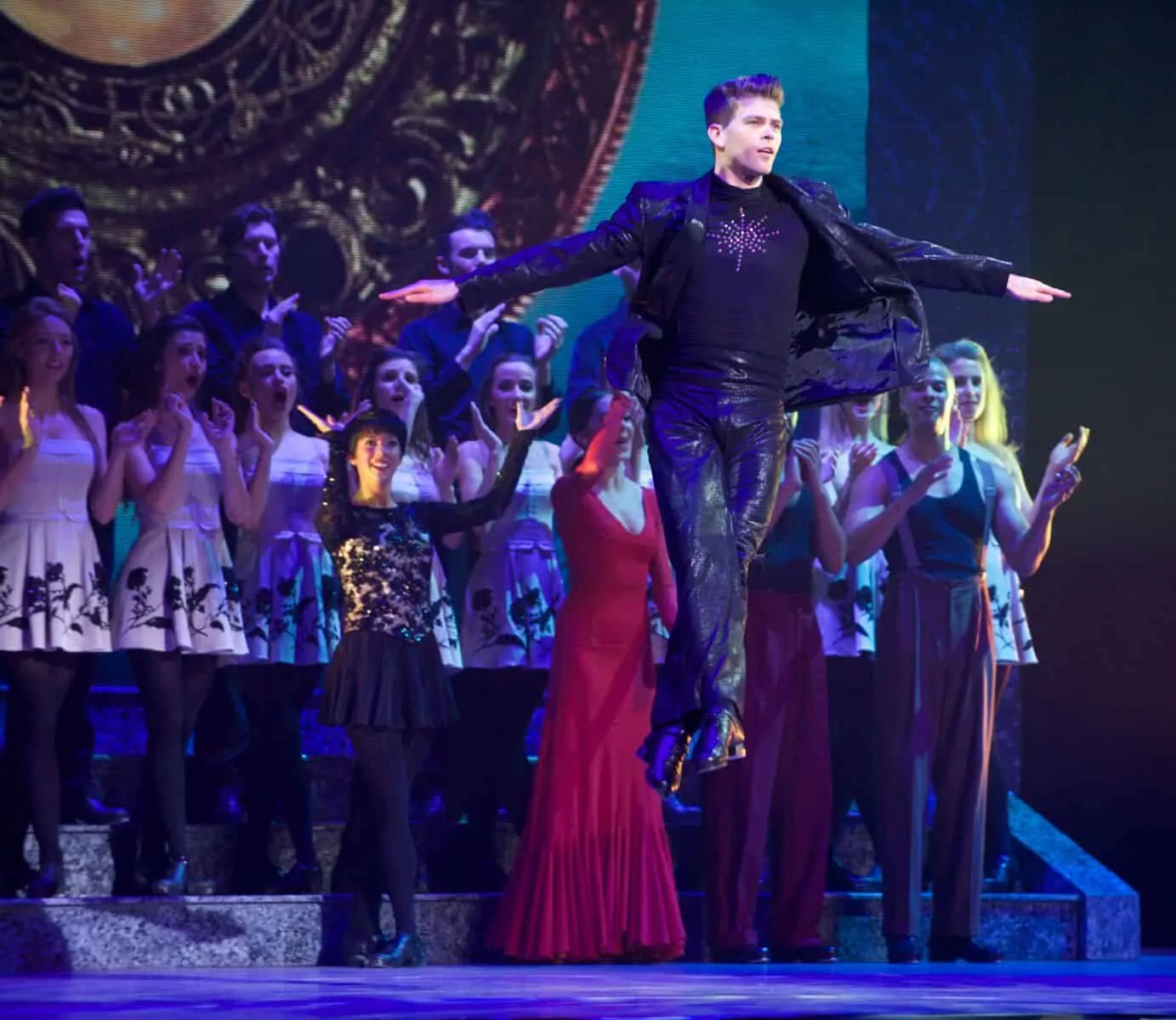 The phenomenal power generated by these dancers executing precisely articulated steps so rapidly that their lower limbs and feet blur is intensified all the more because, as with most Irish dances of this style, the upper torso remains absolutely still. Travelling steps appear most curious of all, largely because it's not entirely obvious how the dancers actually move in a given direction. Throw in 15-20 dancers on stage moving simultaneously on the beat, and you'll be forgiven if you ask if their shoes are mic-ed.
Keep an eye out for principal Clara Sexton. She's easy to recognize because she's the only short-haired female dancer – a tiny thing – to whom your eyes will be automatically drawn because she single-handedly answers any complaints that Irish dancing appears superficially mechanical and devoid of emotion.
Starry projections remind you this is a season for hope
This time round, I found myself drawn to the musicians, especially the Mark Alfred, the drummer who remained on stage throughout, manning a drum set that rivaled that of the Grateful Dead, and fiddle-player Pat Mangan, whose electricity equals that of the dancers.
The only off note was the occasionally cheesy voice-over spouting poetry that accompanied the video projections.
Starry projections remind you this is a season for hope – even in this election year. Outside it may feel like we're on brink of World War III, but Riverdance is big enough to hold that in abeyance – at least for this holiday.
Photo credit: Rob McDougal