42nd Street Moon, bay area home to classical musical theatre, goes straight to its roots in presenting the west coast premiere of this classic. Sail Away made only a modest splash when it opened on Broadway in 1961, closing after several months, although concert style revivals in the late '90's were quite successful.
The catch here, of course, is that this musical risks being a delight for Noel Coward fans only. Even the very considerable talents of Allison F. Rich as Mimi Paragon, hospitality director of cruise ship Coronia, Nathaniel Rothrock's suave dance moves, and Andy Collin's good looks, couldn't rescue this one, unless you're really into Noel Coward. Regardless how many song and dance numbers are stitched into a thing, Americans on a cruise ship just aren't going to be that interesting – which might explain why this show worked better in concert revivals.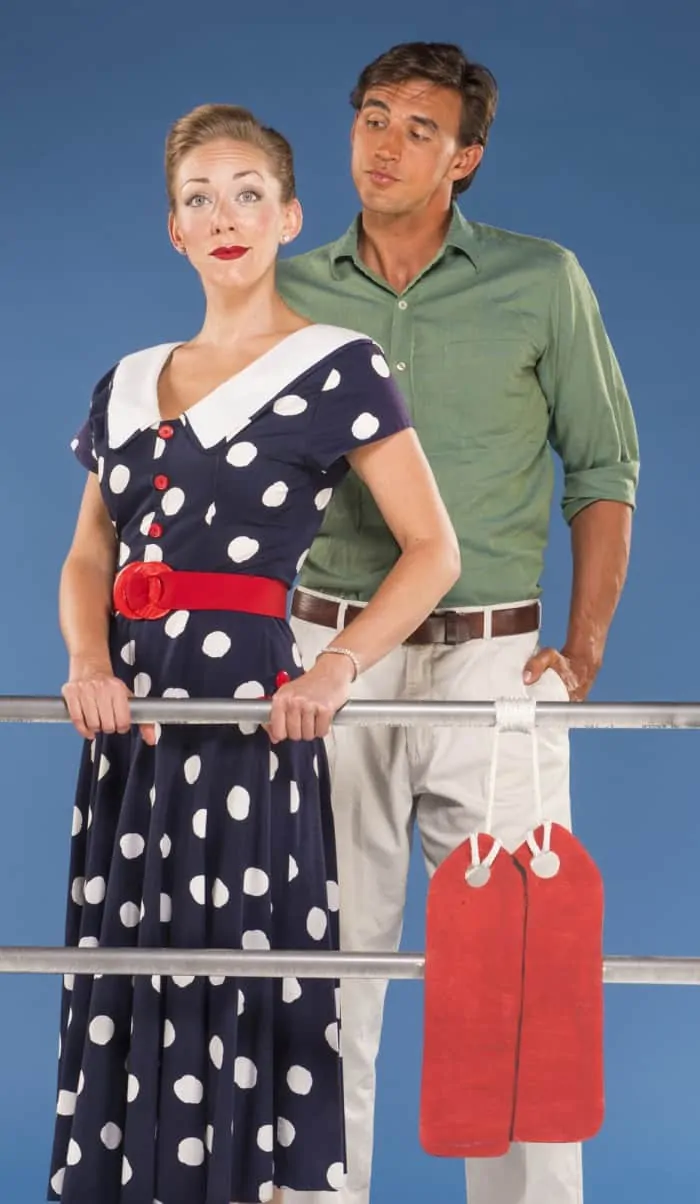 Stepping into the shoes of Elaine Stritch as Mimi Paragon seems just a wee bit audacious, but Allison Rich pulls it off with nary a moment's hesitation. Even if you don't like her acting style, you'll marvel at her command, her timing, her eyebrows. Watching her makes me start connecting lines back to a young Carol Burnett. Watching her evolution on bay area stages has kept reviewers busy these past few years, and this performance tops everything so far.
Paying more attention to set design might have helped matters, but I'm not convinced that it would have helped that much. 42nd Street Moon never tried to ape the big luscious sets seen at other venues – perhaps in part because it just wouldn't make sense at the Eureka Theatre. While the sole drop here seemed like a sad, nagging reminder, remedying it wouldn't necessarily have turned the ship around.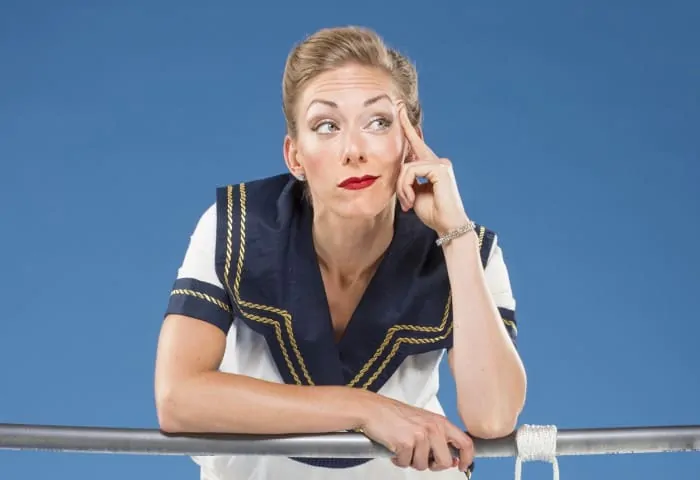 Attention was paid to the song and dance numbers, where it paid off. Come to Me, by Mimi and the dapper crew, captured some essence of Coward, as did Beatnik Love Affair, a snappy sung by Barnaby (Nathaniel Rothrock) and Nancy (Khalia Davis), The Little One's ABC (Mimi) and The Customer's Always Right, sung by Joe (Andy Collins) and the ship's crew. All of these energized the audience and gave a peek at what this show could have been.
Sail Away is on stage at the Eureka Theatre until November 15th.
Photos: David Allen.