More horses, more performers, more costumes… all triggered more than one return guest leaving the immense white big top to remark that Odysseo, the second Cavalia production since the 2003, was like the first show on steroids.
Some of that steroid effect is the result of artistic director and creator Norman Latourelle's desire to bring nature on stage – and bring nature he does – including a 52,800 gallon lake, and rolling hills made from 6,000 pounds of sand and dirt, all which merge into video projections of hand-painted African desert and savanna scenes, along with others of the American Southwest, Northern Lights, ice caves, and the famous Easter Island heads. Add more than 60 sets of pounding horse hooves, including more magical Lusitanos, and you have the beginning of what makes people return to Cavalia again and again.
Eight years in development, Odysseo opened in San Francisco on Friday – and will remain here until January 10, 2016. Everyone working in any of the buildings overlooking the Embarcadero has spied the great white tents, including the 47,000 square foot white big top commanding the area by AT&T Park. Given that Cavalia needs more trailers than the Rolling Stones to accommodate more than 60 horses and 44 performers, even the load-in is a press event.
The daunting power behind even one of these animals galloping across stage leaves you breathless…
Like the first show, Odysseo includes a wild mix of acrobats, horseback riders, aerialists, dancers, and musicians. Rest assured, however, the real stars remain the horses. The daunting power behind even one of these animals galloping across stage leaves you breathless, even before humans engage them in Roman riding (performed standing, with a foot on each of two horses) and western trick riding.
This awe-inspiring spectacle makes me worry that Cavalia might find itself in a Cirque du Soliel type rut. Folks who've watched Cirque over the years remark how the perpetual need to do more and more breathtaking tricks has dulled the performances, regardless of the extraordinary lengths that designers go to. As last Sunday's New York Times magazine pointed out, "we've have forgotten how to prize an act in which a performer risks his life gracefully — to understand that it is both the risk and the grace that make it something truly astonishing."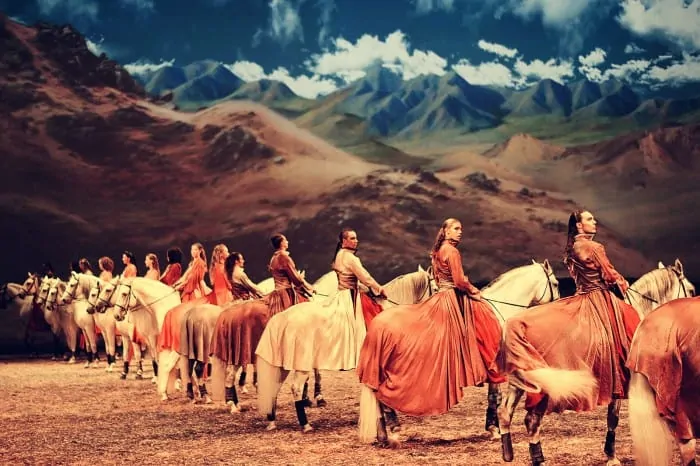 Cavalia's first show contained a hint of narrative about relationship between humans and horses, as it opened quietly with an act called La Décourverte (discovery) – and ended on the same note. These quiet moments made the audience part of a bigger narrative, rather than passive observers. The show built more slowly, with western trick riders pounding across the stage in the second half.
STARK INSIDER ARTS:
FACTS ABOUT ODYSSEO

Odysseo features 65 horses of 11 different breeds including the Arabian, Australian Stock Horse, Holsteiner, Lipizzan, Lusitano, Mustang, Paint Horse, Quarter Horse, Selle Français, Spanish Purebred (P.R.E.) and Warmblood.

The horses are from Spain, Portugal, France, The Netherlands, Germany, Australia, The United States and Canada.

There are 45 artists – riders, acrobats, aerialists, dancers and musicians.

The artists are from around the world including the United States, Canada, Brazil, France, Guinea (Africa), Poland, Russia, Spain, Ukraine, Japan, and Italy.

There are 350 costumes and 100 pairs of shoes and boots in the show. Artists may have up to seven different costumes.

An artist may have no more than 30 seconds to do a quick costume change between numbers.

A team of 13 dressmakers, one property master, one designer and one shoemaker worked in the Odysseo studios to create the costumes.

Materials used in the costumes include linen, silk, cotton, leather and some imitation fur. The use of natural fibers gives the clothes sheen and lets them fall in a way that synthetic fibers simply cannot match.

The costumes are adapted to the artists' needs, especially those of the acrobats and riders, to facilitate their onstage movement while not compromising their appearance.

The on-tour costume department consists of one wardrobe person and three dressers who launders, mends and cares for the costumes. At times during the show, they juggle 15 simultaneous wardrobe changes. They have two sewing machines, one shoe-repair machine and one overlock machine.

Source: Cavalia
Such quiet moments exist in Odysseo, but they're fewer. Here, the emphasis is more on raw freedom and power, a focus reflected in the opening act called Troupeau (the herd), followed by Roman riders, jumping horses, and jumping humans, powered by prosthesis-like hoppy feet that catapulted performers over the poles raised higher and higher. The wow factors in the second act were the mechanical feats – the appearance of genuine rolling hills – and bodies of water on stage.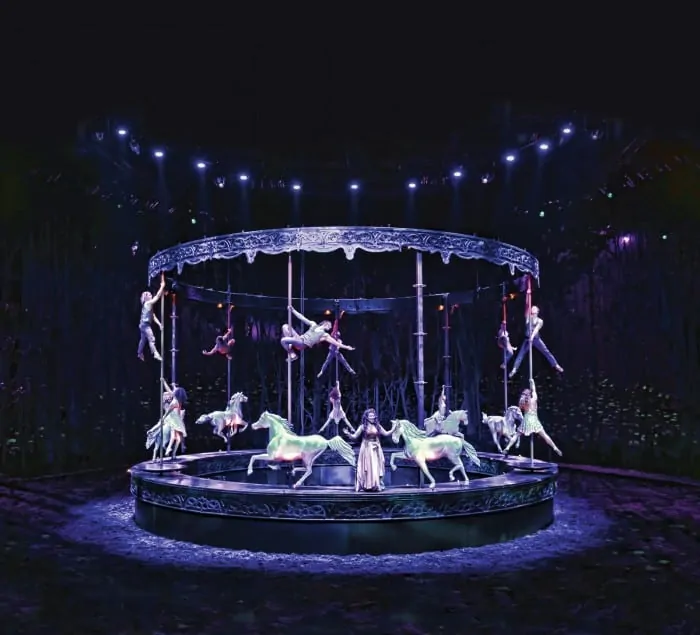 Rest assured, Odysseo still includes both exquisite dressage moves and a Liberté in which the herd fluidly responds to voice and gesture. At every moment, you're aware that the horses don't have to behave… and you're awed at the relationship between performer and horse. Not surprisingly, this comes from a genuine ongoing relationship, as each performer is charged with taking care of their individual horse while touring.
Cavalia remains a one-of-a-kind, world-class event.
Cavalia remains a one-of-a-kind, world-class event. The new show Odysseo will bring new fans – and delight old ones. Hopefully, Latourelle make sure that it continues to do so.