New offerings from Berkeley Rep include the west coast premiere of the Hypocrites' Pirates of Penzance, which just opened in the Osher Studio, around the corner from the Berkeley Rep main stage.
The audience enters this black box stage, with beach party in full swing. Instead of feeling staged, as such things often do, the festivities are exceptionally welcoming, signaling, yea, even unto the most grey-haired accountants, that returning the beach ball just might be a most congenial way to end a long week at work before hitting the tiki bar in the rear.
The Hypocrites, a Chicago group founded by Sean Graney, reimagines Pirates of Penzance in the context of a fully interactive immersion experience. This imagining is at once completely different, but perfectly aligned to the spirit of the thing, down to the cast of ten strolling guitarists and banjo pickers, scrub board players, and an inflatable octopus.
The success of this production lies at least in significant part on the porous zone that Berkeley Rep Artistic Director Tony Taccone refers to as promenade seating, where unforced interactions between audience and actors color the performance. The overall effect is a gently humorous distraction, perfect for a Friday night.
This take on the Gilbert and Sullivan classic tweaks a more than a few bits, with Frederic confused with Frodo, pilots with pirates, the major modern general's colonoscopy, and various pirate theatrics to the Survivors' Eye of the Tiger, but the overwhelming question is why nobody did this earlier and when the Hypocrite's version of the Mikado will appear on a local stage.
The beach ball just might be a most congenial way to end a long week at work before hitting the tiki bar in the rear.
Having seen too many productions of "Pirates," I was tempted to take a pass on this one, but am very glad I didn't.  This delightful take on this material is consistent with what Kneehigh did to Tristan and Yseult (also at the Berkeley Rep, back in 2011).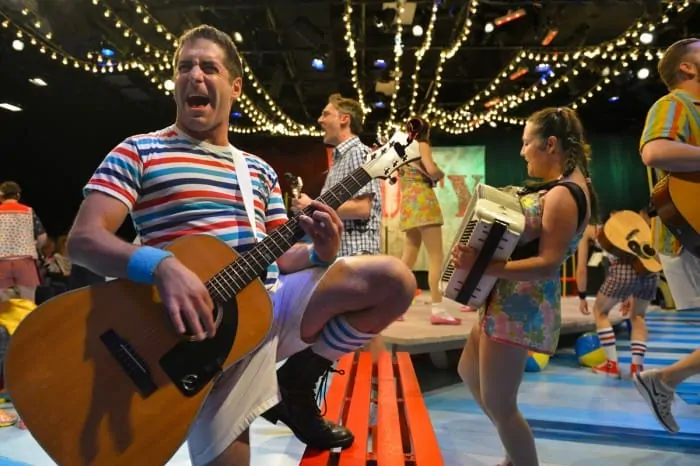 Costuming by Alison Sipple also made this thing, from the striped beachwear with anchor shirts to the Major General's footsie pajamas with yellow ducklings on the feet. Sipple's designs could have felt strained in a forcibly retro kind of way, but instead just add to the loft of this delightful bit of silliness.
At one hour and twenty minutes, Pirates of Penzance plays the Berkeley Rep through December 20.
Photos: kevinberne.com