Playwright Donald Margulies creates interesting characters who, despite their slightly unusual vocations (war photography in Time Stands Still and theatre in "The Country House"), aren't larger than life. All their backstory – fascinating as it is – heightens a more quotidian family drama, which is why we're so drawn in. "The Country House," an homage to Chekov's "Uncle Vanya" and "The Seagull," is no exception. Here you move through something that feels as homey as the house in the Berkshires you always wanted, with the small proviso that like many things around theatre people, life here is both more and less of what lies on the surface.
At the outset we see 20-something Susie (Rosie Hallett) musing through photo albums with Joni Mitchell playing in the background. Enter her grandmother, Broadway actress Anna (Kimberly King) who excels at entrances. This doyen just ran into family friend and celebrity Michael (Jason Kuykendall) in the grocery store and invited him to stay while his house is being exterminated. We see the low level stress occasioned by the too-handsome-for-his-own good houseguest, who appears at this first familial gathering after Susie's mother died.
Anna's a class act. She may not look or sound anything like the Dowager Lady Grantham, but both are animated by the same indomitable self-respect. To the mix, add Susie's father and Walter Keegan (Gary S. Martinez), with his too young, but entirely reasonable girlfriend, Nell (Marcia Pizzo), along for the visit, and you've got a difficult, but manageable undercurrent that flows through much of Chekov. Make Keegan another successful stage and screen star and things begin to get a little tense. Add Anna's grown son Elliot, who failed at pretty much everything and whines throughout the entire show, and things get even more interesting.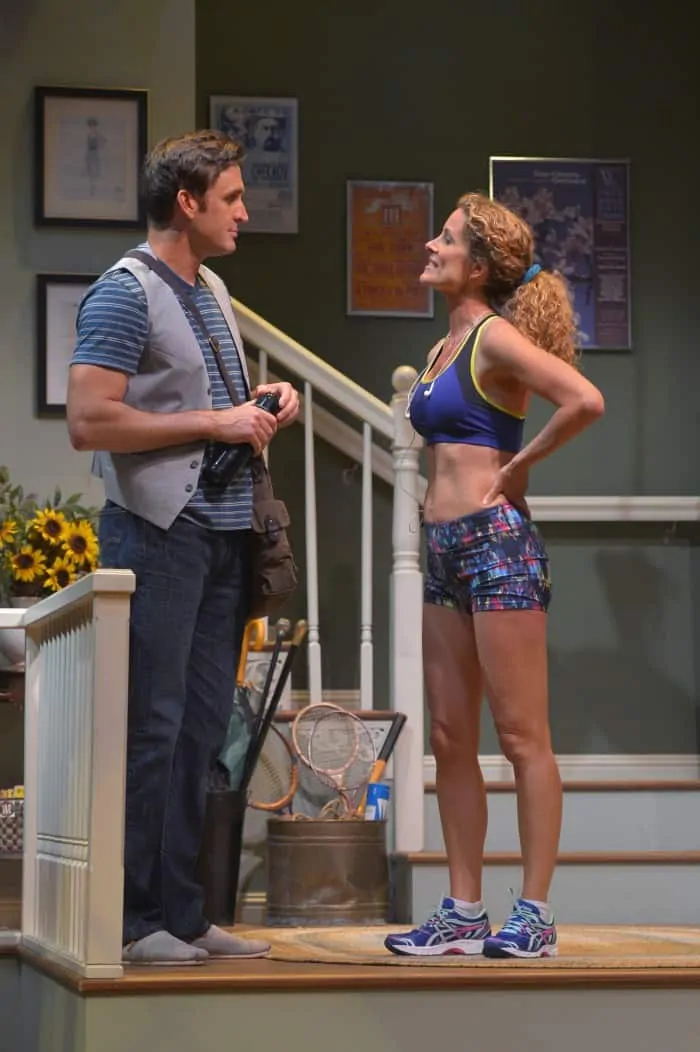 Director Robert Kelly lets the energy build almost imperceptibly, giving the audience a chance to soak in the exquisite set by Andrea Bechert, a completely believable cross between a well appointed Berkshires summer homes and a post-war California ranch. This set, with its spacious view of the Berkshire woods, is important because like most Margulies' plays, what happens offstage, and who enters and exits this world is always paramount.
We see almost everything from the perspective of Susie. Rosie Hallett gives us a 20-something who's sophisticated enough to pick up on all the nuances in the room, while being young enough to be vulnerable to it all. Hallet balances the demands of this role perfectly, making her character (the only non-actor in this theatre family) the most trustworthy of the lot.
The Country House will be at the Mountain View Center for Performing Arts through September 20th.
Photos by Kevin Berne.