Anyone anticipating endless booths of musty books smelling like your local hopefully-not-gone-belly-up second-hand bookstore at the Inaugural Bay Area Book Festival in Berkeley is in for a surprise.
Sure enough, the books are there – forming a 50,000 book public art installation called the Lacuna. Hordes crowded around to disassemble the installation, bringing home armloads of free books.
However, that wasn't the real story. While some of the more venerable local institutions such City Lights Press, Green Apple Books, University of California Press and Moe's were there, the Inaugural Bay Area Book Festival was really a startup story.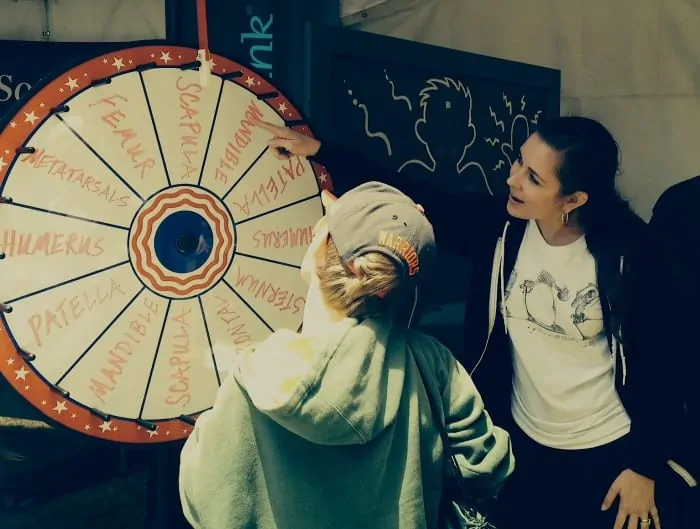 This is best exemplified by Know Yourself, PBC, which recently released two engaging kid's books – one about bones of the hand, and the other describing bones of the feet. Company representative Dr. Bonyfide sagely pronounced "Knowing yourself is the beginning of all wisdom," as he showed me the company's latest offerings while Kim Stinson Serrano helped a young visitor spin a gaming wheel and affix a scapula (shoulder bone) in place.
I shouldn't have been quite so surprised at the large start-up and self-publishing presence. After all, what you would expect from a book fair whose keynote speaker is Laszlo Bock, Head of Google's People Operations and author of Work Rules!
This startup buzz penetrated all ten square blocks of the festival. Zoetic Press and Narrative Technologies CEO and keynote speaker Lise Quintana observed, "there's a lot happening at the intersection between publishing and tech." Quintana's company creates new interactive fiction and non-fiction for multi-threaded narratives.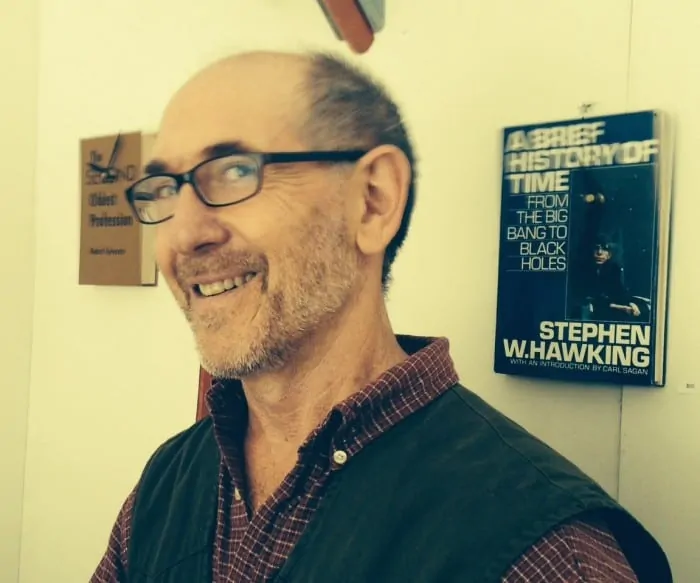 In addition to the start-up crowd, self-published authors hawked their works. Certified etiquette consultant Rosemary Burns and co-author Linda Reed beamed over table, presenting a single volume "Which Fork Do I Use? Confident and Comfortable Dining," a hardcover work with gajillions of photos that just came out November 2014.
Other authors and literary artisans were clustered around the Maker's Lane, where Jim Rosenau of This Into That displayed books turned into cunning shelves, clocks, key holders and more.
Inaugural Bay Area Book Festival wasn't all about selling stuff. Local venues, including The Brower Center, Freight & Salvage, the Berkeley Public Library, and the Magnes Museum hosted sessions with authors, including Peter Coyote, Judy Blume, Michael Chabon, Daniel Handler and others.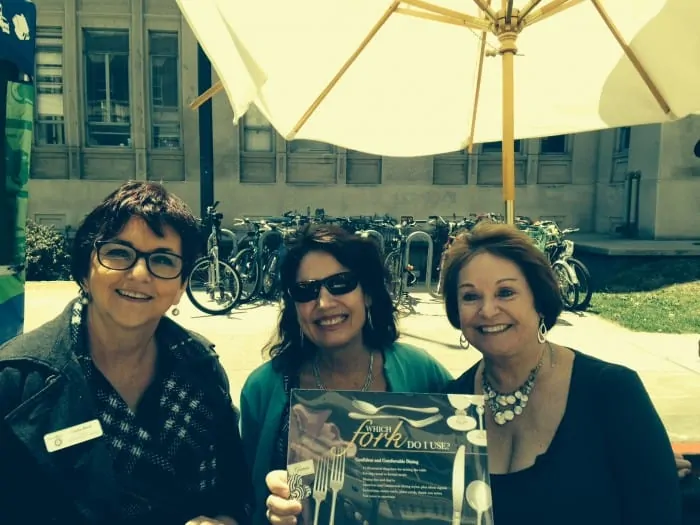 Of course, it wouldn't be Berkeley without the usual suspects. A half block of Allston dubbed "Radical Row" was home to a booth from Revolution Books, which seeks funds to move to a new address on Durant. Near by, the Berkeley Post Office Defense lay claim to the post office on Allston, announcing "Our Post Office is NOT for Sale."
The Inaugural Bay Area Book Festival, in partnership with the San Francisco Chronicle, runs from June 5 – 7 near the downtown Berkeley BART station between Shattuck Ave and Martin Luther King Jr. Way.