A Little Night Music gently nudges its way under your skin because it (and a handful of other shows) form our sense of a modern musical.
That notion might be easier to buy into if your notions of luscious art songs were formed with Judy Collins singing Send in the Clowns. That ambiguous, suspended-in-time feeling with its intentionally incomplete harmonies that don't quite resolve infiltrates almost all of this A.C.T. production, giving it a gentle wistfulness, even as it's propelled forward by the characters' energetic dalliances – failed, attempted, imagined, and otherwise.
Part of why this works so well is the music is so damn good. Instead of the enforced militancy of ¾ time known to anyone who's play one Strauss waltz too many, Sondheim gives us a series of related bits – sarabandes, gigues, mazurkas, polonaises, and other 3/4 or 6/8 pieces more likely to be found in a Baroque dance suite. The only ¾ variant not on display here was the minuet – and I'm not going to voice that idea too strongly lest someone convince me otherwise.
­­­
This ACT production more than makes up for the merely so-so productions appearing on Bay Area stages over the past few years.
Far more than the male cast, female cast brought out the lovely bitter sweetness. Dana Ivey gives us a Mme. Armfedlt, whose crust of irritability barely masks the nobility lying underneath. Armfedlt's chanteuse daughter Desiree Armfeldt (Karen Ziemba) shares her mother's innate dignity,  even when entertaining a dalliance with her dragoon, Carl-Magnus (Paolo Montalban). Brigit O'Brien plays Desire's young daughter, whose innocent questions strip bare the façade of those around her. Finally, Marissa McGowan punched through the restraint and turn-of-the-century gentility of upper class Sweden singing "The Miller's Son" with an intensity that brought down the house.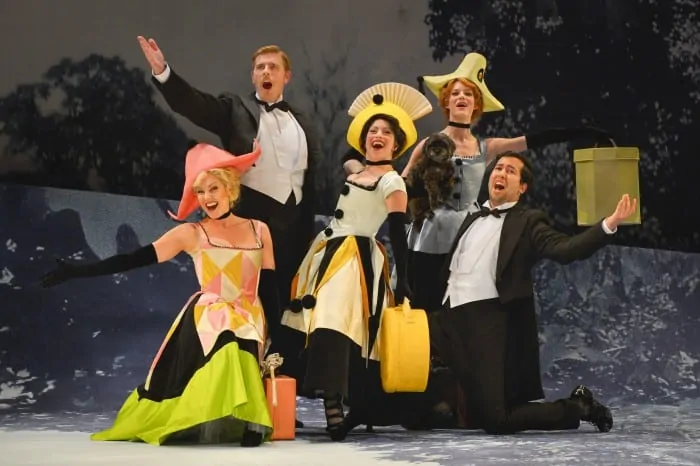 Male actors didn't fare quite as well. The only thing real option when you're tricked out in military threads smacking of a Spaceman Spiff get-up is to rise to the preposterousness of the occasion, which is what Paolo Montalban, as Carl-Magnus, husband to Charlotte and lover to Desiree, failed to do. Moreover, several male dancers moved with an awkward stiffness – a condition that gradually improved over the course of the evening. These were small nits though that didn't necessarily detract in a significant way.
This ACT production of A Little Night Music is the one you want to see. Besides,Karen Ziemba's Send in the Clowns will give you goosebumps. This gem runs through June 21st.