TheatreWorks' brand new production about what girls do while husbands play golf opened to an enthusiastically appreciative audience who found Noël Coward's Fallen Angels laugh-aloud funny.
J.B. Wilson's set showing a 1920's drawing room was perfectly understated. No lapses into art deco kitsch here. The combination of restraint and warm tones had the effect of drawing you in even before the story started.
Costume Designer Fumiko Bielefeldt exercised the same restraint. Even at their most overwrought, inebriated, and absurd, Jane (Rebecca Dines) and Julia (Sara Overman) are never quite '20's flappers – and that's a good thing.
This stylistic restraint magnifies the shock appeal of script itself. However bored and mindless Jane and Julia may be, they remain proper upper class matrons. Even the feebleness of their attempt to break out of that role underscores the extremeness of their schemes to reignite an old romance with the Frenchman.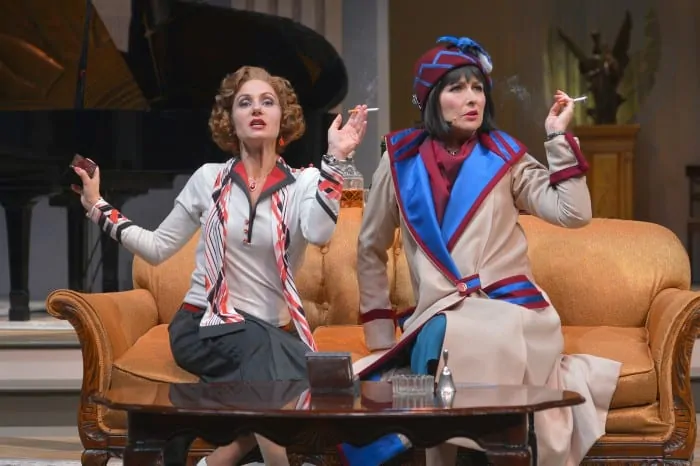 Every design decision, every directorial decision, and every nuanced accent seemed carefully calculated to emphasize the distance these daft girls go to work up a little unabashed abandon. Even seemingly unrelated acts like who can play the piano more effortlessly go to build that tension. If you want someone who can go from 1 to 100 on the loonymeter, while managing to look drop dead gorgeous with seven sheets to the wind, Sarah Overman is your gal, and Rebecca Dines is right behind her.
The cast delivered such killer performances that this two hour production just flies by.
The play's teaser reads "a pair of fabulous friends contemplate a reunion with a dashing former flame. But conspiracy soon gives way to rivalry in Noël Coward's champagne cocktail of a comedy."
What that really boils down to is a first act in which the ninnies Jane and Julie giggle over a scheme to look up an old flame while their husbands play golf – and a second act in which the two ninnies get plastered while waiting for the old flame to show up. A quick and almost entirely predictable denouement wraps up the affair.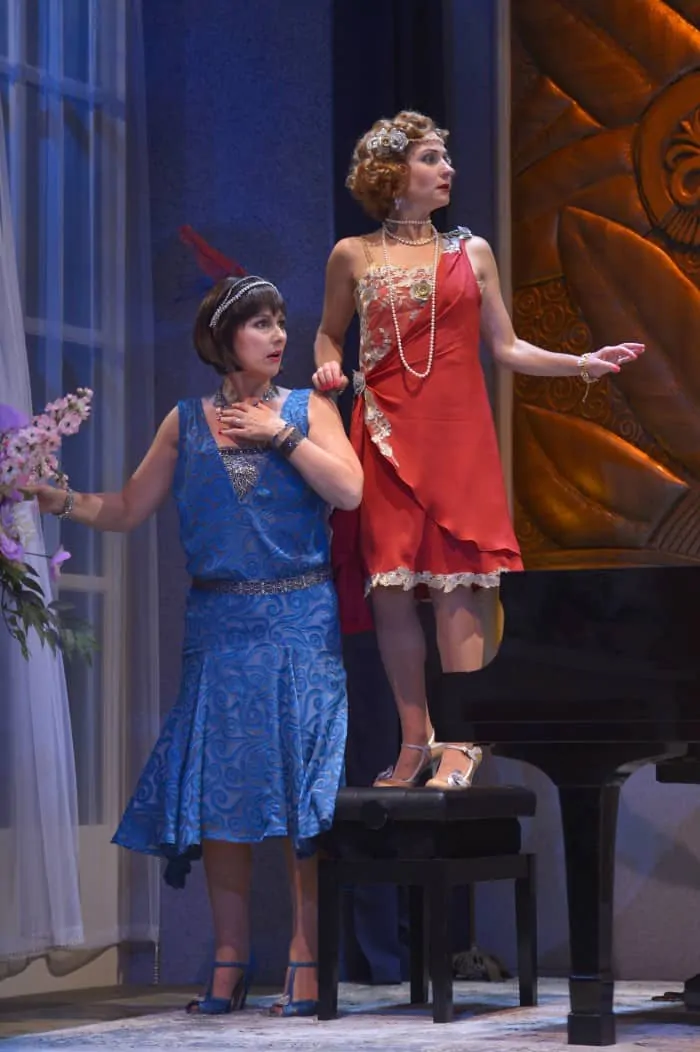 Counterbalance to the fluff is provided by Tory Ross, as the maid Saunders. While Jane and Julia are off getting googley-eyed and snockered waiting for their Frenchman, my money's on Saunders for capably running the rest of the world. Ross gives us a Saunders with a personality so huge, she dwarfs everyone else on stage.
Mark Anderson Phillips appears as Fred, Julia's husband, and Cassidy Brown as Willy Banbury, Jane's better half. Aldo Billingslea plays the hunky, hunky Frenchman Maurice.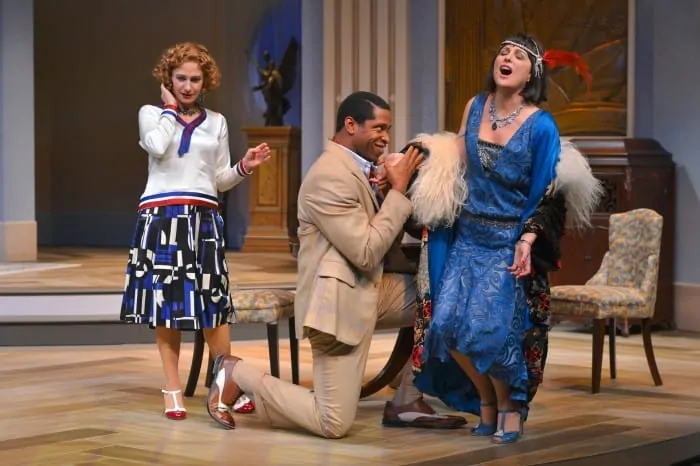 Altogether, the cast delivered such killer performances that this two hour production just flies by. However, the story – which at its most tortured best might be justified as a somewhat odd notion of female sexuality – was predictably tedious.
Fallen Angels (1925) is early Noël Coward, which means that he's not as arch, not quite the killer stylist he would soon become. Dialogue which would later be delivered with dry rapier wit relies more on shock value here. That it still seems too outré to have ever made it onstage in 1925 speaks to the quality of the writing. However, you couldn't be blamed for sitting this one out if you're looking for something more substantial.
Fallen Angels is at the Mountain View Center for Performing Arts through June 28th.
All photos: Kevin Berne.