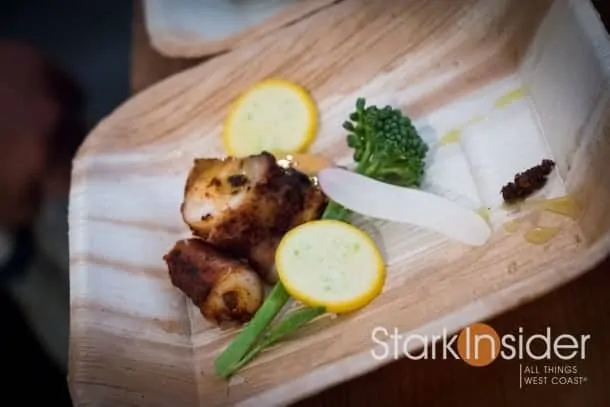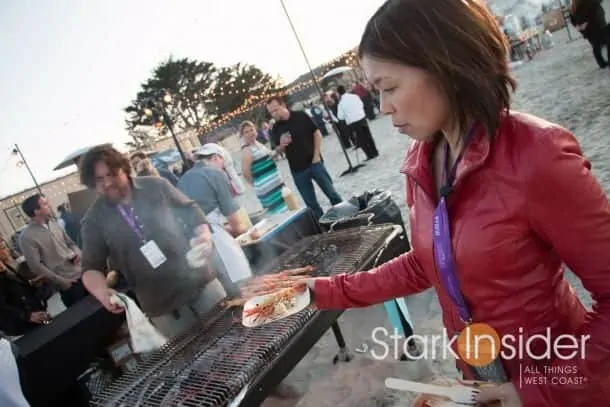 It's a wrap. And what a scene it was. Or make that scenes. Four days of culinary thrills came to a close today at the eighth annual Pebble Beach Food & Wine.
As I made way from The Inn at Spanish Bay to the Monterey Beach House, and over to the sprawling lawns where the spectacular "Grant Tasting" events took place, I couldn't help but feel those was one of the most interesting, exciting years yet. There were plenty of culinary surprises–I'll recap soon on Stark Insider about some of my favorite dishes.
Although set along the (needless to say: stunning) Pacific, once again there was a coast-to-coast vibe at PBFW. Many Chefs flew across the country. Atlanta. Chicago. New York. New Orleans. It truly was a showcase for the best this country has on offer.
This morning, Iron Chef Morimoto "blew our minds" with an entertaining Ramen 101 demo.
.@chef_morimoto blew our minds with his Ramen 101 demo this morning! #PBFW @WholeFoods @BoschAppliances pic.twitter.com/NByUO9tEzF

— PebbleBeachFood&Wine (@PBFW) April 12, 2015
On Saturday morning, it was all about female chef power–Chefs Jenn Louis (Sunshine Tavern), Anita Lo (Annisa), Elizabeth Falkner and Stephanie Izard (girl and the goat). "Beauty & Their Beasts" featured a tasty tribute to whole animal cuisine, "proving a woman's place is wherever she can wield a cleaver." Hmmm.
https://www.instagram.com/p/1W4r7TnG_y/
Then there were the "First Ladies of Lexus." Dominique Crenn (Atelier Crenn), and Stephanie Izard (Girl & the Goat). Though I did not attend this event, it apparently was very well received, and certainly had its fair share of cut-loose kind of fun you find at Pebble Beach Food & Wine, as reported by Kaye Cloutman of GEV Magazine:
https://instagram.com/p/1WGzSqFCxk/
MEATOPIA
This year organizers introduced a new event that many a carnivore would appreciate: Meatopia. Held beach side in Monterey, Meatopia was the stuff of dreams (for non-vegetarians of course). Some of my favorite dishes could be found here, on the smokey grills and firepits. Take Chef Zakery Pelaccio's (Fish & Game) Grilled Monterey Bay Spot Prawn… let's just say, I'm guilty. I swung by at least twice to take in his savory presentation.
Clint shot a video segment for Stark Insider at Meatopia. That full episode is coming soon, featuring Chef interviews. For now we have a quick teaser of the evening that was "Meatopia":
"Meatopia" – Pebble Beach Food & Wine from Stark Insider on Vimeo.
Oh, one thing I learned. Smoke! Your clothes will smell like smoke! Something to keep in mind if you plan to attend an expansive outdoor grill and beach party. My jacket? Straight to the garage. Fortunately, the next day the smokiness has subsided. But not the memories!
Another quick thing: sand. Given this was a beach party, I probably should've worn proper footwear. Well, next time.
More to come from Pebble Beach Food & Wine. For now I leave you with some of our favorite moments in this Stark Insider photo round-up.
IN PHOTOS: Pebble Beach Food & Wine "Meatopia" and "Grand Tasting"
Okay, probably enough photos of me for now! It's bound to happen when you're constantly followed by a guy with a DSLR. Pebble Beach Food & Wine. It's been a blast. If you've never been, definitely worth adding to your bucket list. Salut, Loni.