Nick & Nora has a curious history – making it ripe pickings for 42nd Street Moon, which is committed to classic and rarely performed works of musical theatre.
Unseen since its Broadway run, where it ran for nine days in 1991 before closing, Nick & Nora is one such work. Centered on the husband and wife duo from the 1934 movie The Thin Man, this bit of froth disappeared entirely until now.
Ryan Drummond brings us the suave Nick, now retired and detached from that whole pesky detective business. Brittany Daniel plays his wife Nora who steps into his shoes after Tracy (Allison Rich) pleads with her to find the killer of the studio bookkeeper so the show can go on.
A confluence of factors weighs down the first act. Sit tight, however. The second act redeems this significantly.
Successful whodunits require you care – at least a little bit – about the characters. Something's got to hook you – intellectually, stylistically, emotionally, something – and that's what doesn't come through in the first act. While the characters are mildly interesting in a vaguely campy way, nothing here distinguishes any of them, one from another. This isn't the fault of anyone on the stage. That slightly heightened unreality of 1930's camp is such a great leveler that nobody emerges enough to really capture your interest.
Brace yourself though. The second act comes at you with everything missing from the first act and more. I'm not sure whether adding Megan Stetson as Maria Valdez – with her  entirely different energy sparked the contrast that made this second half come alive, or whether the plot just got a lot more interesting, or whether Allison Rich started amping it up so strongly that I began to question whether she was really from this planet, but all of a sudden I was leaning forward as the high relief brings everything into focus. Even characters who initially remained indistinct become more developed – albeit in a limited kind of way.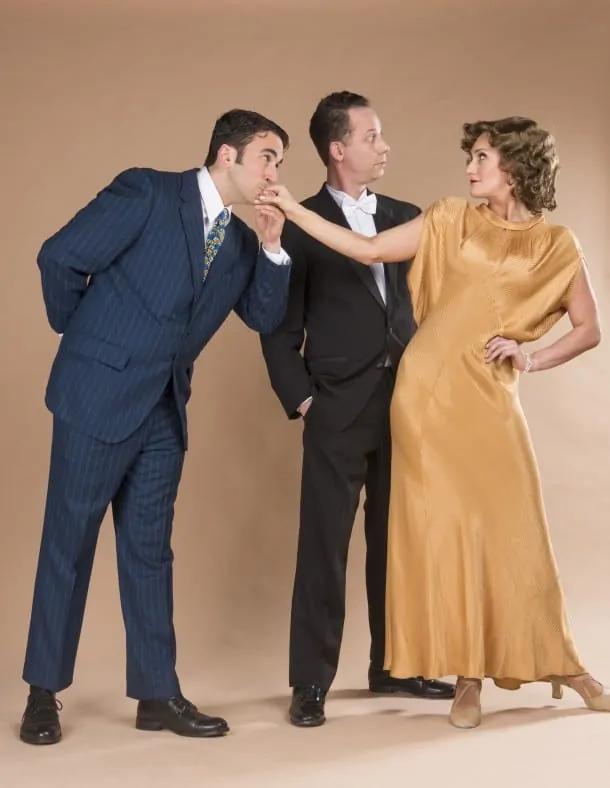 The failings of this piece aren't attributable to cast and crew, who do an admirable job trying to insert some loft into a vehicle that can't maintain it. Like every other 42nd Street Moon show, choreography (Staci Arriaga) is flawless, and execution thereof tight and catchy. However, there isn't quite enough here. If you're seriously into recovered shows, you'll appreciate Nick & Nora. If not, you might want to wait instead to catch 42nd Street Moon's Where's Charlie, which opens April 29th.